Although I must admit that, as a Liverpool fan, seeing Stevie G. re-up his contract so that he may finish his career with LFC makes me as happy as Mario Balotelli in a fireworks superstore; I do have a few thoughts on it. Sure, the man will go down as one of, if not THE, best Liverpool player in the entire storied history of the club, but I think that Gerrard's decision may not have been as beneficial for the skipper as for Liverpool.
Given how tough it has been for Liverpool to surround Gerrard with the talent necessary to help him achieve his only club-related trophy that he has never attained, it may have been time for Steven Gerrard to do what many players do at his age: go trophy hunting.
I realize that all of Liverpool would be up in arms and that, as a Liverpool fan, I could be given a serious beating for just suggesting it, but Gerrard has gone above and beyond the typical level of dedication for his boyhood club. The time he has spent here has been successful, but during Gerrard's time the league trophies have been going to Manchester United and to others instead of adding to the 18 that Liverpool accrued before his playing time. Considering he has another two or three years of actually looking somewhat like himself on the pitch, a move to a real contender could have really benefited Gerrard's legend.
Also, considering that Liverpool will have to replace the English midfielder once his time ends and that this may have been the last season where they could have gotten a decent return for the sale of Gerrard, it really begs a few questions. In two or three years, the only clubs willing to make a splash on Gerrard and pay enough for the club to part with him would be from the MLS…an area where it would sadden me to see Gerrard ending his career.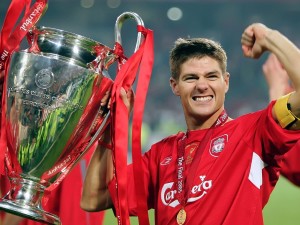 Once again, it is great to see a "one-club man" in this era of football and with the amount of other offers that Gerrard has probably been offered. However, he has given Liverpool the best years of his career and a winners medal from the EPL would really round out his personal trophy cabinet. Although, with the 5% chance of Liverpool winning a title in the next few years, Gerrard winning it with LFC would be one of the sweetest personal triumphs in world football. Hopefully, no matter how Stevie G's career ends, he will always be recognized as a legend with a hammer of a right foot. Oh you beauty!