In this "Glass Half Full/Glass Half Empty" post, we take a look at what the rampaging Foxes should do once their incredible 2015/16 campaign is over. For this post, we take a stroll down the more positive ideals for Ranieri's men once they finish the season in May, and then, in stark contrast, talk about absolutely gutting the team when the final whistle blows. With ten games left to play, there are still plenty of twists and turns on the horizon, but we plan on presenting our thoughts as if Leicester continue their march and either win the title or finish in the top three.
Glass Half Full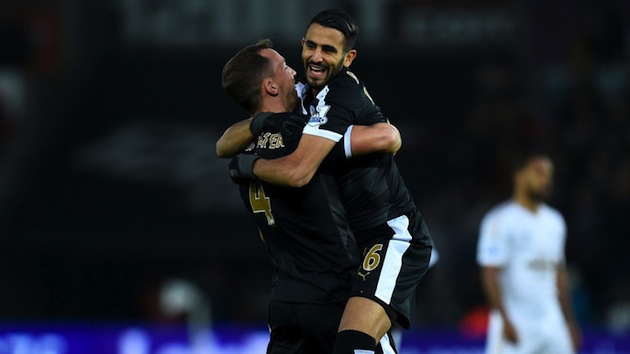 The rumors of players departing Leicester City began almost a month after this season had gone. Jamie Vardy was being courted by everyone from Chelsea to Real Madrid, Mahrez was on Barcelona's radar, and Ranieri was back in line to take one of the "bigger" jobs. However, despite the rather obvious "Cinderella" story-line that this team has followed, why not see what happens if the Foxes don't give in to selling their best players and see what the future holds with this nucleus.
The simple truth is that most clubs are probably going to underpay for any of the players that they can pry away from the Foxes. Vardy is already 29, and a club that is in Leicester's position won't need ridiculous mountains of money involved in a transfer to intrigue fans, owners, and staff alike. The club will be getting an infusion of serious cash because of their league finish and their entry into the Champions League, and that will probably be enough to keep the coffers filled for quite some time.
Add in that, with the entry into the Champions League, tossing your best players away will seriously dent your capacity to juggle the perils of European tournament involvement. Nobody is expecting Leicester to romp to the CL Final, but a decent group draw might see the Foxes actually make it to the knockout stages (another big payday).
The club will definitely have the cash coming in to invest in a few more players, and this might could actually see Leicester become a top-half of the table contender for a few more seasons to come. If you compete for the top long enough, you might actually set yourself up to contend for another title in a few seasons.
The only big gap that will need to be filled is to bring in suitable replacements for your graying back-line. Huth, Morgan, Simpson, and Fuchs are at least 29 (Huth and Morgan are over 30), so that will need to be addressed. However, the rest of the pitch is covered by players either in their early or mid 20's. If the taste of success merely serves to create a bigger spark within this squad instead of causing them to rest on their laurels, there's a great chance that this could happen again! Remember, nearly all of the clubs that are regarded as the major "big" clubs will still be in transition next year: Chelsea and Manchester City (and possibly Manchester United) will all have new managers, Tottenham will struggle to hold on to their manager and their best players, Arsenal feels on the verge of a massive overhaul, and Liverpool still feels a season or two away from contention under Klopp. If there was ever going to be another window for the Foxes to recapture magic in a bottle, 2016/17 would certainly be the time to do it!
Let's keep this squad together and bring more success to the Foxes!
Glass Half Empty
Actually, on second thought (and with the darkness of reality guiding our words) Leicester can't possibly do this twice and should absolutely blow their squad apart during the transfer window.
The main players at Leicester are all going to be sought after by clubs with big enough names to test even the most loyal player. When Madrid comes for Vardy with the right price, a player that late in his career will know that this is the best chance for one last massive payday. When Barca comes for Mahrez, you watch how quickly the prospect of shifting in to that Barcelona midfield (along with a sizable raise) has the Algerian international packing his bags. Factor in the wealth of English talent on this squad that other clubs will see as perfect options to satisfy the "homegrown" rules, and Leicester should see a ridiculous payday.
Albrighton and Drinkwater will be sought after, and nearly every club in the world wants quality outside defenders, which could see Simpson and Fuchs hitting the exit. Factor in that some club will see that Schmeichel has another 7-8 years at the height of a keeper's powers, and we might only recognize a few names when the Foxes lineup for the next season.
While selling the farm might not be anything that intrigues most fans, a club like Leicester can take all of those funds and set themselves up for the next decade! Sure, you might turn in to a bit of a farm club for the big boys, but there's no doubt that the right moves with the amount of incoming cash could result in keeping you in the Premier League for quite some time. This is especially true if the majority of your squad stays in tact and they try again next season…if any of the players take a step back or Leicester flounders in the table, these players lose most of their market value and tacking another year on to their age makes it harder to move them. A quick zip to the top of the table this season could end up crashing back towards relegation in only a few years. A fire-sale that's invested properly could make you a Premier League mainstay for the foreseeable future!
There can be no doubt that the risk/reward situation for Leicester is certainly going to be very real this summer. While we doubt that anyone with the club is doing anything except enjoying the moment, there are going to have to be some intense discussions and big-time decisions once May/June arrives. The big question, for the club and for you, is: do you try and see if lightning can strike twice? Or, do you take a safer (less appealing) route and keep your team in the Premier League for quite some time? No matter which side the club ends up on, the current journey has been a blast to watch. We can't wait to see how it ends!