Through over 100 years of history, Real Madrid has become one of the most recognizable names in world football. But how did they get there? In partnership with Howler magazine, The Center Circle is embarking on a multi-part journey from the roots of this historic club to the Cristiano Ronaldo era it enjoys today. If you consider yourself a Real fan, or really just a soccer fan in general, this is for you. Finally, do you see that "Hala Madrid" graphic right above this? You can click on that to open up Howler's incredible Real Madrid timeline, replete with informative tidbits, pictures, and some cool graphics. Scroll through each section, zoom in to read, and enjoy.
Previously: Part I – Part II – Part III
Part IV: The Politics of Sport
Today, nobody can talk about Real Madrid, or their rival FC Barcelona, without whispers about conspiracies and referees. Oftentimes, they're blowing hot air. Usually, a ref has simply made a mistake or they're blowing off steam after a bad loss. During the Franco era, the regime did pick favorites. However, Athletic Aviacion (modern day Atletido de Madrid) was the nation's darling at first, not Madrid FC. The Franco regime even intervened to force local Catalan politicians to re-zone Barcelona's old stadium, allowing them to sell the land and move eventually move to the Camp Nou. Thus, in Spain, politics inevitably influenced sport. Dictators seldom leave any pocket of space open to the public's imagination or control.
At the start of the 1940's, Madrid's team just plain stunk. They finished fourth in 1940, and sixth in 1941. Even worse, rivals FC Barcelona had won the General's Cup in 1942 and featured powerful striker Cesar Rodriguez. In 1943, Madrid FC hit a low point in the General's Cup vs. FC Barcelona. Not by losing, but by winning ignominiously. In the first leg, FC Barcelona easily dismantled Madrid FC at Les Corts, their home ground, 3-0. In the return leg, though, the team won by the highly improbable scoreline of 11-1. Allegedly (and likely), Franco's Ministry of Sport entered the Barca locker room at halftime and reminded players of the state's generosity in letting formerly exiled players return to the field.
The result was a swift and public backlash. Nobody believed the result was the fair result of a sporting contest. Madrid FC's director was forced to resign, paving the way for the arrival of Santiago Bernabeu. Don Bernabeu wasted no time in greasing the wheel: he faxed the higher ups at the Franco regime to thank them for being them, and then faxed the directors of other sporting clubs to apologize for recent "unfortunate incidents." Within months, FC Barcelona and Madrid had staged and played a home and away Partidos de Paz ("Peace Games').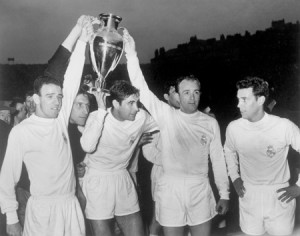 Don Santiago's number two priority, after calming down the 11-1 fiasco, was to build a monumental stadium. The club soon borrowed and spent three million pesetas on land for the new Chamartin stadium, which was next door to the old one. On the field, though, they still struggled. In 1945, they finished second place, behind Barcelona by a single point. In 1946, the team at least managed a General's Cup victory. They repeated as champions the following year.
The team finished a very disappointing seventh place, but good news off the field held off angry fans: the team opened a brand new Chamartin stadium. Still, though, this presented a chicken and egg dilemma – would a new stadium draw fans and lead to revenue to invest in the team? Or, like Barca, should they have invested in the team, won, gotten more fan and socio revenue, and then built? Bernabeu's approach, leaning heavily on credit, had a "Field of Dreams" aspect. Luckily (or shrewdly), he was right. Before the decade would end, the number of socios increased to 50,000.
In 1948, though, fans had barely settled into the new stands at the Chamartin when they faced the poorest Madrid FC in its history. The team was a serious contender for relegation all season, languishing near the bottom of the table. Only a win away to Real Oviedo on the last day of the season kept them in the topflight. To this day, only Real Madrid, Athletic Bilbao, and Barcelona have never been relegated. Don Santiago had seen enough and bought Manny "Pahino" Fernandez, a star striker at Celta de Vigo. However, nothing could derail rivals Barcelona, who finished the decade winning back-to-back La Ligas.
Thus, the 1940's was a period of economic growth, political embarrassment, and sporting mediocrity for Real Madrid. It's a decade best forgotten, but for the fact it laid the foundations for a golden era not since seen.
Next: