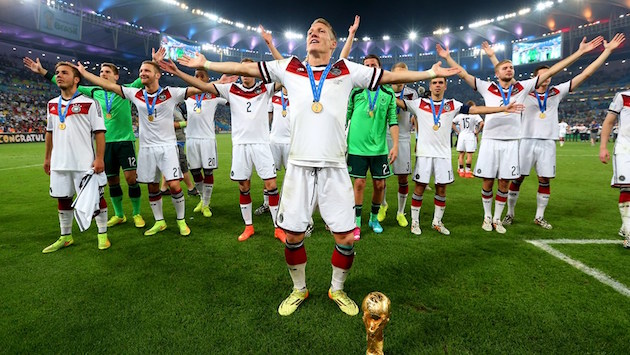 The World Cup doesn't seem broke, so why are we fixing it? With the world's biggest sporting event expanding from 32 to 48 teams in 2026, many fans are left wondering why this happened and what it might look like for the game.
The answer to the "why" part of that is easy: cash money. Not to get overly cynical, but FIFA is primed to make around $1 billion from the World Cup expansion, so this was probably always inevitable, just as further expansion (assuming World Cup 2026 goes well) is probably inevitable. Even with new president Gianni Infantino, FIFA's financial motivations are always clear, as are their political ones.
This move should allow four additional teams from both Asia and Africa to qualify for the World Cup. Getting more countries involved is not inherently a bad thing, but this can certainly be seen as a political play by Infantino as he seeks Asian and African support to get reelected.
Now that we know why FIFA did this, let's look at what it will do to our beloved World Cup.
If you're not familiar, the specifics are as follows: FIFA are adding 16 teams. There will be 16 groups of three teams (as opposed to eight groups of four like there are now). The top two teams from each group move on to a 32-team knockout round (as opposed to a 16-team knockout round).
Whether it's just good ol' fashioned resistance to change or a fear of watered down play, I hated the idea of a 48-team World Cup at first. The 2014 World Cup was fantastic, with a high scoring group stage and a knockout round full of close matches (with one notable 7-1 exception), why are we messing with that? But I've actually quickly come around on the idea. Despite FIFA's perpetually questionable motives, I find myself getting excited at the prospect.
Some will point out that since FIFA are making it easier to qualify, the quality of play will dip. There could be more blowouts between a world power and an overmatched minnow. There could be more mediocre sides playing to a mutually beneficial draw. I thought back to Euro 2016, a tournament that expanded from 16 teams to 24. With more than half of the teams advancing to the knockout stage, you had some really poor performing countries rewarded for not winning any group matches, like Portugal, who ended up winning the whole tournament.
While letting more teams in certainly opens the door for worse play, it also makes Cinderella stories more possible. What do we love most about March Madness, the 68-team college basketball tournament? We love seeing which 12-seed will pull off the upset, or which Cinderella team will make it to the Elite Eight. Basically, we love an underdog story. They invigorate competition with their unpredictability and provide inspirational narratives to make our sports even more enjoyable. In Euro 2016, we got Iceland slaying England and Wales reaching the semifinals. We could see something similar in World Cup 2026. Get ready for Burkina Faso's magical run.
Another possible drawback to this expansion is the problem this might create for World Cup qualifying. This is what the 2026 World Cup field could look like, based on current FIFA rankings.
What WC 2026 might look like, by current FIFA Rankings pic.twitter.com/PHVJ5EHnCH

— Mark Fishkin (@MarkFishkin) January 10, 2017
It will be almost impossible for soccer-rich countries to fail to qualify with a 48-team field, so many fear the qualifying stage will have much lower stakes with a stream of meaningless games providing little excitement for countries that will easily qualify. After all, soccer fans watched with bated breath as Mexico came thisclose to missing out on the 2014 World Cup, only to get saved by their neighbors to the north. Similarly, when the Netherlands failed to qualify for Euro 2016, that shocking result piqued interest in a typically rote qualifying process for bigger countries. As you can see from the tweet above, even if Mexico perform poorly in the qualifying rounds again, six or seven teams (instead of three or four) from CONCACAF will make it in, robbing us of that suspense.
However, one way to mitigate this, as proposed by ESPNFC, could be to seed teams in the World Cup based on qualifying results. This would give countries that are all but assured qualification a reason to try to win their qualifying round. And for mid-level soccer countries like the United States, who are currently struggling to qualify for the 2018 World Cup, an expanded field would mean you could more easily avoid the catastrophe of missing out on the tournament. That sounds nice right about now.
Most of all, I'm looking forward to the extra round of knockout matches. That's where the majority of World Cup drama comes from and giving us another round of high-stakes win-or-go-home games is a thrilling possibility. There will certainly be some average sides reaching the knockout stage for teams like Germany, Brazil, and others to beat up on, but soccer is a funny game. With so few goals and only one game to decide who moves on, a fortunate bounce or transcendent performance can make all the difference. I already can't wait to see what happens nine years from now.