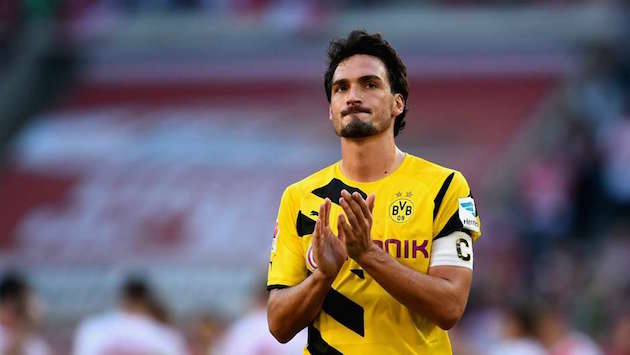 After yesterday's announcement that Mats Hummels would be leaving Borussia Dortmund over the summer to join Bayern Munich, you have to feel bad for Marco Reus. The last three seasons have seen Reus and Dortmund lose three of their stars to their title rivals with Mario Götze and Robert Lewandowsi awaiting Hummels at the Allianz Arena. While those two departures were certainly disappointing to the BvB fan base, the sale of Hummels might sting a little bit more.
When Götze moved in 2013, Hummels told reporters, "Everybody can see how good our team has become. I simply do not believe that there were any sporting reasons to leave BvB." The defender's public outrage that one of Dortmund's stars would abandon the club has now earned him some added vitriol from the club's fans. In the game following the announcement that Hummels and the club confirmed the 27-year-old captain wished to leave the Signal Iduna Park in the summer, fans booed and whistled whenever he was on the ball.
Unlike Götze and Lewandowski, Hummels had a connection back to Bavaria before the move. He actually started his career with Bayern way back in the 90s in their youth academy. Granted, he would make just two senior appearances at the club, but it doesn't take away the fact that this is technically his hometown club. In his official statement on Facebook, Hummels wrote, "In the end I came to the conclusion that I want to seek a new challenge, and even more so in my hometown where my friends and family live."
While that may be a noble reason to want to move clubs, it will do little to alleviate the pain that Dortmund fans feel. Despite being a consistent title contender, and European participant, fans of the famous yellow kit have now grown accustomed to their club being essentially a feeder club for Bayern. Before Reus signed a contract extension of the summer, several different outlets were reporting that he was on the verge of signing for Munich himself.
Under this system, the Bundesliga risks facing the same problems that plague Ligue 1. In the French league, Paris Saint-Germain dominated from start to finish and opened up a near 30-point gap on the league to claim the title well before the end of the season. This year, if it wasn't for Dortmund, Bayern would have been in a similar position. The gap between first and third place in the Bundesliga was 28 points. Now that Bayern have taken away Dortmund's best defender, and captain, it's hard to see that gap closing anytime soon.
Now the question is how will Hummels figure into Carlo Ancelloti's system next season. If I had to guess, the German international will slide beside his compatriot Jérome Boateng and force David Alaba back to a fullback position. This means that Bayern will essentially have the three cornerstones of the German national team's defense in their starting 11 with Hummels, Boateng and Manuel Neuer forming a near impenetrable wall.
For Dortmund, the search for Hummels replacement is most likely already well underway. With the fee for their captain reaching around £35 million, BvB have plenty of money to re-invest, but who can stand up to the pressure and expectations of Dortmund's raucous fan base? Some potential candidates that have been tossed around are Bayer Leverkusen's Omar Toprek and Roma's Kostas Manolas, or they could promote from within through 22-year-old Matthias Ginter. No matter who they bring in, the replacement will have big shoes to fill and Dortmund will now need a new leader to step up in the dressing room and the pitch.
While the sale of Hummels will definitely sting for Dortmund fans, they should take assurance in the fact that when this has happened in the past, they've still found ways to compete at the top of the league. I don't think that the 27-year-old will receive a very warm welcome when he returns to the Signal Iduna Park next season, but then again I don't think he would be expecting one. Also, let's not forget the real victim of all of these transfers: Marco Reus.