It was during the 2010 World Cup when a strange looking midfielder for Germany caught my eye more than any other player in the tournament. I didn't follow the Bundesliga yet, so I wasn't familiar with Werder Bremen's Mesut Ozil. However, it only took one match for me to realize he was the most exciting athlete on the pitch; not because of his speed or shot power, but because of his intelligence and movement. Over five years later, it's become the reason Ozil is so routinely overlooked.
One month after that World Cup, Real Madrid snatched up the young Ozil. Following three impressive seasons with Los Blancos, Arsene Wenger surprisingly broke the bank to bring him in as Arsenal's most expensive signing ever. Expectations couldn't have been higher.
If you asked the average Gunner, they'd probably tell you Ozil has been a slight disappointment during his time in North London. And they'd be more than slightly wrong. Ozil has been one of the Premier League's very best midfielders for the last three seasons, as well as Arsenal's most essential piece.
Why has Ozil met so much criticism in England? In a nutshell, it's how he looks on the field. Grantland soccer writer Mike L. Goodman made this point well in a piece he wrote last season contrasting Ozil with Arsenal striker Alexis Sanchez. With Sanchez, it's impossible not to notice him (or his thighs) because he works so hard. He's taking on defenders, firing shots at the net, ripping in crosses, etc. Ozil doesn't always operate this way. Goodman shows us why:
The vast majority of his work comes off the ball and away from the attention both of viewers and defenses. He's one of the best players in the world at maintaining a side's attacking balance, moving into spaces vacated by others either to free himself to receive a pass or keep defenders honest and create running, passing, and shooting lanes for others.
Basically, you see Sanchez's impact in the statistics, but we don't really have good numbers to capture everything Ozil does for his team. Watch an Arsenal match and you'll see he continues to be one of the best off-ball players on the planet. Sanchez's play is full of effort; Ozil's style is effortless. Sanchez is super visible; Ozil is the invisible man.
So when Ozil notched just 14 assists combined in his first two seasons with Arsenal, fans weren't exactly blown away with his production after seeing him tally 17 in two different campaigns in Madrid. In reality, his level of play has been high this entire time. That isn't to say he hasn't had dips in form like all players, but Ozil's impact with Arsenal, before the start of this season, has been far too dismissed.
One easily quantifiable example is key passes. Whoscored.com defines a "key pass" as "the final pass leading to a shot at goal from a teammate", so basically, it counts how often a player is putting his teammates in good scoring positions. Last season, Ozil led the league in key passes. In 2013-14, he finished second. Clearly, he was feeding his teammates well, the assists just weren't coming.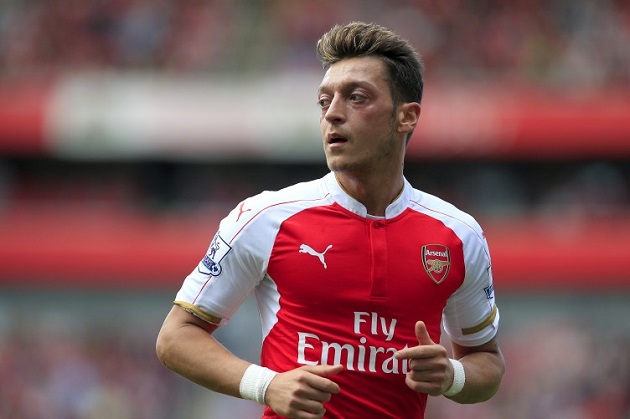 The reason you are seeing so many pundits suddenly praising Ozil's contributions this year is because of his league-leading 10 assists through 11 matches. That's spectacular — especially considering he's on pace to shatter fellow Gunner Thierry Henry's Premier League record of 20 assists in 2002-03 – but the deeper numbers, combined with his clear influence on his teammates' play, make the argument that Ozil has been the Premier League's best player this season.
You want to talk about key passes this season? Ozil has 4.9 per game, which leads the EPL. No one else has more than four, and no one on Arsenal has more than three. Ozil is distributing the ball to teammates in dangerous scoring positions at a ridiculous rate.
You want to talk about his effect on Arsenal's strikers this season? Four of Olivier Giroud's six goals have been assisted by Ozil. Three of Sanchez's six goals have come from the German. Arsenal's goal scorers have directly benefited from Ozil's class.
You want to talk about his influence on Arsenal's recent success? Wenger's club was competitive the few years before Ozil showed up, but they were quite noticeably trophy-less for nine years until he stepped on the grounds. After back-to-back FA Cup titles, Arsenal fans no longer have to endure any of those "trophy drought" jabs. And this season, they are clearly one of three clubs that have a legitimate shot to win the EPL title.
Ozil's assist total will ebb and flow. Due to the quality of your attacking players and the quality of your luck, even the greatest chance creators won't consistently put up big assist numbers. That statistic alone shouldn't decide how we judge Mesut Ozil's play. His game is much more brilliantly complex than that.