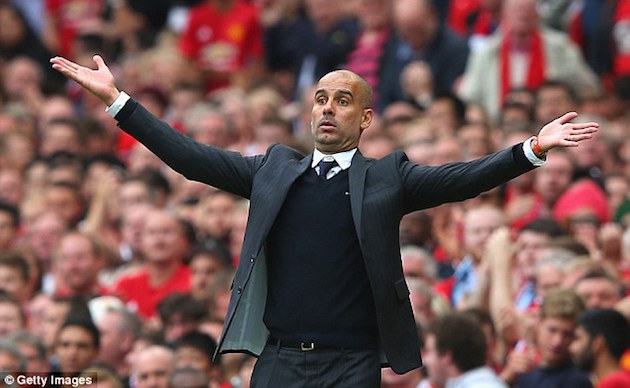 Even though they're first in the Premier League at the moment and have only lost a single match in league play, people have been quick to criticize Manchester City, as of late. Over the summer, the Cityzens brought on arguably the most talented manager in Europe with Pep Guardiola. The former Barcelona/Bayern Munich gaffer spared no expense in the transfer window bringing in the likes of John Stones (€40 mil), Leroy Sané (€50 mil), Ilkay Gündogan (€27 mil), Claudio Bravo (€18 mil) and Nolito (€18 mil).
These signings, especially Stones and Bravo, were supposed to help Guardiola instill his passing and possession style. At the start, the Sky Blues looked set to take the league by storm. Ten successive victories across all competitions (including wins over Manchester United and Borussia Mönchengladbach) had fans at the Etihad dreaming of the famed European Treble, and maybe even a Quadruple.
However, since that 3-1 win over Swansea City way back on September 28, Guardiola and City haven't won a single match. Draws against Celtic, Everton and Southampton along with losses to Tottenham, Barcelona (a particularly humiliating 4-0 result), and Manchester United have seen City go winless for six consecutive matches. That streak is the longest of Guardiola's managerial career, and because of that people have come close to hitting the panic button for the Cityzens.
Just like I did for United not too long ago, I'm here to tell you not to overanalyze this recent run of poor results for City.
After the poor result against Barça, a reporter had the gall to criticize Guardiola's heralded playing style. The 45-year-old was quick to reply with, "I've won 21 trophies in seven years. Sorry, guys."
I think that we need to put this poor run of form in perspective. Like I said earlier in the post, City are still sitting pretty atop the league table despite this winless drought. They still have the joint-best attack in the league, along with Liverpool. They also have one of the best defensive records in the league with no other top-four team posting a better goals against tally.
In the Champions League, they still sit second behind Barcelona and have to be considered the favorites to advance alongside the Catalan club.
One thing that I think a lot of people overlook when these "super" teams come together is the time needed to develop chemistry on the pitch. They have to gel with their teammates, they have to adjust to the typically more physical and aggressive playing style of the Premier League, and they also have to adapt to the intricate style of play that Guardiola wants from his teams.
Pair that with the quick turnaround and lack of recovery time that City have been cursed with this month, it's honestly not that surprising that they've fallen on hard times. The longest break they had between fixtures, not including the international break, was four days. That means within a week span, they had to travel to Barcelona, play against Southampton, and then travel to Old Trafford for a derby match for a tournament that really doesn't carry the weight of the other competitions they're involved in this season.
Yes, you could argue that if Guardiola was "the best" manager in the world, he would've been able to navigate his way through this tricky schedule with flying colors, but I don't think that's realistic.
As a United fan, am I happy to see them struggle a little bit? Of course.
Do I think that they'll continue to struggle? Not a chance.
I believe that as the season continues, and City continue to develop team chemistry and understanding, they'll once again become a true force not just in England but in Europe, as well.