You know, I really didn't like Jose Mourinho. My Chelsea fandom started when I was in 8th grade, which was after the Special One had departed, so I didn't really know him in his first stint at Stamford Bridge. As a Barcelona fan, I hated him at Inter for beating Barcelona in 2009-2010, given how he played at the Camp Nou and his celebration afterward.
And then came the Real Madrid years. I'm also a cule, so his loud-mouthed tactics and hyper-physical style were very frustrating. It escalated El Clasico to astonishingly violent levels and nearly derailed a disgustingly talented Spanish team. What's more, it wasn't all that successful; he won one Spanish title, a Copa del Rey, and a Spanish Super Cup in three years at Madrid, compared to 2 La Ligas, a Champions League, two Spanish Super Cups, a Copa del Rey, and a Club World Cup for Barcelona in that time. Messi also set the world record for goals and pretty much lit up Madrid in the process, even though Pepe and Co. did their best to turn Messi into a pile of ash.
So, long story short, I didn't like him. He attempted to annihilate the greatest club side ever, both on and off the pitch.
Enter Chelsea. It became apparent that Jose couldn't stay on at Madrid, especially after Xavi and Iker made peace and Jose's brutal tactics were less than successful. So off he went to London and into the open arms of Roman Abramovich.
Season 1, he alienated Juan Mata and Kevin de Bruyne. The former had single-handedly kept Chelsea alive the season before, and the latter was a personal favorite of mine. He also didn't win anything, despite squashing the top teams in England. I'm not one of those reactionaries who calls for the head of any coach who goes a season without a title, but as someone who was already negative on Jose, I rolled and spun my eyes around in my head to epileptic proportions.
But I love my Chels, even in their trigger-happy, frustratingly and often foolishly lavish transfer moves. So I decided to ride out Jose and hope for the best.
Fortunately, Jose and Bruce Buck made all of the right moves this summer. Rounding out the midfield with Cesc Fabregas was much needed; Mikel didn't add any creativity or forward movement, Ramires was more of an engine than a deep-lying playmaker, and Lampard was gone. So Fabregas could play a Busquets-for-Spain-type role, adding another creative presence to take the onus off of Oscar, Hazard and Willian. Often a lack of creativity killed Chelsea last year. Fabregas also offers pinpoint balls over the top or behind defense lines, which works wonderfully with the playing style of Diego Costa. Costa made his living doing that with Atletico; it allowed the Spanish side to stretch teams while staying relatively compact in the deep block.
Speaking of Costa… Obviously Chelsea needed a forward. Torres is, well, Torres. Eto'o was a one-year solution to begin with, and brave, professional Demba Ba was always going to leave, regardless of what he said on Twitter. So ideally two forwards were needed. Costa was an excellent choice: big, physical, a poacher. Like I said, he can make deep runs and stretch opponents, allowing Chelsea to smash and grab at high speed, which is an excellent option to have in the arsenal. He is also an aerial threat, a welcome addition to the Blues' frontline.
And then add in Didier and Loic. The former is a member of the Chelsea Old Guard. He, too, is an efficient, physical, aerial threat. Plus, a big fan favorite. The latter is a more skilled player, capable of running at players at high speed. He has been compared to Daniel Sturridge, another old name around the Bridge. I think it likely that he'll be the number two striker next year, in the event of Drogba's likely retirement. I can't see him staying in the Blue part of London for too long if he's playing third-string. Of course, he poses a medical risk, although not because of his repeatedly failed medicals. As I understand (because it's common knowledge, not because I have secret sources), he has heart issues which effect his medical tests, but has been cleared to play.
Those failed tests cost Remy a move to Arsenal, a fact that Chelsea seized upon at the last moment to add to their attacking play. Anyway, his medical issues are more of the injury-prone sort, a characteristic he has already exhibited, unfortunately. Still, once he regains fitness, he has a legitimate shot of establishing himself behind Costa.
So, with all of those critical pieces in mind, with the further addition of Filipe Luis (although the stellar play of Cesar Azpilicueta has kept the Brazilian out), Jose could have no excuses this time around. He hasn't disappointed. As of Dec. 4, he's tops in the EPL and has advanced to the last 16 of the Champions League. He just smacked Tottenham, which may not seem like a huge deal anymore, but they're still a (relatively) quality side and its a London derby. His side is still in contention for every trophy, and the smart money is for him to win at least the EPL title. Chelsea's success in the FA Cup, coupled with their obvious current supremacy, would suggest that they're also the favorites there as well.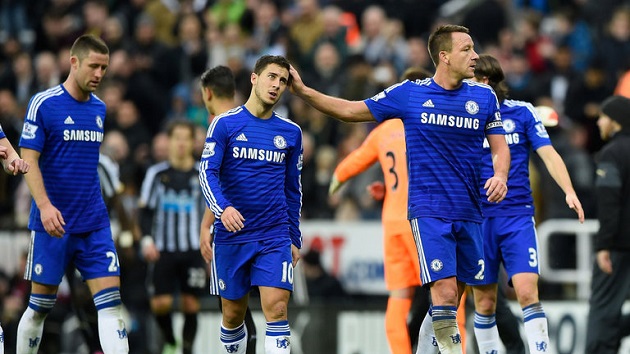 Historically, especially at Chelsea, Jose had defensively solid teams, who were more opportunistic and counterattack minded. Real Madrid was often the opposite, but still would withdraw into that shell. Last year, he would often employ that tactic against top sides last year, and when he went more attack-minded against lower sides, he dropped points. But no longer. His defense is playing wonderfully, with Terry and Cahill dominant in the back. Matic has been a revelation, and Fabregas is obviously playing (arguably) his best football since his Arsenal days/first three months at Barcelona.
Hazard, given more freedom to run rampant and focus less on being the creative influence, is leading the EPL in take-ons. Willian's play on the opposite flank helps create a dual threat, and both wingers' propensity to cut inside allows for the overlapping full back runs that Chelsea, and indeed much of Europe, likes to employ. This side is ruthless. This side is incredibly well-rounded, and this side is experienced. None of these players are up-and-comers anymore.
It's difficult to pick out a weak spot here. You could argue that Fabregas struggles with his positioning on the defensive side of the ball at times, which was a common issue at Barcelona. However, I would expect Jose to sort that out. Injuries to the forward line are troubling, as all three strikers have been hurt in the first 3 months of the season. Fortunately, they're all good enough to pick up the slack of any fallen comrades, so unless there's some sort of catastrophe, then that shouldn't be too troubling either. You could argue that, with the exception of the back line, the team isn't too terribly deep, but Salah is a quality player, and there are some promising kids coming up, as well. Again, barring an injury catastrophe, this team can have no excuse for not running away with the title.
Some thought they could go undefeated, but the recent loss doesn't worry me. Even in their most dominant years, Barcelona lost league games, despite La Liga being the worst league in the history of eternity (this is sarcasm) and going undefeated to Madrid from 2008-2011. But still, I expect them to win the title comfortably. I'd also wager that they'll win one of the two domestic cup competitions. I don't think they'll win the Champions League this year. Madrid and Bayern are so, so, so good. Chelsea belong just below them, maybe above but undoubtedly with Barcelona and a few others.
Last things last, they're the realest, you guys.