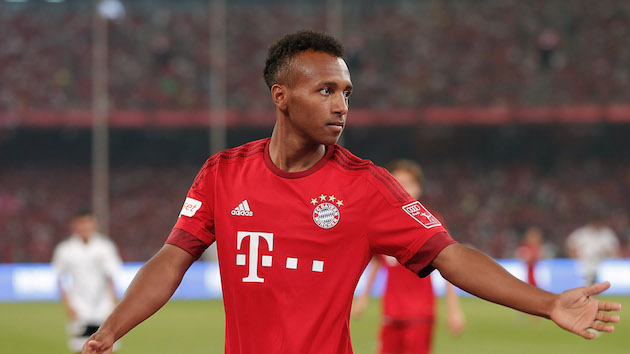 Yesterday, Julian Green made the announcement that he was departing the prosperous green pastures of Bayern Munich. After nearly seven years with the Bavarian giants, Green would be joining VfB Stuttgart starting in 2017. The 21-year-old's progress in Munich had seemingly hit a plateau, and US fans will be hoping that this move leads him to the heights that we all expected of him after the 2014 World Cup.
At the start of the season, things were looking a little better for Green at the Allianz Arena. The arrival of Carlo Ancelotti as manager, paired with an impressive performance during the club's pre-season tour, gave American fans optimism that their young prodigy would finally get his shot to shine in the Bundesliga.
Sadly, it didn't quite turn out that way. Through the first half of the season, Green had failed to make a single league appearance for the club, and he only ever made the bench six times. The 21-year-old would end up making just two competitive appearances, both in the German Cup. This lack of playing time, and overwhelming squad depth at Bayern, made it clear that Green would need a change of scenery if he wished to resurrect his once promising career.
Back in 2014, Bayern tried to get him more playing time by loaning him to Hamburg. That plan didn't really work out. Green's time with Hamburg ended with just five league appearances, and there was even a period of time when he was demoted to the reserves. Questions about his character, and talent spread through the media, and the optimism that came after his dramatic goal against Belgium quickly dissipated.
Now, Green appears to be following in the footsteps of DeAndre Yedlin. The speedy defender spent just one full season at Tottenham before moving down to the second division to join Newcastle United. In the English Championship, Yedlin has gotten significantly more playing time than he would've at White Hart Lane, and this senior experience can only help with his development.
Green will be joining at Stuttgart side that is right in the thick of the promotion race. Currently, Die Roten find themselves third in the German 2. Bundesliga table. They're actually tied with Hannover (2nd) on points, and there's only a two-point gap between them and TSV Eintracht Braunschweig.
Hopefully this is finally the right place for Green to develop into the player that US fans dreamed of when he committed his future to the Stars and Stripes. With the rise of players like Christian Pulisic and Jordan Morris, you can't blame some fans for somewhat forgetting about Green as their "new savior."
In my humble opinion, I don't think that Green will ever be the player that everyone hyped him up to be. That's through no fault of his own, it's just that everyone made him out to be the great American hero when no one can live up to that billing.
Is he extremely gifted? Of course. You don't stay at Bayern Munich for that long without having a special level of talent. The move to Stuttgart should move him far enough out of the spotlight to allow him to grow and develop. It's obviously not going to be the same type of environment or skill level as Bayern, but maybe that's what Green needs at this point in his career.