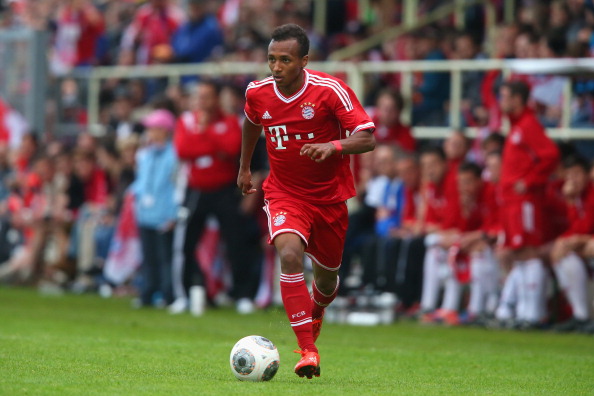 If you're paying attention to the U.S. roster for the impending World Cup in Brazil, you may have heard that Julian Green has been extended an invitation to train with the big boys. If you haven't heard much about him until now, you will in the near future. The German-American soccer player is talented, young, and could end up being a big part of the squad in the future.
Who Is He?
Julian Green was born on June 6, 1995 in Tampa, Florida, but moved to Germany when he was only two years old. The 18-year-old star is eligible to play for both the United States and for Germany Federations. He's shown dedication to both teams. In 2012, he represented the Stars and Stripes at the U18 level, and in 2013 he represented Germany at the U19 level.
While he's done well at the lower levels for both Federations, his professional club debut didn't begin until November 27, 2013 in the 88th minute. He has, however, been playing for Bayern Munich's reserve squad for the last season and already has 18 appearances with 15 goals.
Undoubtedly, the kid is talented, but even more than that, his elevated allure is what could land him on the USMNT roster. First of all, he has claimed that he's not ready to file his one-time change of associations, which means that even though he's training with the United States, he could still land on Germany's squad, and we've been snubbed in these situations before (see the cases of Rossi and Subotic). Even more so, he could one day be "the future" of the USMNT, so it's not a secret that we want him.
It's even been rumored that he's a favorite of Pep Guardiola. So not only does he have a roster spot for Bayern Munich – the reigning UEFA Champions League Champs – but the squad's legendary coach even knows he is going to be something big.
Last week, Green agreed to start training with the USA Squad; though, again, he hasn't filed his one-time switch with FIFA. Whether he ends up on our squad or not, would he be the right choice?
Does He Deserve a Roster Spot?
As I stated before, part of his allure is the fact that he could represent our team's future. However, it's very possible that the youngster could take up a roster spot this summer and not play a single minute, thereby not positively impacting the team's World Cup run at all.
Of course, there is chemistry to take into consideration. He hasn't played with Team USA at all during the qualifiers. Furthermore, the roster will only be finalized shortly before the squad departs for Brazil, so there won't be a ton of time for training with the final roster.
Currently, the US squad's depth chart is looking slightly slim up top, so using up a roster spot for someone who might not play doesn't seem to make a lot of sense. On the other hand, giving Green a roster spot over another controversial hopeful may not be such a bad idea.
If Green ends up joining United States, it sets us up for a potential promising future. But we have seen this before – sometimes the youngsters don't hold up to their hype. Either way, it makes for an exciting – and at times mysterious – next couple of months.
What are your thoughts? Should Julian Green get a spot on the USMNT when they head into Brazil?