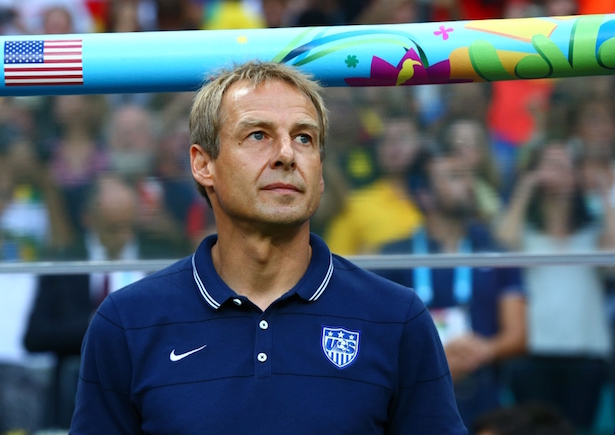 It may be an unpopular opinion, but Jurgen Klinsmann was good for US Soccer in many ways. His big picture ideas on how to improve soccer in this country were laudable, even if his actual managing was often suspect. Following his firing on Monday, Klinsmann's USMNT legacy will be debated for some time, but to me, it was a case of solid broad view approaches undone by managerial failures.
In July 2011, Klinsmann came in promising to change the game in the United States. He'd played at a premier level. He starred for Germany's 1990 World Cup-winning team. He'd worn the jersey of Inter Milan, Tottenham, and Bayern Munich. Plus, he'd even already managed at the highest levels, leading Germany to a third place finish at the 2006 World Cup, in addition to a brief stint at Bayern. So when Klinsmann talked a big game upon accepting the job as United States manager, people listened.
One of the things he wanted to do was play a more proactive, attacking style. This was an appealing notion to many that were tired of watching the Americans rely on their athleticism to win ugly, defensive-minded games. Klinsmann's promise to create a more attractive brand of football turned out to be quite tough to implement practically. After all, he wasn't going to be coaching technically gifted Germans anymore. There may have been flashes of that proactive style, but his vision never really panned out. The evidence for this was the 2016 Copa America, where the USMNT finished a respectable fourth through a mostly conservative, take-no-chances mentality.
Another of Klinsmann's big picture ideas was his insistence that his players go overseas to cultivate their talent. It will probably be one of the things he's remembered for most, since this was a sharp philosophical departure from his predecessors. Of course, this made for an icy relationship between Klinsmann and Major League Soccer. As technical director of US Soccer, it was Klinsmann's job to support and work with MLS, even if he may have spoken accurately about the league's level of play. To be sure, Klinsmann was in a tough spot, because while supporting MLS is important for US Soccer's growth, he also rightly wanted his national team players to get the best experience possible by challenging themselves in Europe. Either way, many of his regular USMNT players didn't heed his advice.
Then there was the issue of American youth soccer's structural issues. Klinsmann has long been critical of the "pay-to-play" system, which leaves behind players from poorer socioeconomic backgrounds, especially minorities. For US Soccer to really break through, Klinsmann knew that the youth system needed an overhaul. I think even he would admit that's a long-term goal that wouldn't be realized while he was coach, but he may be disappointed that more progress wasn't made before he was shown the door.
Most importantly, when it came to moving the game forward in this country, Klinsmann was obviously willing to upset the apple cart. Many people (Abby Wambach and new USMNT coach Bruce Arena, to name two) don't like how many dual-nationals he has brought into the fold, but Fabian Johnson, John Brooks, Jermaine Jones, and others have been invaluable to the team. And sure, sometimes Klinsmann could come off as condescending, as he did recently when he was quoted as saying his critics "don't understand soccer." However, the game can only grow here if the status quo is challenged. When it came to the wide view of US Soccer, Klinsmann often rightfully bucked up against conventional philosophy.
Alternately, when it came down to the narrow view — the tactics and methods and actual results — Klinsmann was often lacking the necessary coaching acumen.
This was repeatedly the case with his lineup and formation decisions. Over the last few years, American soccer fans have bristled at some of the players he's chosen. Timothy Chandler comes immediately to mind. Chris Wondolowski was frequently extended an invitation, despite Klinsmann's opinion of MLS' quality. Both of these players struggled mightily whenever they featured for the USMNT; you may remember (or have nightmares about) Wondo's crucial miss near the end of the Belgium match at the 2014 World Cup. More recently, Klinsmann started Jermaine Jones, who was just recovering from an injury, in the first two games of The Hex. The faith he has placed in certain players has been mind-boggling at times.
Of course, no one will forget his momentous decision to leave Landon Donovan home for the 2014 World Cup. No matter what you thought of an aging Donovan, Klinsmann refusing to bring him to Brazil was an unnecessary, and probably irrational, power move. It still doesn't really make sense to this day, particularly with Wondo and Brad Davis providing little to that team.
The sketchy lineup choices were one thing, but Klinsmann's tactics may have occasionally harmed the United States. He's consistently deployed players out of position, and thus, out of their comfort zone. At the World Cup, with Jozy Altidore injured in the very first match, he decided to try a diamond midfield formation with Michael Bradley playing further up the field than he was used to. Bradley responded with some of the worst performances of his career. On a national team, not everybody can play where they usually do for their club sides, but Klinsmann often seemed to care too little about continuity.
More recently, he exhibited poor judgment when, for reasons known only to himself, he decided to use a 3-5-2 in the first game of The Hex versus Mexico. To employ a rarely used formation in a massive World Cup qualifier made little sense. The players were clearly uncomfortable; Bradley and Jones pleaded with their manager to switch it up. Klinsmann obliged in the second half, but his initial decision may have cost them the game. Following a disastrous 4-0 loss at Costa Rica a few days later, US Soccer had reached the tipping point with Klinsmann.
Losing the first two matches of your final round of World Cup qualifying may have officially been the end for him, but more damning was the lack of progress over the last five years. Is the USMNT better off now than they were a half-decade ago? In some ways, perhaps, but Klinsmann didn't find any more success than his two predecessors, Arena and Bob Bradley. According to FIFA rankings (admittedly, it should always be noted how flawed FIFA's rankings can be), the USMNT never climbed above 13th with Klinsmann, even during the promising middle years (2013 and 2014) of his tenure. More typically, they have been ranked in the high-20s or low-30s under him.
There's nothing shameful for US Soccer about appearing in the Round of 16 at the World Cup, especially considering the competition in their group. There's also nothing shameful about finishing fourth at the Copa America. The problem is that these last two years, post-World Cup, have proven that the United States are not progressing enough to be a consistent top 15 team in the world. Their worst finish in 15 years at the 2015 Gold Cup and the poor play during World Cup qualifying was the death knell for the Klinsmann Era.
He certainly had some progressive ideas for US Soccer and calling the last five years a failure would be unfair. Ultimately though, it was actual coaching mistakes that got Klinsmann fired. His big picture thinking may have been on the right track, but when there's no sustained success after five years, the big picture starts to take a less appealing shape.