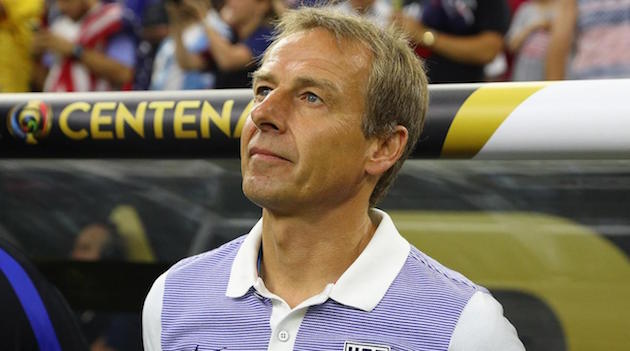 One thing that has terrified me as a US Soccer fan over the last couple years is age. Our "golden" generation of players including Michael Bradley, Jozy Altidore, Clint Dempsey and Tim Howard are getting older, and you really have to wonder how many of them will even be playing professional soccer when the 2022 World Cup rolls around.
Now that fear of losing these veterans is being replaced by the optimism of what's to come. For the vital matchup against Mexico on Friday, Jürgen Klinsmann has included some of the most exciting prospects that the Stars and Stripes have to offer. Christian Pulisic (Borussia Dortmund, 18), Lynden Gooch (Sunderland, 20) and Julian Green (Bayern Munich, 21) headline the talented group of youngsters, but could we see a couple of others step up this international break?
While I haven't completely agreed with all of Klinsmann's decisions as the head coach of the national team, I have appreciated his Louis Van Gaal-like effort to bleed youth through the system. Under Bob Bradley, it felt like he had his core group of players that he wanted to build around, and if you didn't mesh, too bad. Granted, he didn't have the same youth pool to work from that Klinsmann does now.
The former Bayern Munich/Germany manager has made players like Green, Pulisic and Jordan Morris near household names for US fans. He had the faith and belief in Morris to select him for senior international duty even though he wasn't even a professional yet. The striker repaid this faith in full by scoring against Mexico in 2015's edition of Dos a Cero. Sadly, a hamstring injury forced him out of this matchup.
Also included in the 26-man roster are Cameron Carter-Vickers (Tottenham Hotspur, 18) and Ethan Horvath (Molde, 21). For Carter-Vickers, this is the first time that he's been called up to the senior camp, and he's only made two senior appearances ever for Spurs (both in the League Cup). I don't expect him to make a cameo appearance in Columbus. Horvath, on the other hand, made his international debut last month in a 2-0 victory over Cuba. The 21-year-old keeper could very well represent the future of the US beyond Tim Howard and Brad Guzan. He already has extensive experience in European competition, and it could just be a matter of time before he moves away from Norway in search of top-level competition.
A couple of other players that we may forget are still in the early stages of their careers are Bobby Wood (Hamburg SV, 23), John Brooks (Hertha Berlin, 23) and DeAndre Yedlin (Newcastle United, 23). You could argue that Yedlin doesn't earn his move to England two years ago if it wasn't for Klinsmann's decision to throw him on the pitch during the US's World Cup run. John Brooks may not even be eligible for the Stars and Stripes if it wasn't for Klinsmann's extensive efforts to recruit German-Americans for his project.
Even though we still may be a couple of years away from this group of players to really establishing themselves as the leaders of the team, I don't think that that's necessarily a bad thing. As I've said in the past, one of the biggest reasons for so many of the hyped American talents (Freddy Adu, Juan Agudelo) don't live up to their potential is the ridiculous amount of pressure that fans put on them to immediately be the saviors of the program.
We want to instantly be the best nation in the world, and win trophy after trophy, but soccer isn't a sport developed with instant gratification in mind. Jürgen Klinsmann understands that. Even though fans may be crying out for Pulisic to be playing every single minute of every single match, Klinsmann knows the negative effects that can have on the teenager's development. As talented as the BvB midfielder is at the moment, it's nothing compared to what he could be in five years.
Against Mexico on Friday, I doubt that we'll see all of the young players mentioned in this list play the full 90 minutes. Some may not even step on the pitch. But that's not the most important thing in the world. What matters is that they're getting exposed to life on the senior level. They're learning the nuances of top level international competition and developing into more well-rounded players. Now is not their time to lead, but all of this time spent as a substitute and working in camp will get them ready when it is their time.