In my opinion, this is the best part of the Premier League season. Seemingly every day of the week, we're treated to a match, and chances are you'll get to see your favorite team play about three matches in a seven-day span. With all of these matches in such a short window, we're bound to get a couple blockbuster fixtures, and this weekend is no exception. Saturday, we'll get to see somewhat of a Bundesliga rematch as Jürgen Klopp's Liverpool host Pep Guardiola's Manchester City. It may be with different clubs, but the tactical chess match between these two great managers should be a great viewing spectacle.
Guardiola will be receiving a major boost in attack this weekend as Sergio Aguero returns from suspension. The Argentine striker has missed the club's last four matches after a malicious challenge against David Luiz, but even with that absence, he's still City's leading scorer by a healthy margin. Despite his usual proclivity for finding the back of the net, Aguero has never scored at Anfield. This time around, he might have a better chance than usual to end this streak. The Reds' defensive unit has been anything but reliable, and the striker may be looking to make a big statement after a frustrating four-game suspension.
Without him leading the line, City have actually been fairing just fine. Through four matches, they've won three times, and no team has managed to stop them from scoring at least twice. I think that a major reason for this success is the depth that Guardiola has when it comes to goal scorers. Outside of Aguero, 11 players have found the back of the net for City. Raheem Sterling, Nolito and Kelechi Iheanacho highlight the scoring depth, and this weekend will serve as somewhat of a homecoming for Sterling. The former Liverpool man has really come into his own this season, and he even took home for August. Last season, he was held scoreless on three occasions against his former club, will he be able to make more of an impact this time around?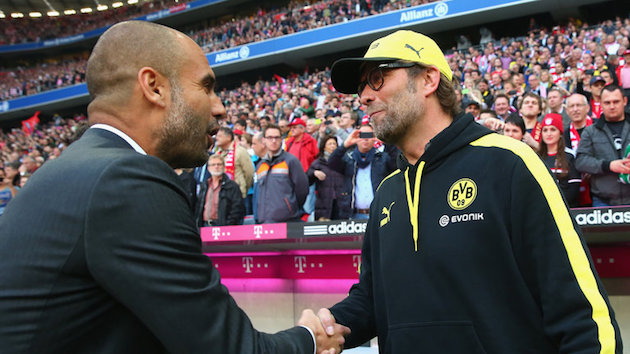 Switching over to the Reds, Klopp has led his side to a four-game unbeaten run since an embarrassing 4-3 collapse to Bournemouth. However, during this unbeaten streak, they've only played one team in the top half of the table. This weekend's visit from Man City will be the first time since mid-September that Klopp has faced another top-four side. Any dropped points could see the Reds drop as low as fourth place, and the already intimidating six-point gap between them and Chelsea could grow even wider. They'll need a strong performance from Roberto Firmino and Sadio Mane up front if they want to keep their title hopes alive and well.
Let's take a quick look at the head-to-head record between these two magnificent managers. Back in their Bundesliga days, Klopp's Borussia Dortmund and Guardiola's Bayern Munich faced off eight times in all competitions. In those eight matches, they were pretty much dead even. Both sides won four times (one of Klopp's wins did come from a penalty shootout), but in terms of silverware, Guardiola was head and shoulders above his German colleague with three league titles and two German Cups. Will this trend continue in England, or can Klopp gain some valuable footing in the race to beat Guardiola to the title?
As much as I dislike both of these teams, and don't want either of them to see success, but I see Liverpool as the lesser of these two evils. Sadly, that won't help them take home all three point on Saturday. Their shaky defense paired with the return of Aguero, will make this a tough test, but I think they can at least hold on for a draw. Final score prediction: Liverpool 2-2 Man City