Kyle Beckerman is probably the first player you notice when watching a US Soccer match. It's not hard to see why. With his heavy dreadlocks flying around, there is no other U.S. player that looks quite like him. However, Beckerman's style of play is almost predicated on not being noticed. As a classic defensive midfielder, his skill set has never begged for attention quite like his hair. For the USMNT, that is a valuable asset for this World Cup.
Club Play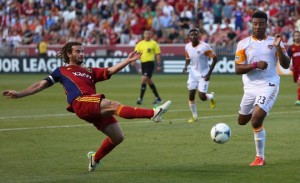 A regular MLS starter since 2003, Beckerman has never been the type of player to blow you away. However, he has to be considered one of the all-time best MLS midfielders. His consistent, solid play has helped him gain the respect of many, including Jürgen Klinsmann. On the Colorado Rapids from 2002-07, Beckerman was a key contributor, but it wasn't until he joined Real Salt Lake midway through the '07 season that he truly started to gain recognition.
An MLS All-Star five straight seasons since 2009, Beckerman has been Real's captain since 2008. More importantly, his top form has produced splendid team success as well. They won their first MLS Cup in 2009 and were last year's Cup runner-up, losing on penalties to Sporting Kansas City in the final.
International Play
IMG Soccer Academy in Bradenton, Florida began in 1999 as an athletic training program for the United States' top youth soccer prospects. It's now a residency program that houses US Soccer's U-16 and U-17 national teams. In an academy that has produced other stars such as Landon Donovan and DaMarcus Beasley, Beckerman was one of IMG soccer's inaugural students. Even before then however, he had been playing for USA youth squads since 1997. To say it has been Kyle Beckerman's dream to play at a World Cup for his country would be a sizable understatement.
His senior team experience began in 2007, with the 2009 CONCACAF Gold Cup serving as his first true introduction to US Soccer fans. Starting all six matches, he assisted the United States to a second place finish behind Mexico. However, Beckerman didn't find himself apart of Bob Bradley's World Cup 2010 roster. The next year, he would get his chance again when Klinsmann took over. Playing all of Jürgen's 2011 debut, Beckerman would go on to be a huge part of USA's 2013 Gold Cup title.
USMNT role
"You can't find a better pro than him. He's totally committed and focused. Every time he steps on the field you know what you'll get." – Jürgen Klinsmann, 2013
Beckerman is not your typical USMNT member. Besides his unusual look, he doesn't have near the athleticism you expect from a United States starter. He's never been known as a speedy player, and now that he's 32, his athletic gifts have only receded. Still, it's easy to see what Klinsmann sees in him. Beckerman's defensive gifts and control on the ball have allowed him to sneak into a USMNT World Cup starting lineup.
No one saw this coming. Most had thought Beckerman would end his national team career as a fringe contributor, who only played when guys like Michael Bradley couldn't be there. Now, through two World Cup matches, Beckerman has started both of them as the deep-lying figure at the bottom of the midfield diamond. His excellent positioning has been key in avoiding too many quick counterattacks from Ghana and Portugal, and his confident passing from the back has allowed the U.S. to build attacks without losing the ball before they can get started.
Basically, he's an error-free player, perfect for tournaments when one bad play can derail years of preparation. Klinsmann's right, you know exactly what you're getting from Kyle Beckerman. Although not the type to hit a 65-yard wonder strike, he has been providing some of the best holding midfield work around.
Did You Know
He was a wrestler in high school.
Married in January of this year.
His dreads have been growing for seven or eight years.
Unsurprisingly, Beckerman enjoys bringing his guitar or ukulele during his travels.