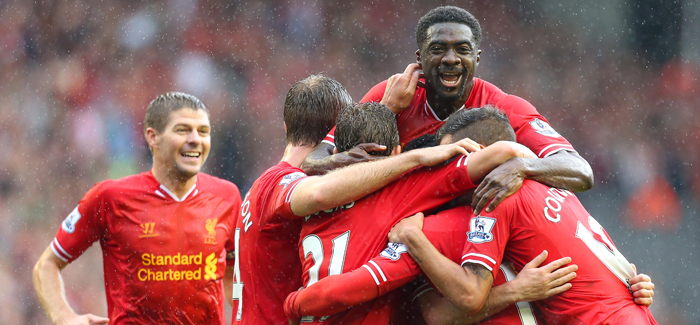 Do not refresh your computer screen and do not get too excited (if you are a Liverpool fan) or too depressed (if you are anyone else)…after three games in the EPL season, the once-mighty Liverpool find themselves sitting atop the pile. Their best start to a Premier League campaign and a big win over Manchester United have some people believing that Liverpool might actually compete for a top four spot and be competitive this season. Can the red portion of Merseyside maintain their hot start and return their squad to former glories?
The scariest part about Liverpool's current run is the fact that their next six games are completely winnable. Until their seventh fixture (away at Arsenal), Liverpool will only face one team that finished in the top half of the table last season (West Brom) and sprinkled in with these fixtures will be a visit from newly promoted Crystal Palace to Anfield. If Liverpool are able to accrue anywhere from 18-21 points in their first nine fixtures, then they will certainly be on pace to finish in the top four. Now, some may even have them vying for the top spot, but I do not believe that Liverpool will be able to maintain 1-0 victories from now until next May…eventually, they will experience a few slip-ups.
If they do have a decent showing in these next six fixtures, the tie against Arsenal at the Emirates will definitely be a great measuring stick. A win at Anfield against a toothless Manchester United definitely had its positives, but a guarantee of league success it is not. Especially with Tottenham strengthening their squad via their Bale money, the fight to get in the top four will be even more difficult than in years past. Arsenal, despite only one big summer signing, and Arsene Wenger will know that missing out on the top four will certainly cost him his job. David Moyes and United will also want to avoid any doubt looming over their managerial hire, so they will be gunning for the top spot throughout the campaign. Mix in Mourinho at Chelsea and Pellegrini with City and you definitely have (at least) two very worthy teams that will be missing out on Champions League football next season.
A top four finish is not a ridiculous idea for Liverpool, but the journey has only just begun. If the reds falter during their next six matches and only see a return of 7-12 points, then the wheels may already have started falling off their hopes. However, a decent return and then a great result at the Emirates will certainly have Liverpool and the fans preparing to tour Europe once again. For the sake of their fans, I hope that they are able to take them back to where they feel they belong.