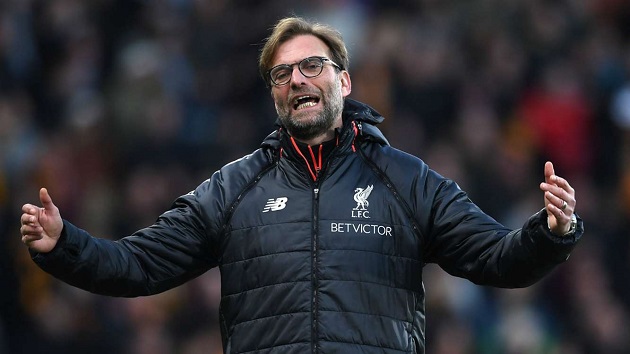 At the start of the season, it looked like Premier League title race was going to come down to two teams: Chelsea and Liverpool. Chelsea have maintained that title push, and at this point, it would take a downfall bigger than that of the Atlanta Falcons for them not to win the league. Liverpool, on the other hand, have fallen on barren times as their once unstoppable attack and formidable defense struggle to beat even relegation-threatened teams.
While the conclusion of 2016 saw the Reds finish on a five-match unbeaten run, the new year has been full of misery and despair. Through 10 matches, Jürgen Klopp's side have won just once, and have lost to second division Wolverhampton Wanderers (2-1), Southampton (1-0), and relegation favorite Hull City (2-0).
At the moment, their only win of 2017 is a narrow 1-0 result over Plymouth Argyle in an FA Cup replay after they failed to dispatch the fourth division team at Anfield. In addition to digging themselves a near insurmountable hole in the league table, the Reds have also been knocked out of the FA Cup and even the EFL Cup.
With this dire start to the year has quickly extinguished Anfield's optimism and enthusiasm about the season as they stumble to what looks like yet another trophy-less campaign. You have to go all the way back to the 2011/12 season to see Liverpool's last piece of silverware (League Cup).
I think that there's a very clear culprit for this horrendous start to 2017. At the halfway point of the season, Liverpool had the highest scoring attack in the league. Through 19 matches, they found the back of the net 46 times. In that span, only three teams managed to keep a clean sheet against the Reds in league play. Including those clean sheets, Liverpool only failed to score more than one goal in a match on six occasions.
Sadio Mané and Roberto Firmino looked like two of the best attacking players in the league, and the midfield combinations of Philippe Coutinho, James Milner, Jordan Henderson and Adam Lallana seemed to dominate matches with ease.
This attacking force was left short-handed for the majority of January, however, as Mané left to compete in the African Cup of Nations with Senegal. In his absence, Liverpool scored just five times in seven matches. In three of those matches, they were kept off the scoreboard completely, including a 0-0 draw against Plymouth. There was only one match where they managed to score more than once, and even then they still lost 3-2 to Swansea City who were at the bottom of the table going into the match.
With Mané unavailable for selection, Klopp experimented with Divock Origi and Daniel Sturridge in the starting lineup, but neither one could come close to replicating the threat that Mané provided up front. Other than a two-goal performance against Swansea, Firmino was anonymous without Mané.
The former Southampton forward has since rejoined the Reds from AFCON. It was even reported that the club arranged for a private jet to fly Mané back so that he would be available for a match against Chelsea (he would come on for the last 15 minutes in a 1-1 draw). Over the weekend, the 24-year-old started in the 2-0 loss to Hull City. With the lack of anything close to resembling a rest, there has to be a concern that Mané may be at a slightly higher risk for injury, but at this point, it doesn't look like Klopp can afford to give him a break.
On New Year's Day, Liverpool were second in the table with 43 points; they were just six points behind Chelsea. After a disastrous January without Mané, the Reds now find themselves all the way back in fifth with just three more points, and with a 13-point gap separating them and Chelsea.
On the bright side, kind of, Liverpool no longer have to worry about outside competitions distracting them from the league, but their upcoming schedule is anything but easy. In the next five weeks, they'll host Tottenham and Arsenal, and then they'll have to travel to take on Manchester City. If they can somehow find a way to steal nine points from those three matches, then they might be able to claw their way back into second place, but I think we can all agree that it's too late for them to catch Chelsea.