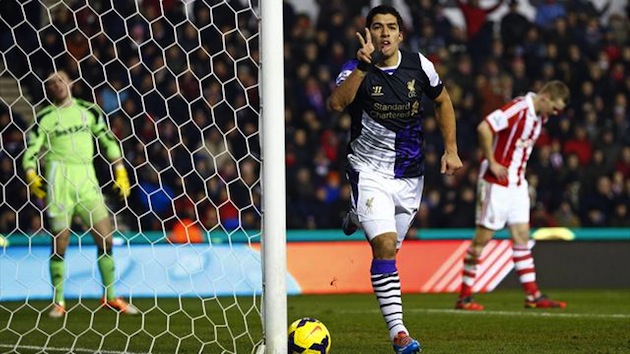 The weekend of English Premier League football rarely offers up a game with 8 goals and has two "ex-men" scoring against their former club. However, the Premier League also rarely offers up a match without some extreme excitement involved. The meeting between Stoke City and Liverpool provided no shortage of drama and goals as Liverpool marched to another three points and returned to the elite echelon of the table. Still, somehow, Liverpool showed across ninety minutes exactly why they will/won't be able to win the title.
Liverpool CAN win the title…
…Because they have one of the highest powered offenses in the Premier League. Suarez is the most in-form striker in Europe right now and other members of the squad are starting to find the back of the net. After seeing Coutinho and Henderson miss decent chances by a decent margin, it makes one wonder how high Liverpool could take the score if some of the non-Uruguayan players could find the back of the net. Factor in that Sturridge returned from injury and immediately showed his connection with Suarez, Sterling looking willing to attack defenders and showing confidence on the ball, and Gerrard provided strength for the defense that Lucas (although talented) could not provide. If Rodgers adds a few more grains of talent in the January window, then the sky is the limit! This squad has every chance of winning the title.
Liverpool CANNOT win the title…
…Because they leak goals like a relegation squad from set-pieces and this year's EPL is incredibly top heavy with Everton, Tottenham, and Manchester United all poised to see a decent season end without getting into the Champions League. Yet again on Sunday, Liverpool showed an amazing lack of quality when the ball gets floated into the box. Martin Skrtel has been flirting with giving away a penalty for holding an opponent's kit all season and Brendan Rodgers (whether through injury or otherwise) has been unable to cement a decent back-four for the club. Although Gerrard does add stability (Adam does not score at the weekend if Gerrard does not slip), Stevie G cannot be responsible for marking some of the bigger players that come up from dead ball positions. If set-pieces continue to be a weakness, Liverpool might even struggle maintaining a top four finish…showing that this squad has no chance of winning the title.
The scariest part for a Liverpool fan of any kind has to be that Liverpool often flirts with this position. Making their faithful followers think that success is nigh just before an epic disaster sees them plummet in form and fall out of position in the table. In fact, most would argue that any type of injury to Suarez could send The Reds spiraling out of contention for anything outside of the Europa league. Given how they never seem to do anything the easy way, viewing the rest of Liverpool's season should provide an endless supply of ups and downs…I will certainly be staying tuned.