With the Premier League title all but decided, it's time we turn our attention to a more interesting European race. To find that, we need not look any further than La Liga (I guess technically it's now called La Liga Santander, but we're going to stick with just La Liga for this).
Right now, the top three clubs in Spain are separated by a grand total of just three points. Real Madrid are leading the pack with 55 points, Barcelona are following closely behind in second with 54 points, and rounding out the pack is Sevilla with 52 points. In the final 14 matches of the season, 15 if you're Real Madrid, all three of these title contenders will face each other. In theory, this could shape up to be the most dramatic finish to a season in all of Europe this year, except for maybe Ligue 1 in France.
But we're not here to talk about France, we're here to talk about Real Madrid, Barcelona, and Atlético Madrid, wait no sorry Sevilla. Sorry, I've just been so used to thinking of Atlético as the only club that could keep up with the big two.
Let's start off with Real Madrid. Before a loss to Sevilla back in in mid-January, there were murmurs that Los Blancos may be able to go on an Invincibles style undefeated run to finish the campaign. Dreams of a European treble looked like they were inching closer and closer to becoming reality.
Sadly, for fans in the Spanish capital, that dream has taken a little bit of a detour. Since that loss, Zidane's squad have been knocked out of the Spanish Cup, but they currently hold a comfortable 3-1 advantage over Napoli in the Champions League. I guess on the bright side, the elimination from the Spanish Cup takes away from some of Madrid's hectic schedule, and it should allow them to devote more focus towards a league title run.
Anything but winning is unacceptable at Madrid so I really don't envy the task that looms over Zidane, but he has more than enough talent at his disposal. The return of Gareth Bale from a long-term injury layoff should only help Madrid's already unstoppable attack, and having to choose between Sergio Ramos, Pepe, and Raphael Varane in defense is never a bad problem to have. Adding to the good news, they actually have a game-in-hand over Barça and Sevilla so their lead could actually be as much as four points, at the moment. Even with a difficult run to end the season, with matches against Barça, Sevilla and Atlétco looming, I still have to consider Real the favorites in La Liga.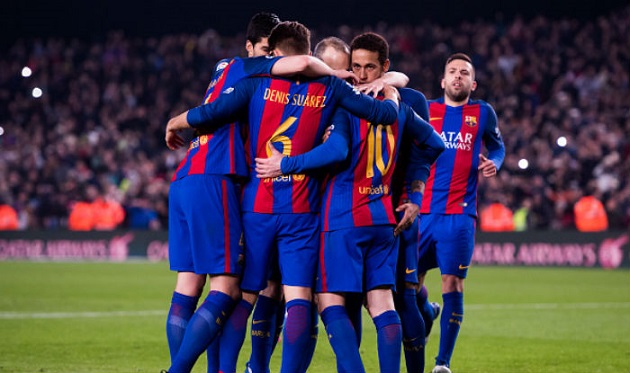 Moving on to Barça, it's actually kind of impressive that they are in second place. It's not often that the team with the highest scoring attack and stingiest defense find themselves anywhere other than the top of the table.
Other than a shock 4-0 defeat at the hands of Paris Saint Germain, things have pretty much been going as expected at the Nou Camp. You have to go all the way back to the start of October to see the last time they lost a league match, and they're currently on a four-game winning streak.
There have been murmurs about internal turmoil at the club, but that happens every season and things are still going just fine. I think that when a club is as successful as Barcelona, any little sign of trouble is going to be blown up. Is the loss to PSG demoralizing? Yes. Is it the beginning of the end for all good things at the Nou Camp? No. A thousand times no.
With Champions League involvement looking less and less likely, I think that Luis Enrique is only going to have to worry about league matches until the end of the season. Luckily, the final for the Spanish Cup against Alaves is almost a full week after Barça's final match of the season. Will this give them the edge to catch up to Real? I guess we'll have to wait and see.
Closing out the article, we turn to Europa League powerhouse Sevilla. Jorge Sampaoli's squad have quietly ascended past Atlético Madrid this season, and now they have a chance to win their first league title in more than 70 years.
On paper, Sevilla doesn't really stand out from Real, Barça or even Atlético. Through 24 matches, they've scored 48 times (12 less than Real, and only four more than Atlético). In defense, they've allowed 29 goals (eight more than their nearest competitor). Despite all of this, they find themselves just three points off the top spot, and seven points ahead of fourth-placed Atlético.
Throughout the season, Sevilla have shown that they have the ability to grind out results. It may not involve the artful passing of Barcelona, or the potent attack of Real, but they find a way to get the job done. Out of their 16 wins this season, 11 have been by just a one-goal margin. Even though it might not be pretty, at the end of the day, all that matters is results, and that's exactly what Sampaoli's squad are delivering.
While it may be a little bit of a long shot for them to jump over Barça and Real Madrid for the title, I doubt that any of Sevilla's fans will be disappointed with the season they've had.