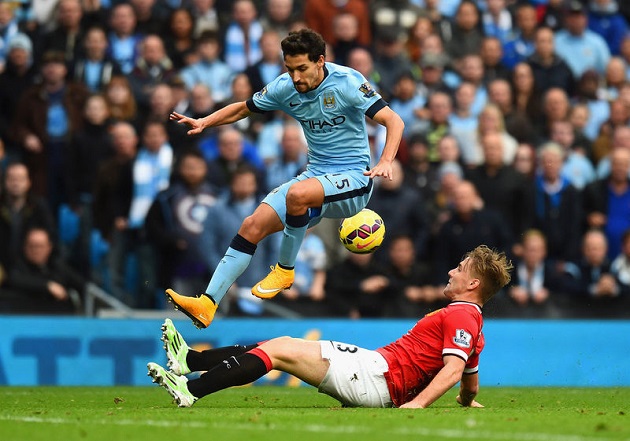 The build-up was intense. The pre-match speculation and commercials ran for weeks and weeks. What team from Manchester would emerge as the king of the city after Sunday's match? Would Manchester City continue to put the pressure on Chelsea? Or, would Manchester United jump back to a part of the table where they believe they belong? Despite seeing the game end with the scoreline sitting at 1-0, this game had enough going on to have fans and pundits talking for weeks…so, here's what we saw happen at the Etihad.
Chris Smalling may have cost Manchester United more than 3 points.
No matter how you feel about how the rest of the game was officiated, Smalling earned his red card. A foolish yellow for impeding a quick break by Joe Hart (for those that did not watch, Smalling jumped in front a keeper's punt…an iron-clad automatic yellow) meant that the young central defender would have to be mindful for the rest of the game. Then, a rash challenge that would have been a yellow card in ANY game would result in Smalling's red card. While it seemed that the player was already leaving his feet in anticipation of the challenge, Smalling and United knew immediately that it was a completely deserved red card. There may have been some calls that were contentious during other moments in the game, but this moment was as close to a sure-thing as you can get.
Sergio Aguero is the scariest striker in the entirety of the Premier League.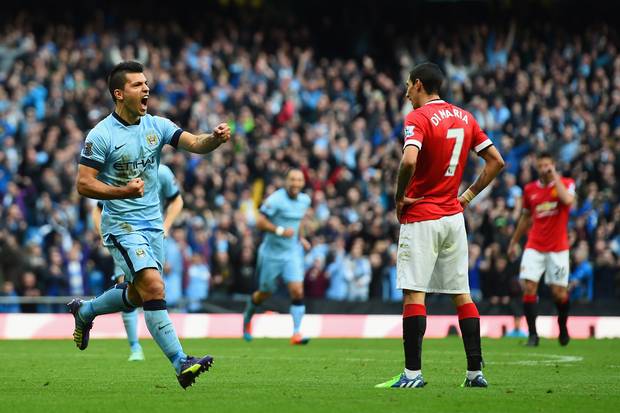 While it may seem sacrilegious to some, Sergio Aguero may be proving that, without his injuries, he might have overshadowed Luis Suarez last season. The early season may have belonged to Diego Costa, but if Aguero can avoid any serious medical attention this year then the Argentine attacker could easily walk away with the golden boot. A weak footed volley at a difficult angle shows that Aguero is always dangerous when he is anywhere close to the opposition's 18-yard box. He troubled United every single time he picked up the ball close to the goal. A run inside the box where he beat five players and could have easily had a penalty and a snap-shot after beating Valencia are moments that are starting to seem commonplace to Aguero. Suarez may be in La Liga, but defenses still have a South American striker in the Premier League that they fear…
There is no doubt that Manchester United is improving.
Even with ten men, United never felt completely out of the Derby. United actually started the game the brighter of the two squads and controlled the first 5-10 minutes. A defeat to their hated rivals, Smalling's dismissal, and Rojo's injury will not allow fans to quickly move onto the positives. However, the team showed a spirit and attacking threat late in the game that shows LVG has the Red Devils on the right track. Rooney seems re-energized, Fellaini actually looks like he remembers how to play, Di Maria unlocks defenses at will, and Van Persie still seems to be living a charmed post-30 existence. Considering that Luke Shaw started showing why he might be the left-back of United's and England's future against such strong opposition, the future is finally starting to look brighter for the red side of Manchester (it is just still tough to tell when that bright "future" will turn into the bright "present.")
Manchester City will walk away from this fixture with the three points and the feeling that they may be the only club that can challenge Chelsea's march towards the title. However, they will certainly feel like their next door neighbors are closing the gap on the stranglehold that City has held on the Manchester derby for the last few meetings. Liverpool should be crushed after their loss to Newcastle and unable to truly see the positives as they move forward, but United will be able to find a wealth of positives in the loss. Not a scoreline for the ages, but certainly a big statement about the future of football in Manchester. We absolutely cannot wait for the next City/United fixture…cannot wait…