While most will look towards how Mata will change the culture at Manchester United and how he will end impacting the rest of United's season, the recent moves by Chelsea and the money that will be made from their recent ventures are starting to show a change for the Abramovich-led club. Any follower of the London-based blues for the past decade will be well aware that their methods for victory rely largely on the fact that they can spend money by the truck-load and are truly the English originator of "keeping up with the Jones-es." But, has something changed with Chelsea as of late?
Although there has been plenty of money spent as of late (moves for Willian, Matic, and Shurrle do no come cheap), Chelsea are starting to show a relatively different method in the transfer market. Sending a huge chunk of their players out on loan and having other teams help develop their players and have the other teams paying the player's salary seems to be a huge piece of the Chelsea development process at this point. Anyone unfamiliar with the statutes of Financial Fair Play, having other teams cover the salary of your players (players like Bertrand, Moses, etc.) helps to offset the club finances and it can help get you closer to breaking even while still keeping key players on your own roster list.
On top of the fact that Chelsea now have loan products positioned almost everywhere at this point, the club is also starting to sell excess players for a profit. Sure, when Torres eventually leaves there is no way that a club will be willing to make the pain of the 50 million Euro transfer go away, but Chelsea have recently turned two rather large profits on their two latest big-name transfers. With Kevin De Bruyne being brought to Chelsea for nearly 7 million Euros, the Belgian doing practically nothing for the blues, Chelsea have now turned around and more than doubled their initial investment with a 17 million Euro move to Wolfsburg for De Bruyne. While Chelsea will still have spent more than they have made in the 2013/14 season, the club have always seemed more prone to have unused players ride the bench than use them to make a profit…a change for the Londoners?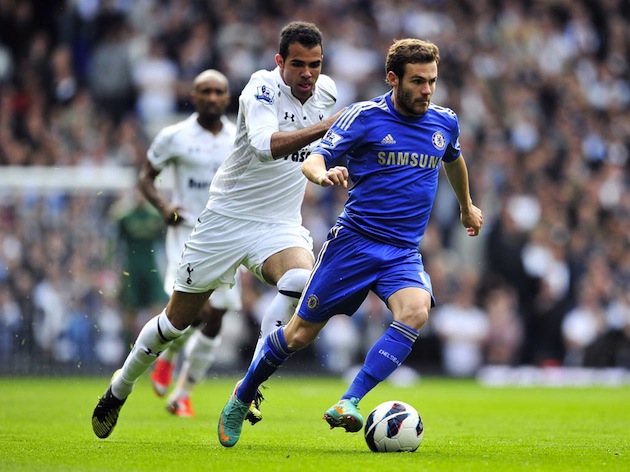 The other big transfer that we mentioned at the beginning of this post is the move of Juan Mata to rivals Manchester United. A player purchased for 27 million Euros in order to arrive at Chelsea and with the move to the red devils rumored to have turned around a 10 million Euro profit, the blues really seem to be moving in a different direction. The Chelsea that we have known for years seemed to keep any player that was still viewed as a decent piece toiling on the bench or in the reserves rather than allowing the players to leave. In fact, it always seemed like Chelsea would only allow a player to move once they have gotten the best years of the player for themselves. Eiður Guðjohnsen was shipped to Barcelona after the blues had gotten his best years, Drogba got sent off after London thought it had seen its best, Sturridge got sent out once Chelsea thought the English international had given everything he had, and that just seems to be the way that Chelsea have always done business.
Mata was sent packing with what can easily be seen as the best years of his career ahead of him. But Chelsea seem more than fine to make due without the Spanish playmaker and will feel that the profit they made from Mata and the impact they were able to glean from his short time as one of their own is more than worth the benefit of keeping Mata. So, will this become the future of Chelsea football club? Will they actually start moving towards a more functioning business model or will Abramovich find it impossible to avoid throwing money and a new manager at any small problems that may arise? If teams like Chelsea can start making profits and actually functioning under FFP while still standing head and shoulders above other teams' finances, then everyone else might be in serious trouble…BIG TIME trouble…