Sadly, Arsenal decided to play the role of party-poopers on Monday night beating Sutton United 2-0. The Gunners' victory knocked out one of the final two non-league clubs left in the FA Cup, and in the next round, they'll have the chance to knock out the final one, as well. Standing between Arsene Wenger and a spot in the FA Cup semi-finals at Wembley is Lincoln City.
Lincoln's, also referred to as the Imps, route to the final eight of the competition started all the way back in November (almost two months before Arsenal even played their first match) against Altrincham F.C.. Since then, the Imps have upset the likes of Oldham Athletic (third division), Ipswich Town (second division), Brighton & Hove Albion (second division), and most recently, Burnley (Premier League). Their fairytale run now puts them in the unthinkable position to become the first non-league club to ever reach the semi-finals of this historic tournament.
Now that we've talked about how they reached this point in the tournament, let's take a closer look at the club.
The Brothers Crowley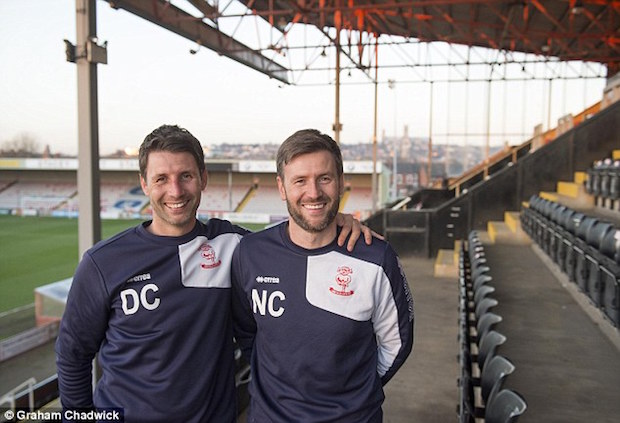 The Imps' manager (Danny) and assistant (Nick) are actually brothers. Before taking over at Lincoln, Danny was a part-time manager for fellow non-league club Braintree Town FC. He nearly led Braintree to League Two, but fell just short against Grimsby Town in the promotion playoff. Along with being Braintree's manager, Danny and his brother Nick were also PE teachers at FitzWimarc School in Raleigh (not the one in North Carolina).
During his time at Braintree, Danny told reporters, "Every morning I enjoy going to work, whether it's at school with the pupils or whether I'm at Braintree Town with the players. It's only work if you don't enjoy it and I love what I do."
The Crowley brothers have only been in charge of the Imps since May 2016, but they've already begun to work miracles. In addition to their unbelievable run in the FA Cup, the Imps have also enjoyed a thrilling year in the National League. Currently, the club find themselves atop the table with a four-point lead over second place even though they've played two games less than their closest competitors. Last year, they finished 13th with only 69 points (that's only five more than what they're currently sitting on through 16 fewer matches).
Creepy Mascot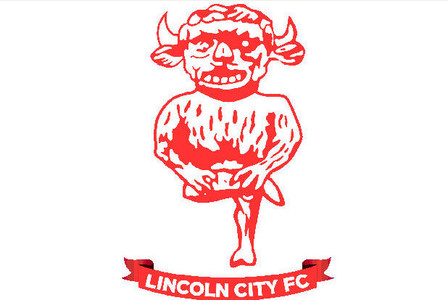 If you thought that the "Imps" sounded creepy enough, just take a look a their logo. If I was a kid that supported Lincoln City, I don't even know if I'd want to buy their kit because I think it would give me nightmares hanging in my room. The "creature" that sits on the crest is a mythical creature that is apparently based on some local lore.
The city's tourism website tells the tale of how one day the devil let loose a bunch of demons in England. After some of these imps destroyed other cities, a group of them stopped in friendly old Lincoln to mess up the town's cathedral.
Thankfully, for the townspeople, an angel came down and tried to turn all of the imps into stone. Most of those imps escaped, but one unlucky imp couldn't get away and was promptly turned to stone in the town.
I guess on the bright side for that imp, he has now achieved a bit of global fame as Lincoln City's mascot. So in the end, it's not all bad for him. In case you were wondering, his name is "Poacher the Imp."
Football League Aspirations
Just to review really quickly, when a club is referred to as "non-league," it means that they do not play in the top four divisions (Premier League, Championship, League One, League Two) of English competition. The last time that Lincoln were a part of the Football league was all the way back in 2011. Before getting relegated at the end of the 2010/11 campaign, Lincoln actually enjoyed a pretty long run in the "higher" divisions and were consistently part of the promotion playoff picture for a while. They even worked their way up to the third division for a while, as well. You have to go all the way back to 1902 to find their best ever finish (fifth in the second division).
Even though they've experienced somewhat of a drought from league competition, with the form they're in currently, it could just be a matter of months before we see them return to the fourth division.
While it's easy to attribute their cup wins to the opposition falling short, I also think it's important to remember that Lincoln are actually a competitive team on their day. They held their own against Ipswich over two legs, and then smashed Brighton (who are currently second in the Championship) 3-1. A trip to the Emirates will obviously require a little luck to advance, but if Arsenal come out lazily, don't be surprised if Lincoln sneak through. As they showed against Burnley, they only need one shot on target to pull off the upset.