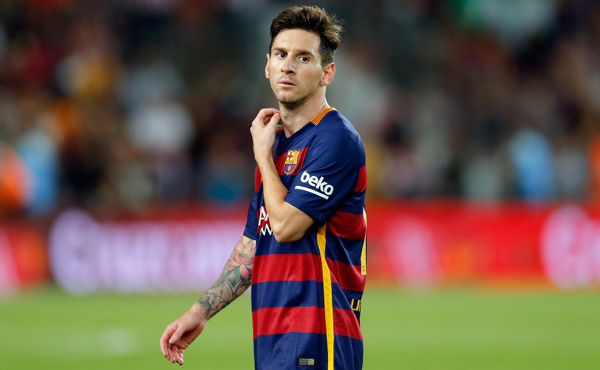 The biggest match of the club calendar is coming up this weekend. For the first time this season, Barcelona and Real Madrid will renew their historic rivalry: El Clásico. Per usual, these two massive clubs currently sit in the top two places of La Liga, with Barcelona ahead by just three points, and Saturday's match could have massive title implications as we head into the winter break.
For Barcelona, the major question going into this derby has to be the health of Lionel Messi. The 28-year-old superstar has been sidelined since the end of September with a leg injury, and only recently resumed training with the first team squad. Before the injury, Messi had scored three times in the league, while also providing two assists. Since his absence, Barca have continued to roll on in the league, losing just once in five matches and winning the rest. While the Argentine is expected to participate in the match, it's still unclear if he'll be able to have the same impact after such a lengthy injury layoff. With that being said, Messi at 75 percent is still better than most other players.
While Luis Enrique's side has been unbeatable at home this season, away games have proved to be a little tricky. Through five matches, Barca have won just three times while losing twice. A 4-1 thrashing at the hands of Celta Vigo near the end of September showed that Messi and Co. can be torn apart. With all due respect to Celta and their fans, I think that the atmosphere at the Santiago Bernabéu will dwarf that at Balaídos. Will the Barcelona defense be able to give their side a fighting chance against their bitter rivals?
You can't talk about Messi and not talk about Cristiano Ronaldo. The 30-year-old, who just released his biographical movie, has continued to terrorize opposing defenses this season. Through 15 games, Ronaldo has put away 13 goals. Even though he is now going into his thirties, the Portuguese winger hasn't shown any sign of slowing down, or losing his flair and creativity on the pitch. In both games against Barca last season, Ronaldo managed to find the back of the net. Right now, he is in the midst of a two-game goal "drought" (can we really even consider that a drought?), but I think that Ronaldo always manages to shine in games like this. Don't be surprised if he scores once again in El Clásico.
Perhaps the most impressive player on Los Blancos this season has been their keeper. After a move to Manchester United deteriorated minutes after the deadline, Keylor Navas has stood tall and made a case to be Madrid's long-term solution between the pipes. Other than a 3-2 defeat to Sevilla two weeks ago, no team has been able to score more than one goal against the Costa Rican keeper. It wasn't until the fifth game of the season that Navas even allowed a goal. Going up against the likes of Neymar, Luis Suárez, and Messi means that Navas is likely in for another busy day at the office, but he's shown time and time again this season that he can handle the pressure.
It's always hard to bet against Messi, but I'll take my chances this time around. This season Real Madrid have scored more goals and allowed fewer past them. While Barca only have five goal scorers this year, Madrid have nine. The combination of Madrid's stout defense and Barca's disappointing away form make Los Blancos the favorite in my book. Final Score: Real Madrid 2-1 Barcelona