Excuse the title above. It kind of makes Lionel Messi seem like a South American dictator bent on suppressing any and all footballing peasants who have any inkling of rebellion. That's not really accurate. The diminutive Argentinian is more like an all-powerful wizard capable of mind-bending magic that can effortlessly put a spell on the most challenging of competitors. The Dumbledore of Football, if you will. Of course this would make Cristiano Ronaldo the Voldemort of this particular exercise. While many would agree with that assessment, I think of Ronaldo as some kind of otherworldly talented (and groomed) prince capable of breaking his opponents' will at the snap of his fingers. I mean, just look at the third best striker in the world reacting to his greatness – in a World Cup Qualifier for cryin' out loud.
Please also excuse all of the hyperbole I spout concerning these two, but you can't really help it. We are very clearly watching two of the greatest players in the history of the game perform at the highest level and if I want to make overdrawn Harry Potter references, I'm going to do that. It's like trying to describe your recent trip to Disney World when you're a kid – you tend to get a little excited.
So, what now that Ronaldo has gained the upper hand on Messi in their epic, world-conquering rivalry? Are we currently under a Ronaldo Rule? I would agree with many that he is the best player on Earth currently. This is difficult to argue with, considering he just capped off a year where he poured in goals (69 in all) that made even the most ardent anti-Ronaldites shake their head in disbelief. He had an indelible late-year performance with a World Cup berth on the line in that instant classic against Zlatan Ibrahimovic and Sweden. In fact, FIFA (conveniently, I might add) extended the voting deadline due to a "low number of votes" after that match. After his individual brilliance and a little help from FIFA, the tide had shifted and Ronald became the favorite to take home the Ballon d'Or.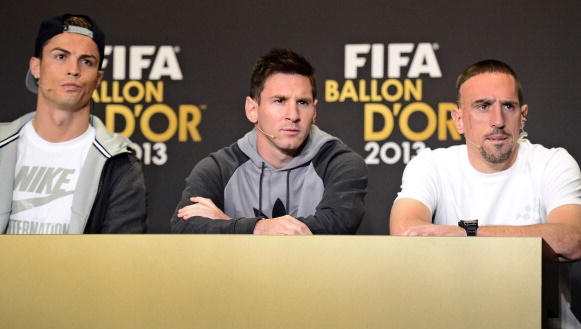 Before this, it was actually Franck Ribery who was considered to have a legitimate shot to win it. In a down year for Messi (amazing what is considered a "down year" for him, right?), many soccer pundits believed it was time to award a team player such as Ribery, whose Bayern Munich side had recently won everything they possibly could. With all due respect to Mr. Ribery (who would have been a fine recipient of the Ballon d'Or), he's just not in the same stratosphere as these two.
Now that we know how Cristiano captured his second Ballon d'Or (his first came in 2008), will his reign continue, or will Messi come charging back casting new and improved spells in order to ascend the throne once again? This is what makes the rivalry so fascinating and good for the game. Messi had just rattled off four straight Ballon d'Or awards and Ronaldo's fantastic exploits were routinely ignored. Clearly this has bothered Cristiano. You could see it on his face last night when he accepted that award – tearing up at the affirmation of his peers. All of our images of a stunting, sneering CR7 were melted away at the sight of him warmly welcomed by Pelé and other soccer greats to receive the most prestigious individual award in the game.
Look, I've always been a Messi guy. I will take his flawless, yet unassuming creative genius over Ronaldo's immaculately conceited combination of power and grace any day. However, I found myself strangely delighted that Ronaldo took the Ballon d'Or home yesterday. Could Messi come back with even greater powers now? Is that even possible? These questions are what make this kind of player debate captivating. In such an inherently team game, it can sometimes be refreshing to see a soccer player take over matches LeBron James-style.
And I realize there is no shortage of words that have been written about these two and their Homeric battle for soccer supremacy. It's just that too often we feel the need to support one side and automatically denigrate the other. Why do we do this? Even if we have our personal preferences and opinions, can't we appreciate both? Messi and Ronaldo are already two of the greatest players of all-time. They are both in their prime, trading off Ballon d'Ors and La Liga titles, with their legacies on the line. So, yes, hyperbole and exaggeration come naturally when describing these two, but why wouldn't it?