The US and Mexico played out a largely satisfying 2-2 draw last night in Phoenix. Both teams played with attacking verve, even if the backlines were a bit leaky. The USA dominated the first half, while Mexico owned the second. Beyond the result, both Miguel Herrera and Klinsmann learned some key things looking ahead to Brazil '14.
First, for the USA, the left side of the midfield has no perfect solution. Brad Davis started brightly and had a few dangerous crosses, but lacks the burst of speed to press defender and close space on defense. He faded as the game went on, which was expected due to MLS having just started. Eddie Johnson is the opposite: he makes great runs into the space behind the backline, but lacks the defense and possession game to be a realistic option. Julian Green perhaps offers the best balance between attack and defense, although his play around his own and the opposing box needs to be sharper. Veteran Landon Donovan, considered the starter on the left, was relatively anonymous by his standards on the right. For folks screaming for him to play in the hole instead of Dempsey, watch games from 06. His best spot is on the wing (and probably the left).
If we could meld Davis' sweet left-foot to Eddie Johnson's finishing and Julian Green's pace, we'd be in a great place. Instead, we have good players with aspects of their game that are international caliber. Ultimately, Klinsmann's decision will be based on external factors. Tactically, does he think the team needs a goalscoring threat (Deuce and Jozy are not lighting the nets aflame)? Do we sometimes lack the width provided by a dribbler or a great crosser? On plain soccer skill grades, Donovan is leading the pack, probably followed by the balance of Green, the finishing of Johnson, and the crossing of Davis. But then there's the 4 more years component: do you get young guy Green World Cup experience? Or pick a stable, cool-headed veteran like Brad Davis who's paid his dues to US soccer? What creates the best locker room today?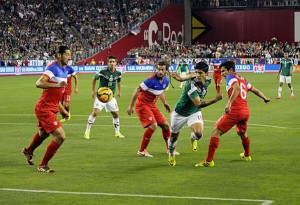 Second, also for the US, the Beckerman vs. Edu debate was perhaps re-lit. I'm a fan of Kyle Beckerman's positional sense and quick-passing. He's also improved the physical part of his game: he looks stronger and fitter. Just compare his 2009 Gold Cup final start with the 2013 tournament. Still, he faded in the second half and holes started to appear. When Edu came on, the US looked instantly and noticeably better. The Union midfielder used his body to great effect to both win balls but also to shield it and keep possession. Ultimately, both are behind Bradley and Jones, but this is a case of class vs. form. Edu's club situation was a mess for two years, but he played well at South Africa 2010. He's also finding his groove at the Union. Ultimately, Edu probably complements Bradley better than Beckerman, who's positioning lets Bradley get forward but lacks the same tackling bite.
Third, Mexico's coach needs to seriously tweak his team's 3-5-2 if they want to get out of the group. It was really weird to hear him say he won't play Dos Santos because there's no "player in the hole" in his team, and then he played Cruz Azul star Marco Fabian in the hole. Fabian struggled and only looked good out wide on the left, where he played later on. Mexico played better when they fielded two proper forwards in the second half, but Rafa Marquez looked like the player despised by New York Red Bulls fans: he seldom tackled. His passing was consistent, but not creative. The cross-field switches just weren't firing. Yes, he scored a goal off a header, but he's not a player to build a team around (like Pirlo at Italy). He's a ghost of a former all-star; he disappears too often and for too long.
So, fans enjoyed an exciting game, and the coaches got some last minute information. The US roster looks set but for some close calls at backup centermid and left mid, while Mexico's 3-5-2 will either click and produce goals or fail colossally. Either way, I can't wait to see both teams this summer.