Well we're halfway through the year here. So let's look at what's going on around the world.
Chelsea
As an avid Blues fan, I haven't been too impressed thus far this season. True enough, Chelsea sit third in England on goal differential (if they had 8 more goals, they'd be second over Liverpool. Just 8, nothing too big), with the chance to move up to at least 2nd, depending on how Liverpool do, on Monday when they play Arsenal at the Emirates.
But still, I'm unimpressed with Mourinho, and with the team as a whole. Mourinho has marginalized Kevin de Bruyne and Frank Lampard, while slowly phasing out Ashley Cole. He hasn't played Fernando Torres off the start in a few weeks, sticking with the equally unimpressive Samuel Eto'o. The striker problem is massive at Stamford Bridge; letting Lukaku go to Everton was a monumental mistake. Why you would pay Eto'o for essentially a season while continually shopping Ba instead of sticking with Lukaku and building around him is a total mystery. Mourinho has similarly alienated Juan Mata for God-knows what reason (some people claim Mata isn't a 'Mourinho player; coincidentally, he's also a Spaniard and a close friend of Iker Casillas; the Spanish contingent and specifically Casillas and Ramos fought openly with Mourinho at Madrid). Kevin de Bruyne has world class potential. He's not a regular starter, but he should be a solid squad player. I would rather have him working through the team then Willian, a player who smacks of a last day purchase. A waste, if you ask me.
Fortunately for Chelsea, Eden Hazard has hit his stride and is starting to produce masterful performances. Were it not for him, a few more losses would probably be on the cards. For what feels like the umpteenth season, Chelsea were bounced from the League Cup by an inferior side. Now, some fans will say that it doesn't matter as a tournament; but Chelsea still played a strong side and it's still a trophy. January will be important for the Blues. They desperately need a striker, and Mourinho needs to set aside his massive ego and reevaluate some of the decisions he's made of late.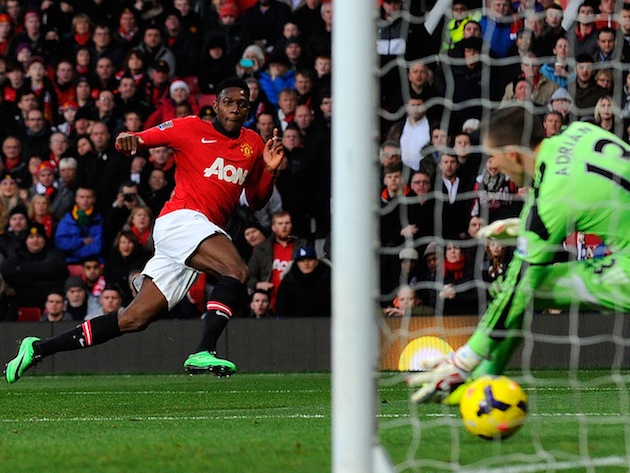 Manchester United
Some people are very negative about United nowadays. I can understand why; United fans are used to a certain atmosphere and dominance. Honestly, that dominance was precarious at best. United's squad is not nearly as good as some people think. Young, Valencia and Nani are all on the decline. Chicharito hasn't been effective since his first season, when opposing defenses learned how he played and, more importantly, scored. RvP can't seem to stay healthy, so the onus for scoring has been on Rooney. And say what you will about the man, but Wayne has been wonderful for the Red Devils this year, despite demanding a transfer and nearly leaving for Chelsea last summer. It's impressive, and he's done everything he can to yank this team into the top ten.
Sir Alex pulled a rabbit out of the hat continually. He was helped along by solid performances by Rooney and amazing work by RvP.  The squad isn't up to City or Chelsea, and now that Arsenal is getting work out of so many players, even they seem to be stronger than United. Much work is needed by United in January, just like Chelsea. The midfield must be shored up. Patrice Evra's replacement needs to be recruited, as does another central midfielder. A number of players need to be shoved out the door, and perhaps another striker brought in.
Take heart, United fans. Moyes needs time to fix United. He was never going to be Sir Alex, and if you expected the transition to be seamless, you were fooling yourself.
Barcelona
If you've been closely following Barça this season, you know it's been a roller coaster ride. Despite being top of the league, top of their CL group, through in the Copa del Rey and largely solid given the circumstances (the 3rd coach in 3 seasons and an injured Leo Messi), they're constantly having garbaged heaped upon them. That's chiefly from the Madrid press, who have recently accused Messi and his family of money laundering and ties with South American drug organizations. Hmm.
Perhaps it's all true. Perhaps it's complete bull, and I think that's more likely true. Spain is notorious for the lack of independence of the major newspapers. The Barcelona press is controlled by the Barça; ditto with Real Madrid and their local newspapers. In the past, when Barcelona players, and specifically Messi, have been attacked by the rival press, the blaugrana's board have been infuriatingly silent (STAND UP FOR YOUR PLAYERS, YOU IDIOTS), but recently, Rosell and his board have bumbled to their feet and threatened legal action, which they've done in the past.
But most importantly of late: the war of the board vs. the players. Messi and vice-president of economics Faus have been engaged in a war of the words through the press; there have been rumors that Messi demanded a contract extension after reports surfaced about Neymar's salary (which the Madrid press perpetuated; they're claiming his contract ultimately amounted to nearly 150 million euro. Using that math, Bale's is 250 million euro. Idiots). Faus told a newspaper that Messi didn't deserve it and he was being greedy. Messi fired back that Faus "knows nothing about football," that he's "trying to run the club like a business, and it is not." Messi went on to say that Barcelona is the best club in the world and should be run by the best leaders, and that he never asked for a contract extension. Woof.
That's a player vs. a club board member. Factor that in with the slow renewals of Iniesta (!), Bartra and Montoya, and the failure to adequately sign Thiago, and the club is really not doing themselves any favors. These players are stars and the heart of the club; they are not merely employees. You can take this to the bank: Rosell will not be reelected come 2016. He is gone. And Joan Laporta, a hero in Barça folklore and former president, is rumored to be preparing a campaign. I would be veeeery pleased were that to happen.
Quick Points
I'm not going to lie. I don't want Ronaldo to win the Ballon d'Or. But he will. And it'll be because of his amazing goal scoring tally in 2013, Messi's injuries and FIFA reopening the FIFA voting, conveniently after Ronaldo tore up Sweden. Sepp Blatter refused to say why he did that. Coincidentally, Ronaldo will be attending the Balon d'Or gala for the first time in 3 years. Yikes.
While on the subject of Ronaldo, the annual La Liga awards were recently awarded. Messi won both the league's best player and the best forward. However, Ronaldo won the newly-created and non-transparently awarded 'MVP.' Hmmm.
 Arsenal are a revelation. Every single Arsenal player who called for Wegner to leave, Ramsey/Giroud to be sold and the club to be overhauled should be given a clap upside the head. That includes that imbecile Piers Morgan.
Ditto with Liverpool. Luis Suarez is probably the best player in the world right now, right alongside Ronaldo.
AC Milan are imploding. Heads will roll.
SPORTING KC ARE THE BLANKING BEST TEAM IN THE HISTORY OF FOOTBALL.
I am not biased.