As we approach the midway point of the Premier League season, it's time for me to re-evaluate my preseason predictions. To start things off, we're going to try and predict how the top four will finish up, and sadly, I don't have Manchester United winning the title this time around.
1. Chelsea
The Blues have looked a revitalized squad under Antonio Conte and are in the midst of what could be a record-setting winning streak. This time last year, Chelsea were arguably the most disappointing club in the entire league as they floundered above the relegation zone. Now, the London club find themselves atop the table with a commanding six-point lead, and I don't see them choking any time soon.
After a forgettable season last year, Eden Hazard has come flying out of the gates and finally looks like his old self again. The Belgian winger has been one of the most dangerous and creative attacking players in the league this season, and his resurgence has paved the way for Diego Costa to terrorize opposing backlines. Both of these players have claimed a Premier League Player of the Month award this season, and they've also combined for 21 goals along the way.
While Hazard has pretty much been a new signing for Chelsea this season, one of their actual new signings has quickly won, or re-won, the hearts of fans at Stamford Bridge. David Luiz returned to Chelsea this summer after a two-year absence to mixed opinions, but he's grown into a key cog in Conte's defensive machine. With Luiz leading the back four, fellow summer signing N'Golo Kante has adopted a similar role to the one he had at Leicester last season sitting just in front of the backline. His tireless work ethic and outstanding defensive IQ allow him to snuff out most attacks before they even start. Currently, the Blues have the best defensive record in the league (only 12 goals allowed through 18 matches).
The depth, talent and coaching that Chelsea have at their disposal make them my favorites to win the league this year. I never thought I would hate writing a sentence more than that.
2. Liverpool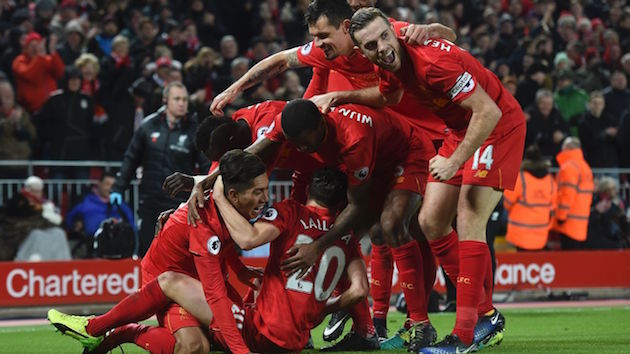 Jürgen Klopp really has shaped this club back into title contenders. Over the summer, the former Borussia Dortmund manager added the likes of Sadio Mane, Georginio Wijnaldum, Joel Matip and Loris Karious to the roster, and for the most part they've worked out for him. 18 matches into the season, the Reds find themselves in second place, but six points behind Chelsea. Their predicted second place finish has nothing to do with a lack of talent on their end, but I just don't think that Chelsea are going to let them catch up.
For me, Sadio Mane has been Liverpool's player of the season, up to this point. The former Southampton man has far exceeded any expectations that some people had for him this season, and he shows no signs of slowing down. He currently leads the team with eight league goals, and is third on the team with four assists. His pace and lethal touch make him a constant nuisance for opposing defenses, and Klopp's attacking system appears to fit him like a glove.
While Liverpool have been absolutely flying in attack, they have the best offensive record in the league currently, fans have to be concerned about how many goals their conceding. A big reason for that is the quality, or lack thereof, they have between the pipes. Simon Mignolet never really inspired a lot of confidence at Anfield, and the introduction of Karius was supposed to fix that. Now, Mignolet finds himself back as the starter after Karius' less than stellar performances. You could make the argument that if the Reds had a keeper with the talent level of Hugo Lloris, Petr Cech or Thibault Courtois they'd be leading the table at this point.
Sadly, for Liverpool fans, that isn't the case. Now, they just have to hope that their voracious attack has enough momentum to carry them through the rest of the season. In the words of club legend Steven Gerrard, "This does not slip."
3. Manchester United
I know that this is significantly lower than what I predicted at the start of the season, but when you consider the rough start that José Mourinho had at Old Trafford, this is still pretty good. This summer was filled with record breaking transfers, the world of Zlatan, and unbridled optimism for fans at Old Trafford, but a quick and painful reality check brought the Red Army back down to earth.
The early part of the season for United was filled with narrow leads that they couldn't hold on to, and embarrassing defeats (4-0 to Chelsea). Paul Pogba and Henrikh Mkhitaryan struggled to emulate the form they had at Juventus and BvB respectively, and the Special One had seemingly lost his winning touch. Now, the Red Devils are in the middle of a five-match winning streak, and it finally looks like all of the very expensive pieces are clicking together.
The most expensive of these pieces is Paul Pogba. The Frenchman was having a difficult time living up to his world record price tag at the start of his second stint at Old Trafford, but now we're beginning to see him at his superstar best. The introduction of Michael Carrick in the midfield has given Pogba the ability to be more attack-minded and creative in the final third of the pitch. His chemistry with Ibrahimovic up-top could form one of the best attacks in the league.
Granted, United won't finish above Liverpool in this prediction, but at least we'll beat City.
4. Manchester City
It was between City, Tottenham and Arsenal for this final spot, but the Guardiola factor gave City the advantage. Guardiola has shaped the Cityzens into a free-flowing squad with ridiculous depth across the board, but a lack of consistency could come back to bite them in the end.
Similarly to Liverpool, City's defensive additions have been struggling to live up to the hype. Claudio Bravo hasn't been able to quite cope with the physicality of the Premier League, and his trademark passing prowess hasn't quite transferred over to the Etihad. Another player signed for his distribution ability was John Stones. The former Evertonian has been prone to some high-profile defensive slips, and it's clear that he still has a couple years to go before he's at his peak.
While Bravo and Stones haven't lived up to the billing, a signing from last summer, Kevin De Bruyne, has re-established himself as one of the best midfielders in the entire league. KDB can create and finish attacks whenever he wants during some matches, and with all of the attacking options around him, it's no wonder he leads the league with nine assists (three more than his nearest competitor).
De Bruyne and City currently sit third in the table and four points ahead of Tottenham and United, but their inconsistency in defense is going to be their downfall.