Not even 15 seconds into the only regular season matchup between Sporting Kansas City and Real Salt Lake this season, a nasty collision ended with two players rolling on the pitch in pain. It was due to a rather senseless challenge from RSL back Chris Wingert, as he slammed into SKC forward Kei Kamara on an unplayable ball. Did Wingert just misread it or was there a message being sent? I'm going with the latter. That was just the start of the physical play that occurred in that match. These two teams were first and second in points back then and were fully expecting a war. Now they come up against each other in the MLS Cup Final (4 p.m. EST, ESPN) over four months later. So let's get prepared for the big match on Saturday.
Clashing Styles
That subheading is actually a bit misleading. These two teams play similar possession heavy, slow build-up styles. Real Salt Lake is more extreme in their tiki-taka imitation, but Sporting Kansas City is no slouch when it comes to winning possession percentages. RSL's production comes from their prolific midfield team of Javier Morales and Kyle Beckerman (10 assists and 6 assists, respectively). They work out of a midfield diamond that makes it near impossible to get the ball back. Fortunately for SKC, they have one of the most high-pressure squads around. They play with unbelievable energy to force teams into silly mistakes and rushed passes. They will do so again on Saturday afternoon. Can Morales and Beckerman, two of the best passers in the MLS, handle what will be thrown at them?
Key Players
Real Salt Lake:
We have already mentioned Morales and USA international Beckerman, so who else will have a significant impact on the success of Real Salt Lake? Goalkeeper Nick Rimando is one of their greatest assets. He has had a fantastic MLS career with D.C. United and RSL since 2002. The 34-year-old continued his solid play this season, posting a 1.04 Goals Against Average. Forward Alvaro Saborio scored a team high 12 goals this season – and he only played 16 games. He missed the Western Conference Finals due to an injury but, if he plays, will no doubt be a serious threat for the SKC defense. Likewise, Robbie Findley has scored twice in the last two games. On the back line, it's veteran Nat Borchers and Tony Beltran who control things. RSL has let up a disproportionate amount of away goals this season (25, vs. just 16 at home) and will need to be on their game if they want to stop the SKC attack.
Sporting Kansas City:
SKC's most notable player is American international Graham Zusi. He has made a real impact on the national stage and could see himself in a starting spot for the World Cup. For Sporting, he is a playmaker (6 goals, 8 assists) that will cause problems for RSL's defense, especially if he can get space. SKC is also stacked with defenders. Matt Besler and Aurelien Collin are two of the very best defensive players in the league and will do their best to keep Findley and Saborio away from the net. In that net for SKC will be Jimmy Nielson. The Danish native has played keeper for them since 2010 and is always tough to beat. Scoring for Sporting comes mainly from striker Claudio Bieler. He just joined them this season and put 10 goals into the back of the net in 28 games.
Venue
Sporting Park is starting to be considered as one of the finest MLS stadiums in the league. Although it only houses a modest 18,467 seats, it can get rocking. The U.S. Men's National Team found this out in 2013, when they played a World Cup Qualifying match vs. Jamaica there in October. The USMNT came out with a win and Sporting Park surely put themselves on the map for future international matches. The MLS All-Star Game was also played at Sporting this year, so this is a fitting cap to a solid MLS season.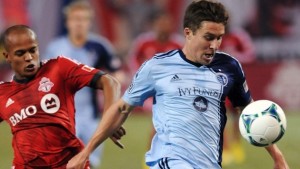 These two squads are fairly even on the pitch, but Sporting KC is considered the favorite because they have the fortune of playing at home in Sporting Park. They were 9-3-5 with a GD of +14 at home this season, which sounds really solid until you find out they were actually only the 9th best home team out of the 10 playoff teams. Not that the sure-to-be fiery home crowd won't propel Sporting on a frigid day in the Midwest, but it's not like SKC is unbeatable at home. What Real Salt Lake should be concerned about is their away record. This season they were 6-4-7 with a GD of only +1. They're a tough team for sure and if they can steal possession for 60% of the game, that will undoubtedly take the crowd out of it. We'll see.
Prediction
If this match were on a neutral field, I would have a heck of a time trying to pick a winner. However, the crowd will be raucous at Sporting Park on Saturday in support of Sporting KC. Additionally, SKC topped RSL on the road in the their brutally physical regular season clash back in July (Admittedly, Rimando was not in goal for RSL). I just think Sporting Kansas City are the better team, even if Real Salt Lake won the MLS Cup as the underdogs back in 2009 against the LA Galaxy. It just seems like this is the year that Kansas City's franchise rebranding effort gets rewarded with an MLS Cup.