As the MLS season has officially come to a close, the off-season news is started to trickle in. The first big news happened to be the introduction of the Brazuca with a different paint-job and the retirement of a few players that were already toeing the edge of their careers. The newest news is the announcement of which European club the MLS All-Stars will be facing during this season's big All-Star weekend and whether the MLS stands any semblance of a chance.
In a game that will take place in Portland at the incomparable Jeld-Wen field, the MLS have tracked down the biggest scalp of them all: Bayern Munich.
The German club will definitely be the biggest club that the All-Star outfit will have ever faced and there will certainly be concerns about how the best from the American league will perform. In a league constantly attempting to make up ground on the rest of the leagues in the world, the MLS needs to keep improving and it always needs to try and improve its perception with football fans everywhere. Anyone that follows some of the bigger footballing commentators on social media will constantly see them combating people that watch the EPL in the morning and the MLS in the afternoon talking about how the talent level seems to fall off the table.
Considering that soccer fandom is growing at an amazing rate, the MLS needs to be doing everything it can to draw in new viewers and create a positive atmosphere for new fans. However, any viewer of the last MLS All-Star game from last season would have seen Italy's Roma seem almost disinterested as they ran out easy 3-1 winners…not the greatest display for anyone attempting to improve fan perception.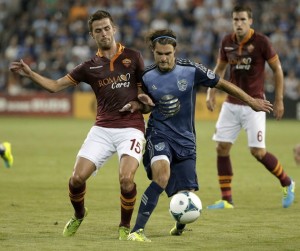 Another road-block for the All-Star squad is the inherent difficulty presented to a soccer all-star team. Unlike other sports, soccer requires an unprecedented amount of communication and teammate interaction. Because of that, sending a team that is relatively new with the other teammates into battle with a club that has spent significant time together and faced tough European competition is suicide. Now, the All-Star team will be running headfirst into the team that is easily the best team in Europe right now…possibly facing a real mauling. Although this will happen when the MLS is the only soccer on TV, will this improve the amount of fans watching or will it send the new MLS fans running into the arms of Europe and away from America's league?
With the best fan support in the states and the biggest name in European football on show, I will definitely be tuning in. The big question will have to be if this helps or hurts in the long run. I suppose only time will tell on how this plays out…but I personally think that the MLS have bitten off more than they can chew with Munich and that this might hurt their image over the next few years. Time to sit and speculate…