It was a striker's gala during Week 10, but the bottom table teams are falling behind early. Philadelphia lost their league-leading seventh match while starting a 4th string goalkeeper. The Rapids drew 1-1 with San Jose, which is Colorado's fourth straight draw. Diego Valeri was the difference maker for Portland in a 2-1 win over Montreal. Here is what else you missed from Week 10 in MLS.
—
Columbus Crew SC 3 – 2 Seattle Sounders
Seattle were the winners of three straight matches, while Columbus had only won three times coming into Saturday's match in Ohio. Gregg Berhalter's Crew has been playing great soccer this year and will be pushing for the top of the Eastern Conference this season and that coveted CONCACAF Champion's League place.
Columbus has been missing a piece to their puzzle and seem to have found it in Kei Kamara. The Crew enjoyed the first ten minutes of the game, using direct play towards goal to open up the wings for crosses. Kamara was able to capitalize on a 10th minute ball from Waylon Francis.
Clint Dempsey would take matters into his own hands for Seattle. The captain received that ball at the top of the 18-yard area in front of three Crew defenders. When given time, the veteran will not miss. Dempsey played an inch perfect curling effort with his weaker left foot off the post and past an outstretched Steve Clark. Columbus looked for a second goal on the counter attack before half time, but Seattle maintained possession for the majority of the first half.
My favorite moment of this weekend happened in the 49th minute. Federico Higuain showcased his class when he dribbled through the goal area of Seattle, drawing four defenders in a line before passing the ball into the goal. I was so shocked it wasn't available for Goal of the Week honors.
The three-man forward line for the Crew kept Stephan Frei busy in goal. Frei made five saves in each half and had troubles keeping his back line together and in order.
Ethan Finlay should have made it 3-1 after leaving Chad Marshall in the dust. Finlay's shot from around the penalty spot skimmed past the left crossbar and behind.
Finlay would celebrate a third goal for Columbus two minutes later after Kamara pounced on a breakaway goal. Justin Meram blew past the 'Brad Evans center back experiment', played the ball wide to Hector Jimenez, whom set up Kamara for a 3-1 lead.
Clint Dempsey tied Kei Kamara for the most league goals this season, but it seems as though he was offside when the goal was scored. It did not affect the result for Columbus, but will remain a topic this week in MLS refereeing circles.
Sounders-Crew ended 3-2, but it was great to see two attractive teams play open soccer when the league has generally been tight and reserved going forward.
Next week: Columbus visit San Jose & Seattle visits Vancouver
Orlando City SC 2 – 2 New England Revolution
Orlando City have been waiting and waiting for an opening home win this season. New England on the other side was the most in-form team at the moment. The Revolution carried a seven-game unbeaten streak into the Citrus Bowl and looked to keep that momentum swinging into Week 11. Coming into Friday night's showdown the Revolution had only allowed three goals against during their unbeaten run.
If you remember in Week 8, Charlie Davies scored a second goal in two games. The former American international has continued his scoring steak to four goals in four games for the Revolution.
Scott Caldwell stepped up to dispossess Amobi Okugo in the midfield. The ball came to Davies who immediately blazed past Seb Hines and lined a shoestring rocket past Donovan Ricketts for the opening goal.
This matched proved to be a tough one for the referee. The first booking came in the 31st minute and there would be seven more yellow cards issued through the match.
New England capitalized on a mistake by the Orlando City back line. Rafael Ramos attempted to chest the ball back to Ricketts. The touch was too soft and was intercepted by Kelyn Rowe. Rowe collected the loose ball and put the Revs ahead 2-0.
Ramos would redeem himself four minutes later. The 20-year-old Portuguese right back played a long cross into the goal area for Cyle Larin to knock in past Bobby Shuttleworth.
Orlando could not get a win in front of their home supporters, but they did draw the game late. Aurelien Collin scored his first Orlando City goal in extra time. The three-time MLS All Star is known for his heading abilities and came through for the Lions.
Kaka played his 800th minute of soccer for Orlando City. The gifted midfielder is having a hard time perfecting the chemistry on the field. The Brazilian designated player's return of three goals and one assist is modest for a player of his quality.
There were only four shots on goal during this game and each one went in.
Next week: Orlando visit DC United & New England host Toronto
NY Red Bulls 2 – 1 New York City FC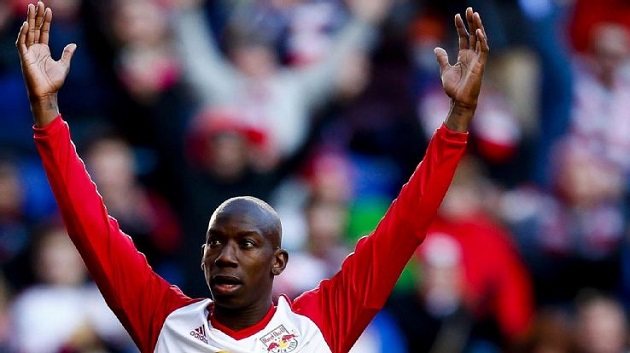 The Hudson Derby, the Metro Derby; whatever you want to call it.. New York soccer wars have begun and I hope you had a chance to witness it. This match had checked off all the boxes when it comes to entertaining soccer: well-errand goals, a goal line clearance, full team confrontations, a red card, four figures worth of away supporters and enough stadium atmosphere you could bottle it from your living room.
The New York Red Bulls handled their first match against the expansion New York City Football Club with the determination you would expect from the 20-year-old franchise. Reflecting back, the Red Bulls' performance was even more impressive when you know that they played with only ten men shy of two-thirds of the match.
Bradley Wright-Philips already has his name as a permanent piece of decoration at Red Bull Arena after his league record-tying 27 goals last year. His name will be also be remembered as the first player to score in the cross-town rivalry. Three minutes into play, Lloyd Sam found himself out wide in the attacking third of NYCFC. Sam took on New York City left back RJ Allen all the way to the byline. Just as the last half of the ball remained in play, Sam was able to desperately chip a floating ball to the BWP goal machine.
19-year-old Red Bulls homegrown player Matt Miazga will feature in the FIFA U-20 World Cup this summer for the US national team and will not be seen in a Red Bulls' shirt for a few months. The youngster picked up two yellow cards inside 36 minutes of play to leave the home team with a one-goal lead and a man disadvantage.
Lloyd Sam had a golden chance to add to their lead. Sasha Kljestan played a delicate through ball to the English forward. Sam out paced the on rushing Josh Saunders and would have scored if not for RJ Allen's intelligent run to clear the ball from the line.
Following the sending off of Mizaga, New York City was able to carry the bulk of possession, but never the lead. They clearly had a hard time breaking down the restored back four of the Red Bulls.
The beginning of New York's attack begins with Sam, who picks up a defensive clearance in the 52nd minute. Two simple passes; one behind the backline towards Kljestan and one across the goal area for Wright-Philips, who was standing alone with Saunders to beat. The Red Bulls were coasting past NYCFC with ten men and a 2-0 score line.
Kwadwo Poku was introduced to the match after 64 minutes, replacing Mix Diskerud. The attack for NYCFC was given a jumpstart and they did manage to beat Luis Robles. Substitute Patrick Mullins scored the first NYCFC goal in this affair off of a well placed cross from Allen. Mullins replaced David Villa, who was not happy about being taken off early.
Wright-Philips continued to be a menace to the NYCFC backline until he was substituted in the 78th minute. Bradley could have scored a third for himself, but was stood up by Saunders in the 66th. New York City is winless in their last eight matches.
25,217 combined supporters were in attendance on this day. In a few decades, this fixture could be drawing millions across the world. Seriously, it could.
Next week: Red Bulls visit FC Dallas & New York City hosts Chicago
Other scores in MLS Week 10:
Houston 0 – San Jose 1
Salt Lake 0 – LA Galaxy 0
Colorado 1 – San Jose 1
Chicago 1 – Salt Lake 2
Montreal 1 – Portland 2
Vancouver 3 – Philadelphia 0
DC United 1 – Kansas City 1
Columbus 3 – Seattle 2
FC Dallas 2 – LA Galaxy 1
Toronto FC 1 – Houston 2
—
Diego Valeri wanted you to know that he is back and ready to lead the Portland Timbers into the MLS Playoffs. Play this little video and tell me who you think deserves Goal of the Week honors below in the comments.