It was Winners-take-all in Major League Soccer this weekend. 8 games, 8 wins, 8 loses, 0 ties. There wasn't many surprise results this weekend, but we'll look at a few teams that came back to take all three points.
—
Sporting Kansas City 3 – 2 Philadelphia Union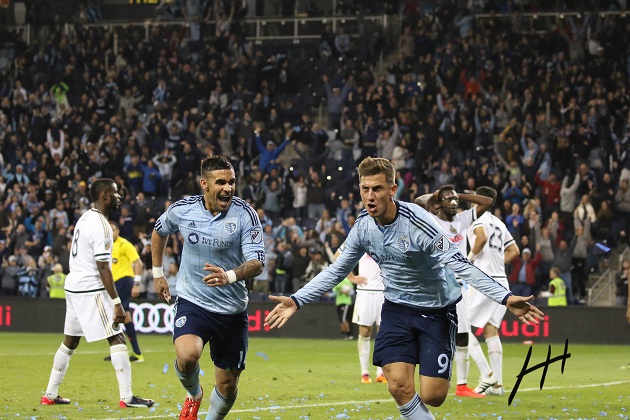 The night cap MLS match-up on Sunday night proved again to be a fantastic 90+ mintes. Goals? Got'em. Goalkeeping errors? Got'em. Referee controversy? Got'em. Late comeback? OH Yeah.
Sporting Kansas City got their first win at home after three attemps on Sunday night. The visiting Union were certain they found their first win of the season after holding the lead for 71 minutes.
Goalkeepers Rais M'bohli and Luis Marin made similar mistakes that resulted in an early 1-1 scoreline at Sporting Park. Both keepers came out to punch a corner kick away. The result was a missed punch and an open net finish by both respective teams.
On the replay, it is not clear whether or not the first goal by Philadelphia was completely over the goal line before it was cleared by defender Jalil Anibaba. MLS has not adopted goal line technology yet. The Philadelphia goal was officially declared a Jacob Peterson own goal and Dom Dwyer scored for Sporting.
Philadelphia took a hold of the scoreline in the 19th minute. Sebastian Le Toux floated a pacy free kick into a busy SKC goal area. Fernando Ariesteguita met the free kick with a looping header out of reach of Marin and into the side netting. Sporting captain Matt Besler did everything except possibly take the shirt off of Ariesteguita to prevent the goal.
Kansas City thought they had tied the game in the 59th minute. Dom Dwyer's header was called back after referee Ismail Elfath blew his whistle for a soft foul on the striker.
As 90 minutes wound down, the 4th official gave life to Sporting with 6 added minutes. The crowd at Sporting Park lifted its voice and semmingly willed the team on to a late win. A recirculated cross from a 91st minute set piece was headed down an in by Jalil Anibaba. The young defender went to celebrate with the fans, but was pulled back by teammates to search for a winner.
Sporting Kansas City found that late winner from newcomer Krisztian Nemeth. Besler headed on a Benny Feilhaber corner kick and Nemeth was at the back post to punch it in. This time Sporting did celebrate with the fans bathed in blue confetti.
Philadelphia's last MLS victory was verse Sporting on October 18th, of 2014.
Next week: Kansas City hosts Real Salt Lake & Philadelphia away to New York City
Chicago Fire 3 – 2 Toronto FC
Chicago Fire managed to secure 3-points at home thanks to a set piece goal by their captain Jeff Larentowicz. Toyota Park is not known for its entertaining soccer, but this one was a back and forth match from two teams that have missed the MLS Cup Playoffs the past two years. Toronto dictated the run of play, however, Chicago did its best to counter on the Canadian side whenever they could.
Designated player David Accam made his first start with the Fire. Accam ran the right side of the Toronto defense ragged, but was not able to convert any chances on the day.
A slick combination pass between Joevin Jones and Shaun Maloney set up the first goal in the 14th minute for Chicago. Jones' clean outside of the foot finish acted as an accelerant to this game.
Toronto pushed to respond to the first goal that they may have felt was given up easily. A well-worked series of one-touch midfield passes by TFC opened up Sebastian Giovinco for a shot that strangely made its way through the legs of Jon Busch.
The scores would double in the second half. Benoit Cheyrou scored his first goal with Toronto thanks to a perfectly timed ball from Giovinco. Cheyrou took his goal very well from a tight angle and space to score.
Shaun Maloney equalized Toronto's lead with an eerily similar goal to Giovinco's at the same end. Both players cut into the goal area from the left and somehow slipped a shot past the goalkeeper's limbs.
Toronto's Warren Creavalle picked up a red card in the 67th minute after committing his second cautionable offense. On the sequential free kick, Larentowicz secured the second win of the season for Chiacgo with a driven strike inside the lower corner of the goal.
Chicago is finally putting their new offseason pieces together. With the inclusions of league veterans Mike Magee and Patrick Nyarko later this summer you may not want to face Chicago come playoff time.
Toronto FC started their campaign very well in early March, but have lost all three matches since. You would expect a squad with the quality they have to make a comeback over the next two weeks while they marinate during a bye week. Then again.. this is TFC.
Next week: Chicago & Toronto both have a bye week.
Portland Timbers 3 – 1 FC Dallas
Portland came into this game without a win in 2015 and Dallas had started the season undefeated, gaining 10 of 12 possible points to start their campaign. However, the Timbers were carrying an unbeaten steak at home through their past 6 matches.
Nat Borchers was able to start the scoring in the 23rd minute for the home side. Borchers found himself alone at the back post for a free header after his marker was lost in the crowd.
Dallas was able to draw the match at 1-1 in the 30th minute. Michel is known throughout the league to provide some of the best free kick service. A Michel corner kick found its way to the feet of reigning Rookie of the Year Tesho Akindele and then into the back of the net.
Possession was tight between the two teams. Both played very fast paced counter attacking soccer and the game was enjoyable from end to end. The score remained 1-1 at half time.
Darlington Nagbe put his mark on the game in the 62nd minute. Nagbe's cutting diagonal dribble through the Dallas midfield caused marking problems and released Dairon Asprilla to feed an assist to Maxi Urruti.
The Timbers were able to escape another goal from a Michel set piece. Portland keeper Adam Kwarasey was outstretched and tipped a Zach Lloyd header off the crossbar. Lloyd's header sprung off of the turf and caused a moment of worry for Portland supporters as it seemed it may bounce beyond Kwarasey.
Diego Chara was able to put a cherry on the top of Portland's victory in the 87th minute. Fanendo Adi sprung Chara to the races after winning the ball in midfield. Chara outraced the Dallas defense and calmly placed the ball past Chris Seitz for the 3-1 victory.
Dallas was again without creative midfielder Mauro Diaz. Diaz is on a special training regimen that is separate from the normal team training. There is not a time table on his return.
Next week: Hosts Orlando City & FC Dallas hosts Colorado
Other scores in MLS Week 5:
Orlando City 0 – DC United 1
Seattle 1 – Houston 0
Colorado 0 – New England 2
Vancouver 2 – LA Galaxy 0
San Jose 0 – Real Salt Lake 1
—
Goal of the Week time, you guys. My pick certainly has to go to Juan Agudelo this week. Yeah, yeah, Obafemi Martins had that crazy turn, but you know he didn't do that on purpose. Agudelo's first touch is fantastic and I'm still trying to perfect that outside of the boot chip. Comment below, give a shout out for your favorite goal.