It's hard to imagine the MLS Playoff race being any closer than it is. In the Western Conference, just four points separate 1st place from 5th place. On Sunday, two teams on the fringe of this heated battle will face each other in Kansas City. Sporting KC (fifth) sit one spot and one point below a visiting Seattle Sounders squad. KC still have a match in hand so even a draw could eventually see Sporting leapfrog Seattle into the playoffs. With less than five games left in the regular season, any and all points are invaluable and the intensity should get bumped up another notch.
Since the return of Clint Dempsey to the Seattle lineup, the Sounders have gone undefeated in league play. The American veteran has played a key part in the Seattle offense registering three assists and one goal in three games. In his first game back, Dempsey immediately reignited his partnership with the team's leading scorer Obafemi Martins. As the Sounders push for another playoff berth, Dempsey's ability to not only score goals, but to feed his teammates will play a major factor in determining this game and beyond.
In the Sounders' last 10 matches away from home, points have been few and far between. Only twice have Seattle walked away with all three points and both of those came against Vancouver. Other than the victories over the Whitecaps, Seattle has claimed just one draw while losing the remaining seven matches. This poor run of form does not bode well for Sigi Schmid's side as they travel to a stadium that has witnessed their side lose just once at home. On the bright side, the last time Seattle traveled to Kansas City they walked away with a 0-0 draw. A similar performance would be a much-welcomed result for fans in the Northwest.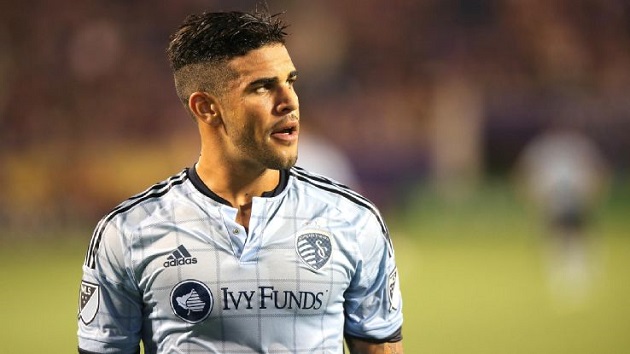 Where the Sounders have thrived in recent weeks, Sporting KC has struggled to win. Their last five matches have garnered just four points of a possible 15. The biggest defeat came at the hands of Orlando City as two Adrian Winter goals sunk them 3-1. However, their one victory in this stretch came during a big 3-1 win over FC Dallas at home. Sporting Park seems to spark a winning form in Peter Vermes' side. Other than a shocking 5-0 loss to San Jose last month, Sporting have gone undefeated in their 13 home matches. Kansas City's "Blue Hell" should be out in full force Sunday night and this added presence could push KC up the table.
For me, the man to watch this match is SKC's Dom Dwyer. The newly dubbed American citizen shares the team-lead in goals with ten strikes so far. Dwyer, who is married to Women's World Cup-winning striker Sydney Leroux, provides Sporting with an invaluable creative spark and pace in the forward line. In games where the English-native scores, Kansas City has gone 7-3-2. Dwyer hasn't scored against the Sounders any of his three prior fixtures against the Sounders, and it may be just about time for him to get on the score sheet in such a pivotal match.
As a Missourian, I have to favor a Sporting victory. Even with their disappointing run of form as late, I think Kansas City's impressive home form will push them to victory. Final Score: 2-1 Seattle with a Dom Dwyer tally.