Some may argue that the United States were placed into the toughest group for the 2014 World Cup; however, if you are a fan of the Dutch then you also have some reasons to complain. To start off, putting the two finalists of the previous final into the same group…blasphemy! As well, the 1st, 10th, and 14th ranked teams are all in the same group so they will have a tough time reaching the knockout stage. Now, lets say that they do. If they even finish second in the group they will most likely be put into a fixture against host Brazil. You better believe Robben, Sneijder, and van Persie need to bring their A game in order to repeat the performance of 2010. Regardless of the unfortunate draw, they are dropping a sweet-looking home kit that will be sure to bring in a lot of new Holland fans.
When you think of Netherlands you can't think of any other color besides bright orange and that is just what you will see in their kit. Get your sunglasses on before you take a peek at this top. What else would you expect though? Their top has not changed for as long as I can remember. I've always been a fan of the brightly colored jerseys but that could just be my new age thinking. Beside the Nike Swoosh and lion on the crest being white and the Netherlands flag around the back collar, there's not much to talk about the colorway.
The crest on this top is sort of unique because you will be able to tell that it is much bigger than most national crests on other country's jerseys. The lion and the crest are both woven in the jersey to help it pop out against the rest of the top. As well, 1889 and 2014 are stitched at the bottom which represents the long-standing history of Dutch soccer. And they hope to change their history this summer by adding a World Cup title to their hardware collection.
To commemorate their 125th year anniversary, they have teamed up with legendary Dutch graphic designer and typographer Wim Crouwel to create newly styled names and numbers. The font of these new numbers is a mixture between modern and retro aesthetics. He writes the numbers, one inside another, to represent that past players have famously worn the same numbers. Overall it is an outstanding idea.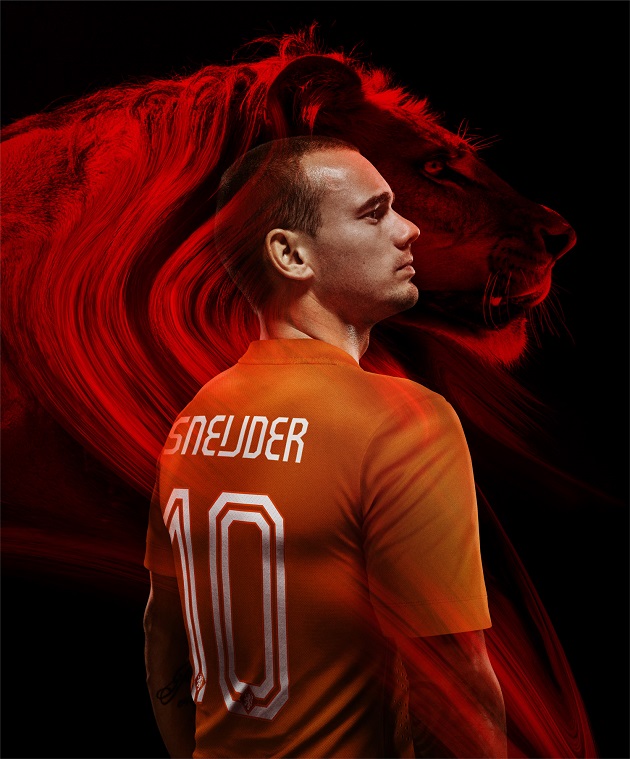 Finally, we are onto the good stuff. I mean for $149.99, or $134.99, you expect the tech specs in this top to be darn near perfect and guess what, they are! The entire back of it is vented so all the Holland players will be able to stay cool in the Brazil summer heat! As well, one each side there are small holes which will also aid in heat and moisture ventilation. Simply put, if you are looking for a top-of-the-line jersey then that is just what you'll find in this home jersey.