The upcoming 2013-2014 Real Madrid Away Shirt features a much lighter, blue base color compared to the previous year's away jersey and the "electricity" green lining has been replaced with a more subtle orange. The shirt resembles Chelsea's Home Jersey also made by Adidas but has a less shiny, more textured look. The shirt reads "Fly Emirates", as the sponsor has been replaced by the government owned airline Emirates. The airline is based in Dubai, United Arab Emirates and is the largest airline in the Middle East.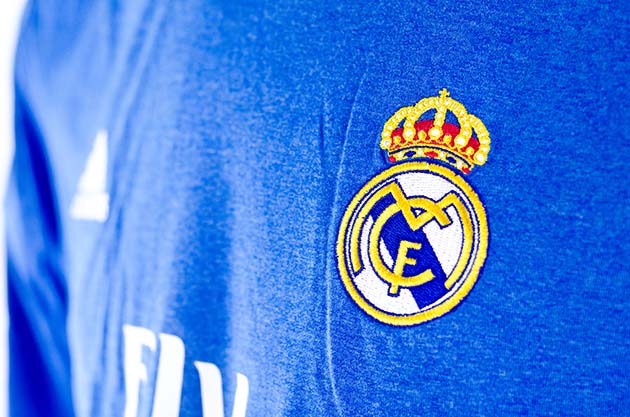 Above the sponsor, on the right chest is the white stitched standard Adidas logo. While opposite to the Adidas logo, on  the left chest sports the traditional Real Madrid Club de Fútbol logo which denotes the patronage that King Alfonso XIII granted the club in 1920.  The MCF, in the logo, stands for "Madrid Club de Fútbol", while the crown represents the "Real" (Royal) part of their name. Aside from minor changes made to this logo in 2001, the current crest dates back to 1941.  On both shoulders of the shirt, above the logos, run three parallel Adidas stripes. While the left sleeve is blank, the right features the Liga de Fútbol Profesional (LFP) logo with the multi colored elements around a centered soccer ball. The collar provides the finishing touch of team spirit, reading "REAL MADRID".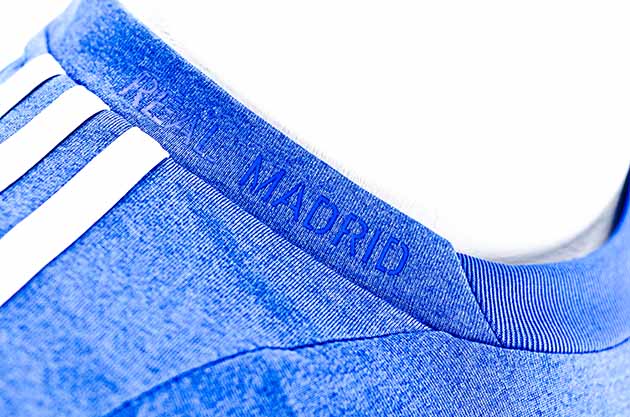 This shirt will allow the player to stay cool and dry with climacool® mesh venting, running down both sides of the shirt.   The specific material is designed to provide optimum comfort and performance which Adidas manages to achieve, as this shirt is one of the softest team jerseys available.  

The Real Madrid 2013-14 Away Kit will be presented officially before the start of the 2013-14 season.
The jersey is made of 100% polyester.  It is machine washable in warm water but should be line dried without softener (it's already soft anyway) which allows the shirt to maintain its breathability and performance.