2016 is a time for new jerseys, including the USA Home and Away jerseys. Let's take a look at the design and new tech brought to us by Nike and US Soccer.
The Home Jerseys are a pretty basic design, with some subtle features included. The base color is white, but of course red and blue are featured as well. The sleeves are blue and use the new Nike AeroSwift technology. On the cuff of the sleeves on either side say "1 Nation" and "1 Team." The new USA crest is on the left side of the chest, while the Nike Swoosh logo is on the right. The women's version also features the 3 stars representing their World Cup triumphs.
The collar of the shirt has a red stripe to match the stripe that runs down the side of the shirt. The chest has a geometric pattern with ventilation tech, ensuring your body stays cool and enhancing fit. The shorts and socks match the jersey, creating a clean cut jersey that looks great.
The away jersey is a little more bold. Nike, with the blessing of US Soccer, surprisingly went with black. The right side of the jersey is red, while the left side goes blue. "USA" is woven into the neck of the collar. The new US Soccer crest fits nicely on the left side of the chest, while the Nike Swoosh logo is on the right in white.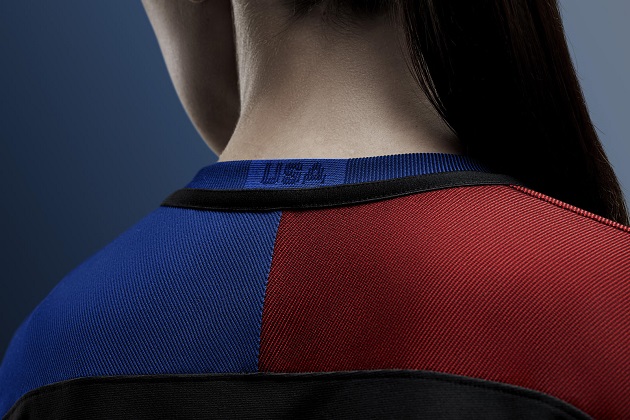 The away jersey shares the same technology as the home counterpart, including AeroSwift Technology that is 10% lighter with 50% more stretch. The new knitting process is designed to wick sweat 20% faster and dry 25% quicker. Nike maintains their commitment to sustainability with using recycled polyester and plastic bottles to help create the kits. Since 2010, they have diverted more than 3 billion bottles from landfills.
Overall, the jerseys are definitely different than previous years. The new crest seems to fit in seamlessly, almost as though it was meant to be there the entire time.
USA's new jerseys go on sale March 24th.