You think you have felt pressure before? Not the kind that the Brazilians will face coming into next summer's World Cup. It's not just that they have the richest World Cup history ever, boasting 5 World Cup titles and a few of the greatest players of all time. It's not just that they are hosting the dang thing come June, which always heaps on a thick helping of expectations. It's also the fact that they will be entering the Cup with one of the most talented teams and the most electrifying young player around (that would be Neymar). Needless to say, the pressure on these guys will be unimaginable.
Now Nike has revealed what Brazil will wear while they attempt to live up to the incredible heights their home fans expect of them. The home kit is here:
They will be in their classic yellow jersey as always, with pine green accents on the neck and sleeves. The Y-neck design is new and will provide a more comfortable and relaxed fit in this Dri-FIT shirt. However, the most impressive technology resides on the authentic jersey. On each side, Nike shows off their laser-cut side ventilation to enhance air flow to keep the players (and you) "cool under pressure".
Then, of course there is the Brazilian Football Confederation (CBF) crest on the left chest. It's a littler bigger this time around and has a gold outline to emboss and enliven the crest. Above this sits the 5 green stars, representing their World Cup titles won in 1958, '62, '70, '94, and 2002. Maybe they could share the wealth a little bit with some other countries.
Finally, the shorts. Neymar, David Luiz, and the boys will be sporting a varsity royal blue with the CBF crest decorated on the right thigh. Nike has engineered these shorts for maximum movement and efficiency. Made from 100% recycled polyester, the Dri-FIT technology will keep them as cool and dry as possible.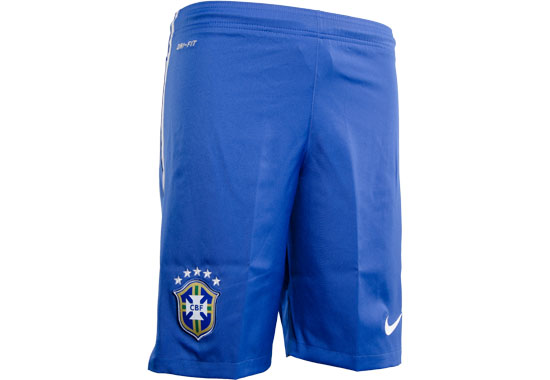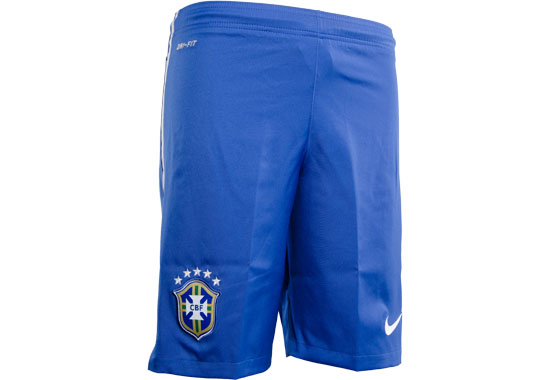 Nike pretty obviously didn't try to blow anyone away with this design or break any ground here stylistically. I can see the dilemma for them though. If you go for a more daring look and it's a disaster, you have just made the home team look ridiculous. The safe route was to give them the classic design to invoke the history that naturally comes along with Brazil soccer. In that sense, they have succeeded.