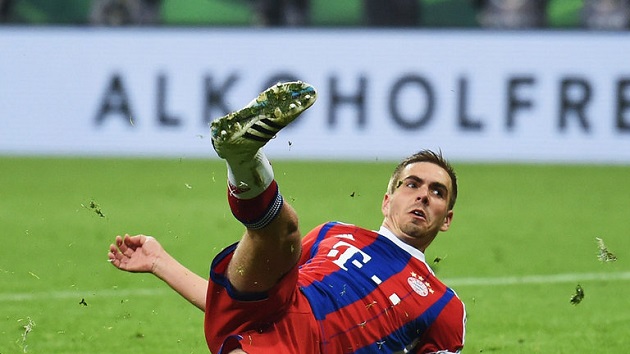 After quite literally slipping out of the DFB-Pokal semifinals against Borussia Dortmund yesterday, Bayern Munich suddenly face down a season of disappointment. Perhaps this isn't fair, but when your starting XI features five players that have appeared in a World Cup final – and that's not including the three that came off the bench – I think it's okay to set the bar a little high.
Yes, I realize injuries have been a legitimate issue lately. David Alaba and Franck Ribery were absent, while a visibly restricted Arjen Robben made a 16-minute cameo before an abdominal injury forced Guardiola to sub him out. To make matters worse, Robben is likely done for the season. If you've followed Bayern at all this season, I don't have to tell you what he has done for this team in just 21 league appearances (17 goals, 7 assists, is what).
The match started well enough for Die Bayern, though. Dortmund hadn't threatened Neuer's goal much and the Munich side looked mostly comfortable at home in the Allianz Arena. In the 28th minute, Shinji Kagawa controlled the ball with an abundance of options around him just outside the Bayern box. The Dortmund midfielder proceeded to somehow make the wrong choice, committing an awful turnover that sprung a swift counterattack from the Bavarians. They booted the ball up to an insanely wide open Robert Lewandowski, who, despite initially chipping it off the post, finished for a 1-0 Bayern lead. He seems to really enjoy scoring against his old club.
In the second half, Dortmund looked revitalized. They began storming up the flanks, exploiting Bayern's lack of speed there. Neuer straight robbed Marco Reus and others a few times, but in the 75th minute, Dortmund's attack linked up for a gorgeous sequence that finished with Pierre-Emerick Aubameyang beating Neuer – just barely though, as the ball hardly crossed the line in a nightmarish repeat of last year's DFB-Pokal final in which a BVB goal wasn't allowed.
When neither team could score in extra time, it was on to a shootout. You'd think that would give Bayern the upper hand considering they have the world's best keeper in their net, but BVB's Australian goalkeeper Mitchell Langerak made a humongous stop on Gotze right after Lahm and Xabi Alonso slipped and launched their shots over the bar. I'm not sure what was going on with the grass on the PK spot (a couple of stray banana peels?), all I know is it may have had a severe impact on the German Cup this year. However, Dortmund avoided any footing problems and notched two penalties, while Neuer stepped up and clanged one off the crossbar to end it.
You could tell this semifinal really meant something to both sides. Jurgen Klopp sprinted past Guardiola to celebrate with his club after it was over. BVB has one last chance at hardware during the Klopp Era, and you can be sure a German Cup victory would be sweet consolation after a bitter campaign.
So Bayern can no longer win their coveted treble. That's not an easy feat anyways, so are they really on the brink of disappointment in a season where they ran away with the Bundesliga title? I mean, besides yesterday, when have they really disappointed this season?
Well, there was the 4-1 loss to Wolfsburg to begin the second half of the Bundesliga campaign, but even though Wolfsburg have an enjoyed an excellent season, they are still closer to the rest of the Bundesliga pack than league champs Bayern. Without a legitimate challenger to their domestic throne for the third year running, it's possible they have softened in Europe over time. From 2009 until 2012, they had Schalke and Dortmund to push them on the regular. Now? They can keep picking up Bundesliga titles, but what does that really say? Considering the talent gap, they should be winning those.
The other horrible loss on Bayern's resume this season was their Champions League quarterfinal away match against Porto, when multiple defensive miscues led to a 3-1 defeat. Of course, they fought back at home to move on, but their vulnerability was made painfully clear. This is an exploitable team, particularly in their current limping state.
When it comes to Champions League play, I would argue things are not looking up for their upcoming titanic struggle with FC Barcelona. Last year in the semifinals, Bayern were bludgeoned by Real Madrid's attack, losing 5-0 over two legs. This year, it's Barcelona that has that frighteningly powerful offense and the feel of a champion.
For you Bayern supporters, I'm not trying to slop a heaping of pessimism on your red and blue Bayern Munich-logoed plate. Your team is still filled to the brim with past, present, and future stars, as well as a genius manager. Nonetheless, this just means that with all of that talent, finishing a season with only a league title in hand shouldn't be enough. Suddenly, the matchup with Barcelona looms even larger over the city of Munich.