Every week at The Center Circle, we are highlighting a different player in a feature we call "On the Spot". We'll take a look at superstars, underrated gems, aging veterans, and young unknowns who should be known. We'll peruse their club and international careers, taking note of their teams, statistics, and highlight reels. We'll illuminate their strengths and weaknesses and comment on their personalities and reputations. It will be some fun. If there is anyone you want to see "On the Spot", feel free to comment below.
Aaron Ramsey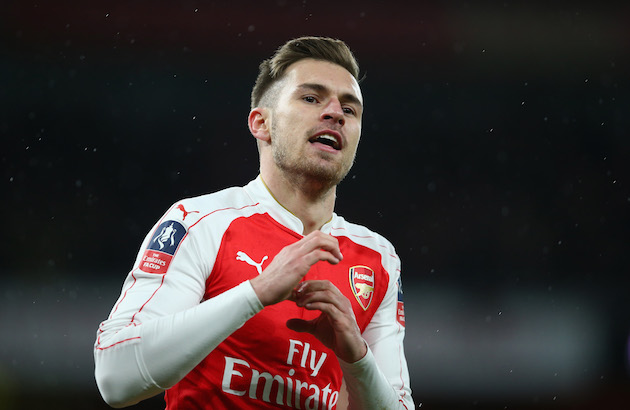 This latest edition of the European Championships has produced a few Cinderella stories. Of course, the one that everyone is talking about is the Viking tale of Iceland, but let's not forget about the tale of Wales (very tempted to say Wales' Tail). This team is led by Real Madrid's superstar Gareth Bale, but one of the other stars has also been pulling his fair share of the weight. Arsenal's Aaron Ramsey has overcome countless hurdles in his career to get to this point. Can he help push the Welsh to the pinnacle of European competition?
Coming from Cardiff
Aaron Ramsey's athletic career could have gone a couple of different directions when he was a kid. In interviews, the Arsenal midfielder admitted that he started off playing rugby and even had trials for two professional clubs. Oh yeah, he was also a top ten pentathlete in Great Britain. Luckily for Arsenal and Welsh fans, he chose football.
Ramsey joined one of the biggest clubs in Wales' youth academy, playing for Cardiff City's youth teams. It wouldn't long for the talented youngster to make his way up through the ranks as he made his first team debut against Hull City in the second division at the ripe old age of 17.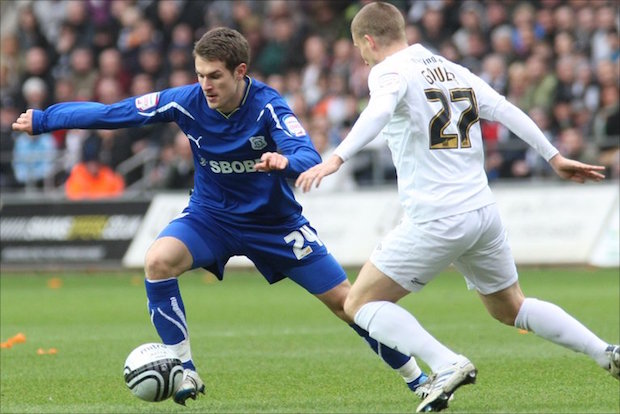 In his first full season with the senior side, Ramsey would work his way from unused substitute to perennial starter. After making just two appearances through the first half of the season, the teenager would start 17 times for Cardiff between the FA Cup and Championship. Altogether, he would make 25 appearances for his club with a total of three goals and three assists. That season also saw Cardiff make an improbable run to the FA Cup final where Ramsey would feature for the final half-hour in a 1-0 defeat to Portsmouth.
Away to Arsenal
That would be Ramsey's final game as a permanent member of Cardiff City. The month after the cup final defeat, the Welshman left for greener pastures. Despite interest from several Premier League clubs, the talented teenager joined Arsenal for a reported fee of £4.8 million.
The 2008-09 campaign with Arsenal saw Ramsey, as expected, play sparingly. Sitting behind the likes of Cesc Fàbregas, Alex Song, Abou Diaby and Emmanuel Eboué, the Welshman gained valuable experience, and even became the youngest goalscorer in Champions League history with a lovely strike against Fenerbaçhe.
The following year, Ramsey became a near integral part of Arsène Wenger's first team plans. In the first half of the season alone, the 19-year-old made 22 appearances for the Gunners between all competitions. In the Premier League, he even managed to grab five starts. It looked as if he was en route to surpass expectations with four goals and three assists to start the year.
Sadly, it all changed during a February match against Stoke City. A reckless challenge from Ryan Shawcross caused a severe leg break for Ramsey and forced him out for almost a full calendar year. It is reported that he snubbed an apology from the Stoke City defender for the challenge.
The Return
After nine months on the sidelines, Aaron Ramsey slowly began to make his way back into competitive football. In late November 2010, the midfielder was loaned out to second division side, and former European champions Nottingham Forest for three months. His time at the City Ground was fairly uneventful as he made just five appearances (two as a starter) before making his return to Arsenal in January.
He would spend just two matches on Arsenal's bench before being loaned out again, this time to his boyhood club Cardiff for one month. Ramsey immediately stepped into their starting 11 as he played a full 90 minutes six times for the Bluebirds. Cardiff reportedly asked for an extension on the loan, but the Gunners decided to bring the 20-year-old back to the Emirates.
To close out the year, Ramsey would start five Premier League matches for Arsenal, and even make an appearance in an FA Cup defeat to Manchester United. Despite the shortened and loan-filled season, Ramsey would register 19 appearances. Not too bad for a player coming off of a double leg break less than 12 months ago.
Always Arsenal
Over the next two seasons, Ramsey would regain his role as a key cog in Arsenal's midfield. Never known for his goals, the 23-year-old would score just five goals during that two-year span between the Premier League and European competition. Even though he had a superstar cast around him, Ramsey and the Gunners would struggle for silverware, finishing third in 2011/12, and slipping down to fourth in 2012/13. In the FA Cup, they would get knocked out by the likes of Sunderland and Blackburn Rovers in the fifth round.
The following year, the trophy drought was finally ended. Statistically, it was Ramsey's best ever season as a professional player. Even though an injury saw him miss more than three months of the season, the Welshman still scored a career-high in goals by a healthy margin. Through 32 matches, Ramsey would score 13 times and assist another nine times. On three different occasions, he would bag a brace, including a two-goal performance against Fenerbaçhe in the Champions League.
His breakout year got even better as Arsenal claimed that year's FA Cup title; ending a nine-year trophy drought at the club. Ramsey played a pivotal part in that victory, scoring in the 109th minute to seal a 3-2 victory.
2014/15 started out in similar fashion for Ramsey and Arsenal as they battered Manchester City 3-0 the FA Community Shield. To no one's surprise, Ramsey was again a central figure in the Arsenal midfield alongside Mesut Özil. Starting 34 times for the Gunners that season, the 25-year-old midfielder would again play a key role in Arsenal's quest for the FA Cup. This time around, however, it wouldn't take a dramatic extra time winner to take home the trophy, as he played a full 90 minutes in a 4-0 destruction over Aston Villa.
International Career
Playing for Wales hasn't always been the fairytale that is playing out in front of us at the Euros right now. Aaron Ramsey made his debut for the senior team way back in 2008 as a teenager, and this is the first major tournament that he's been a part of since then. In fact, this is the nation's first major tournament appearance since the 1958 World Cup in Sweden. The Arsenal midfielder has thrived in his first taste of major international competition this summer; starting in all four of the team's matches and even scoring against the Russians in a vital group stage fixture.
Outside of the Welsh National Team, Ramsey has also been involved with Great Britain. During the 2012 Olympics in London, Ramsey joined the likes of Ryan Giggs, Daniel Sturridge and Jack Butland in the Team GB squad. Sadly, in typical English style, Great Britain would crash out in the quarterfinals to South Korea on penalty kicks.
Style of Play
Aaron Ramsey is a rare breed of talent in today's game. More and more it seems like midfielders are either solely devoted to the attack, or essentially just playing as a slightly higher up center back. Ramsey provides the best of both worlds. Described by his club as a box-to-box midfielder, the Welshman is capable of bringing the ball up the pitch, as well as tracking back and breaking up attacks.
Despite his serious leg injury back in 2010, Ramsey has no fear going into challenges. His partnership with Özil in the center of the pitch gives Arsenal a dynamic range of options to start an attack. Ramsey is fully capable of striking a beautiful long ball to the flanks, or just keeping possession outside the 18-yard-box.