Every week at The Center Circle, we are highlighting a different player in a feature we call "On the Spot". We'll take a look at superstars, underrated gems, aging veterans, and young unknowns who should be known. We'll peruse their club and international careers, taking note of their teams, statistics, and highlight reels. We'll illuminate their strengths and weaknesses and comment on their personalities and reputations. It will be some fun. If there is anyone you want to see "On the Spot", feel free to comment below.
Alejandro Bedoya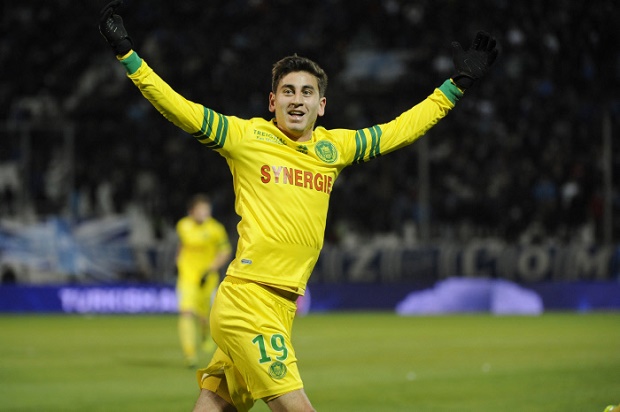 One of the things that Jürgen Klinsmann has stressed during his time as manager of the US National team is the importance of European competition. One player that has taken that to heart and has slowly grown from a fringe player to a perennial name on the team sheet is Alejandro Bedoya. The New Jersey native has spent time in Sweden, Scotland and France, and a bright season might see him add another stop to his European adventure.
Boston Beginnings
Before he was plying his trade overseas, Alejandro Bedoya was playing college ball on the East Coast. Immediately after high school, the talented midfielder stayed in his home state, playing for Farleigh Dickinson University. His time with the smaller Division 1 program was short-lived as he transferred to Boston College after just two seasons.
In his first season at BC, Bedoya would start all 21 of the Eagles' games. The following year, he would earn first team All-ACC honors, and would even be named one of the 15 initial finalists for the MAC Hermann Trophy (college soccer's version of the Ballon d'Or) after scoring six goals and registering seven assists. An impressive senior season made Bedoya an attractive option for several teams in the 2009 MLS SuperDraft, but the American league would have to wait.
Soccer in Sweden
After making his decision to forego the MLS draft after his senior season at Boston College, Bedoya decided to pursue a professional career in Europe. The 22-year-old would join Swedish club Örebro SK in the Allsvenskan (Swedish top flight). Bedoya would make his debut as a late substitute during the opening match of the season.
Despite spending the majority of the first half of the season as a substitute, the American midfielder would eventually earn a starting spot to close out the season. His first professional season ended with 24 appearances (12 as a starter) and two goals. Örebro would climb to third in the table that season, three spots better than the previous year.
During his second and final full year in Sweden, Bedoya would start 26 of the club's 30 matches. The Boston College alumnus would play just 13 more matches for the Swedish club during the 2011 campaign, but still managed to score a career-high four goals. His impressive start to the year attracted interest from bigger leagues in Europe, and during the summer transfer window Bedoya left for greener pastures.
Sweden to Scotland to Sweden
The next stop on Bedoya's European tour was the famous Ibrox Stadium. The American's time with Rangers was short lived, however, due to financial issues at the club. After just 12 league appearances and a single assist, Bedoya was forced to leave the club as the Scottish giant went into administration and eventually was liquidated.
Rangers' financial disaster saw Bedoya return to the Swedish top flight, this time with reigning champions Helsingsborg IF for the 2012 season. His one and only season with Di Röe saw Bedoya make his European debut in a Champions League qualifying match against his Scottish rival Celtic. After getting knocked out of the UCL, Bedoya and Helsingsborg found themselves in the Europa League, where the midfielder would score two goals.
Off to Nantes
His impressive campaign with Helsingsborg again attracted interest from other European clubs. During the 2013 summer transfer window, French club FC Nantes, who had just earned promotion into Ligue 1, signed Bedoya for a reported fee of just over £600,000. The American's first start in France couldn't have come against a bigger club as Nantes fell 2-1 to PSG. Bedoya would appear in all but seven of the club's matches that season (starting 23 times), scoring five goals as Nantes earned a 13th place finish.
The following year, Bedoya continued to play a pivotal role in Nantes' league run. The American midfielder would start 20 times (coming on a substitute eight more times), but would be limited to just three goals and one assist. Nantes retained their spot safely above the relegation zone as they finished in 14th.
This year has been arguably Bedoya's most successful season in Europe. Once again, he was a near constant starter for Nantes and he even scored five goals through all competitions. The most dramatic, and important of those strikes had to be his extra time winner against Bordeaux in the French Cup. His impressive campaign has reportedly sparked interest from other European clubs, and even Bedoya admitted that he may leave Nantes in a bid to play at a higher level.
International Career
Bedoya's international debut came all the way back in 2010 as a substitute against Honduras. He would go on to register five more caps that year, but 2011 would prove to be his breakout year on the international stage. Impressive performances in his five appearances during that year's Gold Cup helped push the U.S. all the way into the final, and would even help him earn a move to Rangers.
Despite his promising play at the Gold Cup, U.S. fans wouldn't see Bedoya play at all during 2012. The following year, he would again show his potential as he started nine of his 12 appearances, including three starts in the Gold Cup. Bedoya even provided a pivotal pass for Brek Shea's game-winning goal in the final against Panama.
He was included in the preliminary roster for the 2014 World Cup in Brazil, but was left off the final 23-man roster. Luckily for Bedoya, Klinsmann did include him on this summer's Copa América roster. Can he build on his Gold Cup potential?
Style of Play
Bedoya typically lines up as a wide midfielder and is usually more involved with the attack rather than the defense. While he won't blow by anyone with his pace, the 29-year-old does extremely well at holding the ball and keeping possession for his side. Playing on the wings, Bedoya has developed a consistently dangerous crossing ability, but without a big man in the box for the U.S. it's not nearly as effective on the international stage. When he's given space and time on the edge of the penalty area, Bedoya can hit a powerful drive into the back of the net. Just ask PSG. He's not the flashiest player on the pitch, but the Boston College alum has proven that he can be a key part of the U.S. attack, and we may be seeing him on a bigger stage in the near future.