Every week at The Center Circle, we are highlighting a different player in a feature we call "On the Spot". We'll take a look at superstars, underrated gems, aging veterans, and young unknowns who should be known. We'll peruse their club and international careers, taking note of their teams, statistics, and highlight reels. We'll illuminate their strengths and weaknesses and comment on their personalities and reputations. It will be some fun. If there is anyone you want to see "On the Spot", feel free to comment below.
Antoine Griezmann
With the likes of Cristiano Ronaldo, Lionel Messi, Neymar and Luis Suárez tearing up La Liga, it's easy to forget that the Spanish league is home to even more stars. Atlético Madrid's Antoine Griezmann has long been heralded as one of France's brightest talents, and this year he has truly announced himself on the world's stage. Just 25, the striker still has several seasons left at the top level and we may just be seeing the start of his talent.
Starting in Spain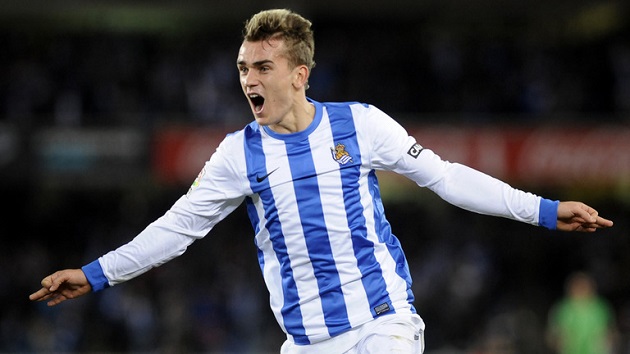 Despite his French heritage, Antoine Griezmann's true professional career began in Spain. The striker was initially rejected from Lyon's academy before briefly spending time at UF Maconnais. In 2005, the young forward finally caught the eye of a top level professional club when Real Sociedad brought the 14-year-old into their academy.
The move to Spain at such a young age gave Griezmann a distinct Spanish background as he considers the country a part of who he is. The French teenager would spend four years with the club's youth system before earning his senior debut. During the 2009/10 campaign, Griezmann would become a key part of Sociedad's promotion campaign in the Segunda División.
In his first season with the first team, Griezmann would make 39 appearances, with 30 of those coming as a starter. He would score six goals that year, and Sociedad would win the league by a three-point margin. Now it was time to see if the 19-year-old could compete in the top flight.
Despite reported interest from other European clubs following Sociedad's promotion, Griezmann decided to stay with the Spanish club. His debut La Liga season did little to hinder his growth and development. Just 20, Griezmann retained his prominent role in the starting lineup. Through 37 appearances, the Frenchman was able to improve upon the last season's goal tally as he scored seven more times, including a two-goal performance against Sporting Gijón in a 2-1 victory.
After his two professional seasons, it was clear the Sociedad had a gem on their hands, and now the challenge was going to be keeping him. Over the next two seasons, Griezmann would continue to be one of Sociedad's best players and would score 17 more goals for the club. His ten-goal season in 2012/13 even helped them push into the next season's Champions League with a fourth place finish.
In what would end up being his final year at the club, Griezmann would have his best season as a professional. He would score a career-high 19 goals and would be the club's joint-top scorer with Carlos Vela. The best of the bunch had to be his outrageous bicycle kick against Lyon in the Champions League qualifiers. Sociedad would fail to advance from the group stage, however, and would also fail to finish in La Liga's top four meaning next season would be spent in the Europa League.
So Long, Sociedad
After almost ten years as a player in the Real Sociedad system, Griezmann moved to bigger and better things in the summer of 2014. An impressive performance at the World Cup, paired with his evident potential, earned the French striker a £24 million move to La Liga giant Atlético Madrid. The move put Griezmann back into the Champions League and put him on a team that could really fight for the title.
In his debut for Atlético, Griezmann would claim his first professional piece of silverware as he helped his new club win the Spanish Super Cup against bitter rivals Real Madrid. The new surroundings only seemed to help the 24-year-old as he led Atlético with 25 goals through all competitions. This impressive tally includes a hat trick against Athletic Bilbao and seven two-goal performances. In Europe, Griezmann and Atlético would make it to the Champions League quarter-finals before narrowly losing 1-0 to Real Madrid on aggregate. Domestically, the club would finish in third place 14 points away from the top two of Real and Barcelona.
This season, Griezmann has continued to thrive in the Spanish capital. With more games still to play, the 25-year-old striker has already scored 29 goals through all competitions, and Atlético now find themselves in a heated battle with Barça and Real for the league title. Perhaps Griezmann's most heroic performance came against Barça in the Champions League quarter-finals. With Atlético needing a win, Griezmann came up huge with two goals to send his side into the semi-finals.
International Career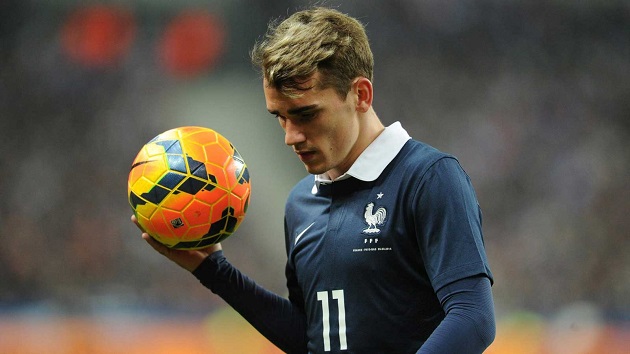 Despite his impressive years with Real Sociedad, Griezmann did not earn a call-up to the French National Team until the winter of 2014. In this short window of opportunity, the striker managed to impress Didier Deschamps enough to earn a spot on that summer's World Cup squad in Brazil. In Brazil, Griezmann would appear in all five of the nation's matches, but was unable to find the back of the net. Despite his statistically unimpressive tournament, Griezmann's abilities on the ball were clear and he quickly became one of the most valuable young players in Europe.
Style of Play
Griezmann's pace and creativity allow him to line up as either a striker or a winger. In the French setup he is deployed in the right wing, and in Spain he is often played alone upfront. While he isn't the most physically dominating player, he can still be lethal in front of the net with either his head or his feet. In interviews, Griezmann said that he enjoyed watching players like David Beckham, David Silva and Zinedine Zidane because they were also small and fast. In addition to his scoring ability, the 25-year-old can just as easily set up scoring chances with his high soccer IQ.