The United States has seen its fair share of talented midfielders pass through the ranks. One that perhaps doesn't get the credit and recognition that he deserves is Benny Feilhaber. The Sporting KC player has played in the top leagues of Germany, England and Denmark, and has racked up more than 40 international appearances for the national team. At age 31, he's still arguably one of the best center midfielders in Major League Soccer.
Brazil to Bruins
Feilhaber was born exactly where you would expect an American soccer player to be born: Rio de Janiero, Brazil. His family had relocated to the South American nation during World War II. Feilhaber's time in Brazil didn't last long, however, as his family moved to the United States before he even turned 10.
Stateside, the midfielder would move around a little bit before eventually settling in at Northwood High School in Irvine, California. With the Timberwolves, Feilhaber began to really thrive on the pitch. A 15-goal senior season with all-league honors, as well as a national title with his club side the Irvine Strikers, capped off a successful youth career.
In 2003, Feilhaber would walk-on to play collegiate soccer for the UCLA Bruins. His time in Los Angeles, similarly to his time in Brazil, wouldn't last long. After appearing in 16 matches as a true freshman, he became a near perennial starter for his sophomore season.
The 2004 season saw him score five goals, and provide 13 assists through 20 matches. His performances earned him a place on the All-Pac-10 Second Team, and they also helped UCLA to finish 11th in the national rankings (they would fall in the regional finals in the national championship tournament).
Bruins to Bundesliga
After two successful seasons with UCLA, a 20-year-old Feilhaber opted to leave school early in pursuit of a professional career. Unlike some of his collegiate peers, the midfielder would not be joining MLS. Instead, he agreed to join Hamburg SV in Germany for the 2005/06 season.
He would spend all of that season with Hamburg's reserve team, before making his professional debut against Schalke in October 2006. Despite his lack of first team, or even professional experience, Feilhaber would actually earn a fair share of playing time through the first half of the campaign, even earning a Champions League start against FC Porto. That year, he would finish with 12 appearances through all competitions (seven as a starter), but no goals/assists.
Darting to Derby, and then to Denmark
Those 12 appearances would prove to be the only appearances that Feilhaber would make for Hamburg. In the summer of 2007, the midfielder made the move to join Derby County in the Premier League. In his one, and only season with the Rams, Feilhaber stepped on the pitch just 10 times. Only one of those came as a starter. It was a disappointing for both player and club as Derby set the record for fewest points ever gained in a Premier League season with 11.
Following his less than stellar stint in the Premier League, Feilhaber was allowed to leave the club on a free transfer. His next stop was Aarhus GF in the Danish Superliga. With AGF, Feilhaber saw a dramatic increase in playing time from his time at Derby. In his debut half-season with the club, he appeared in 10 matches (four as a starter).
During his first full campaign with the club in 2009/10, Feilhaber appeared in all but nine of AGF's matches. Despite the increase in playing time, the season would have had to be considered a disappointment for the American as AGF were relegated after finishing just two points away from safety.
Feilhaber would stay with the club for one more season, even after the relegation, and would thrive. His strong performances and five goals helped push AGF back into the top flight after just one season in the second division, but he would not be there to help them maintain that momentum for the 2011/12 campaign.
Moving to MLS
After six years in European competition, Feilhaber returned to the United States. Because of MLS's odd claim system for foreign players, the experienced midfielder did not have the opportunity to pick and choose what team he would join. The allocation process saw him join the New England Revolution for the 2011 season.
His first season with the Revs would prove to be his most prolific as a professional. Through 23 starts, he found the back of the net four times, and even provided six assists along the way. That year, however, New England would finish dead last in the Eastern Conference, and tied for dead last in total points with the Vancouver Whitecaps.
In his second and final season with New England, he struggled to match his form from 2011 as he scored just a single goal. New England struggled, as well, finishing well outside the playoff spots in ninth.
Before the 2013 season, Feilhaber was traded to Sporting Kansas City. The Midwest would prove to be much more fruitful for the veteran midfielder. He made 27 appearances for Sporting, scoring three times, including a highlight reel strike against the Colorado Rapids in a 2-1 win. Sporting finished with the second best record in the league for the regular season, and would end up winning the MLS Cup in penalty kicks against Real Salt Lake (Feilhaber scored his spot kick).
Since that MLS title, Feilhaber has continued to be a constant presence in Sporting's midfield. In the 2014 season, he scored the club's goal of the season with a dramatic late-winner against the Columbus Crew. His best season came in 2015 when he was named a finalist for the MVP trophy alongside Kei Kamara and eventual winner Sebastian Giovinco. That year, he recorded career-highs in goals (10) and assists (11), but Sporting would fall to eventual champions Portland in the first round of the playoffs. Despite the league disappointment, Feilhaber and Sporting would still take home silverware that season, winning the 102nd US Open Cup in penalties over the Philadelphia Union (again Feilhaber scored his kick).
International Career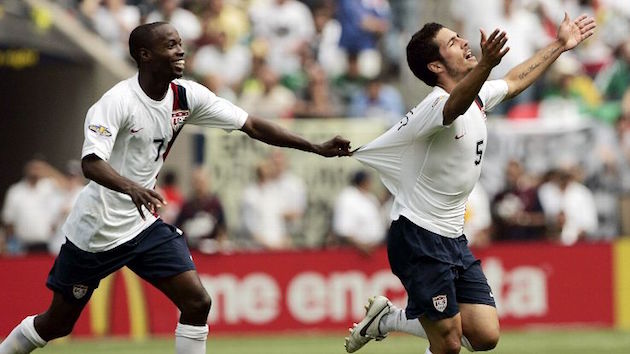 After reportedly turning down an offer to play for the Austrian national team back in 2006, Feilhaber eventually made his debut for the Stars and Stripes in 2007 under Bob Bradley. His impressive performances in friendly matches convinced Bradley to include him in his 2007 Gold Cup roster. That would turn out to be a pretty smart move as Feilhaber scored the game-winning goal against Mexico in the final.
He was also a part of the last US team to compete at the Olympics in 2008, and played an instrumental part in the nation's miracle run in the 2009 Confederations Cup where they defeated Spain before falling to Brazil in the final.
Bradley would include Feilhaber in his 23-man roster for the 2010 World Cup in South Africa. While he did not start a single match during the tournament, he would come on at the start of the second half for US's final three games.
After Bradley's dismissal in 2011, Feilhaber has found international competition hard to come by. Under Jürgen Klinsmann, he has struggled to earn consistent call-ups and you have to go all the way back to 2014 to find the last time he suited up for the US. Even during his MVP-finalist campaign in 2015, Feilhaber failed to earn even a single minute of playing time for the German manager. This lack of action has led to the midfielder criticizing Klinsmann's selection process, and all but ending his chances of earning another call-up.
Playing Style
Feilhaber prefers to play in more of an attacking role in the center of midfield. Whether that comes through finish chances himself, or setting up chances for his teammates, he plays a pivotal role in his team's attack. His teammates highlight his vision and passing ability on the pitch as key parts of his game, and while he may not beat you with pure pace, he has the knowledge to tear apart opposing defenses.
Off the Pitch
You can catch Feilhaber off the pitch with his Sporting KC-sponsored "The Benny Feilhaber Show." Beware, this clip features Iggy Azalea and awkward dancing.