Every week at The Center Circle, we are highlighting a different player in a feature we call "On the Spot". We'll take a look at superstars, underrated gems, aging veterans, and young unknowns who should be known. We'll peruse their club and international careers, taking note of their teams, statistics, and highlight reels. We'll illuminate their strengths and weaknesses and comment on their personalities and reputations. It will be some fun. If there is anyone you want to see "On the Spot", feel free to comment below.
Javier "Chicharito" Hernandez
A once-talismanic striker is back on the rise again in Germany. After being cast out of Manchester United by Louis Van Gaal, Javier Hernández has found himself back in the goals for Bayer Leverkusen. In the past couple seasons, it looked as if we had seen the best of "Chicharito," but the Mexican striker may now be one of the most dangerous goal scorers in Europe.
Chivas Childhood
Javier Hernández's soccer career began as a member of Chivas Guadalajara's youth academy. The diminutive striker would ply his trade for Guadalajara's lower teams for several seasons before finally earning a senior debut in 2006. Only 18 at the time, Chicharito would make just eight first team appearances that season.
A lack of first team involvement during the 2007/08 season made the young striker consider an early retirement from the game. Hernández told reporters back in 2011, "It was about three years ago and I had a lot of questions about whether or not this was the path God wanted me to follow." The Mexican international cited frustration with being kept in the reserve squad while younger players surpassed him in the pecking order for first team action as a major frustration at the time.
Luckily for soccer fans around the world, Chicharito decided to stick with his professional career, and in 2008/09 he saw his role with the first team increase drastically. That year, the striker played in over 30 games for his boyhood club, while scoring a career-high seven goals. His upward trend continued during his fourth year as a professional as he tripled last season's goal tally by finding the back of the net 21 times in just 28 games.
Moving to Manchester
Chicharito's unbelievable form during the 2009/10 season attracted the attention of one of the biggest clubs in the world: Manchester United. Sir Alex Ferguson was so impressed with the Mexican's form that the club agreed to deal-in-principle with Guadalajara in April of 2010. While the transfer fee for the striker was undisclosed by the clubs, it's widely believed that had United waited until after the 2010 World Cup to make the deal, they would've had to dig a lot deeper in their pockets to sign the Mexican striker.
In his competitive debut for the Red Devils, Hernández came on as a substitute during the Community Shield match against Chelsea. It would take the 22-year-old just 30 minutes to score his first goal for the club with a painful-looking close-range goal to put United up by two goals in an eventual 3-1 victory. His debut season for the Red Devils, Chicharito would become an instant hero to the fans scoring 20 goals including a late-winner against Stoke City, and a brace against Marseille in the Champions League Round of 16. His first year at United also came with a major piece of silverware as the Red Devils won their 19th Premier League title.
Despite his impressive goal scoring form, Hernández was still unable to nail down a consistent spot in the starting lineup. His reputation as a "super-sub" for United grew during his second year at the club, and comparisons began to arise between him and club legend Ole Gunnar Solskjaer. An ankle injury in November kept Chicharito out of action for nearly a month, but despite this layoff, the Mexican striker was still able to finish second on the team in goals with 10 only behind Wayne Rooney for the lead.
The goals kept coming for Hernández during his third year at Old Trafford. The striker continued to shine in big matches for the club scoring dramatic winners against Aston Villa, and Chelsea while also sparking a 3-2 comeback against Braga in the Champions League with yet another vital brace. Despite these vital goals, Chicharito was still unable to nail down a position in Sir Alex Ferguson's starting lineup and would make just 22 league appearances on the season (13 as a substitute). The Mexican's contributions to the squad did, however, help the Red Devils secure a record 20th Premier League title and by a convincing margin as well, with City finishing second by 11 points.
2013/14 saw major changes at Old Trafford as Sir Alex Ferguson retired from managing forcing United to go through the first managerial transition since 1986. Everton manager David Moyes took over the club, and his introduction saw Chicharito's first team appearances once again limited. Hernández would start just six league games for Moyes' United, and the club's new style of play saw the 26-year-old have his lowest goal tally in England as he scored just four league goals.
Leaving for Los Blancos
That would prove to be Hernández's last full season at Old Trafford. In the summer of 2014, the Mexican striker made a surprising loan move to Real Madrid in a bid for playing time. The move to the Spanish capital meant that Chicharito would be competing with the likes of former United striker Cristiano Ronaldo, Gareth Bale and Karim Benzema for a spot in the starting eleven. While his impact at the Santiago Bernabéu was limited (seven goals in 23 league games), Hernández would score one of the biggest goals of Madrid's season as he netted the game-winner against local rival Atlético Madrid in the Champions League quarterfinals.
On the Move Again
At the conclusion of the 2014/15 season, Real Madrid decided not to exercise their option to take Chicharito on a permanent basis. The Mexican striker returned to Old Trafford, but it wouldn't be long before he left once again. After appearing just three times for Van Gaal's Red Devils, he was sold to Bundesliga club Bayer Leverkusen.
Since his move to Germany, the 27-year-old has been an instant success at Bayer. Through 21 appearances this season, Chicharito has already scored 18 goals in all competitions. In his last seven matches, the former United man has found the back of the net eight times including an emphatic hat trick over Borussia Mochengladbach in his last league match. In Europe, Hernández has been just as prolific scoring five goals in just six matches.
International Career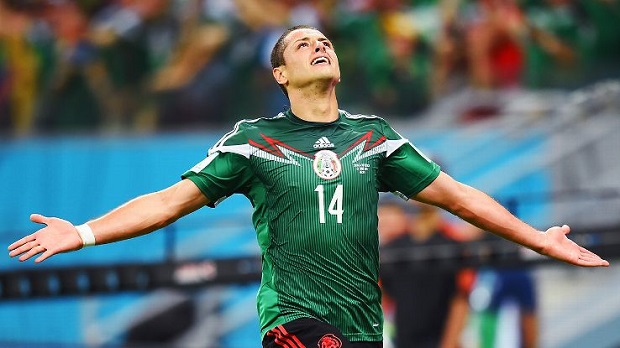 Javier Hernández made his debut for the Mexican National Team back in 2009. In the five years since his debut, the Bayer Leverkusen striker has been absolutely brilliant for El Tri. Through his 77 appearances for the national team, Chicharito has scored 42 goals (0.5 goals/game) just four behind the Mexican record set by Jared Borgetti. Hernández has appeared in two World Cups for Mexico scoring three goals in the process. In CONCACAF competition, the 27-year-old has helped his nation secure two Gold Cups in 2011 and 2015.
Style of Play
Chicharito's style of play can best be described as a goal poacher. He's not the fastest guy on the pitch. He's not the biggest guy on the pitch. However, he has a knack for being in the right spot at the right time. The 27-year-old doesn't always score the prettiest goals, but what matters is that he somehow always manages to score when it counts. Throughout his career, Hernández has established himself as a clinical finisher of the ball and former teammate David De Gea rates him as one of the best goal scorers in the world.
Personal Life
You could argue that soccer is in Hernández's DNA. Both his father and his grandfather played professionally, and both of them also represented Mexico at the international level. The striker's nickname "Chicharito" (meaning "little green pea"), comes from his father's nickname "Chicharo" because of their green eyes and stature.