Every week at The Center Circle, we are highlighting a different player in a feature we call "On the Spot". We'll take a look at superstars, underrated gems, aging veterans, and young unknowns who should be known. We'll peruse their club and international careers, taking note of their teams, statistics, and highlight reels. We'll illuminate their strengths and weaknesses and comment on their personalities and reputations. It will be some fun. If there is anyone you want to see "On the Spot", feel free to comment below.
John Brooks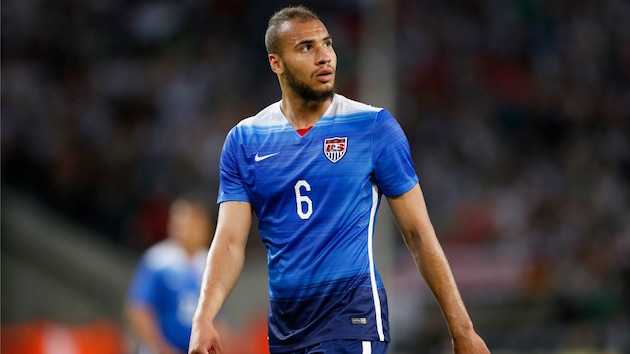 Right now, the U.S. appears to be heading toward a Golden Age of sorts. The youth talent developing in the top leagues in Europe have given American fans hope that their day is coming sooner rather than later. One of the top young talents has to be 23-year-old center back John Brooks. The Berlin-native made the permanent jump over to the Stars and Stripes back in 2013, and he looks set to play a large role in the team for the foreseeable future.
Berlin Beginnings
John Anthony Brooks, Jr. wasn't born in the United States. His life began in Germany's capital city of Berlin. Luckily for U.S. Soccer fans, the future star defender's father was an American serviceman from good ol' Chicago, Illinois.
In an interview with U.S. Soccer, Brooks credits his early love of the game to his two older brothers. An early kick-around at the age of five laid the foundation for what could prove to be a very long and successful professional career.
The 23-year-old said, "I was born in Berlin and ever since I was kicking the ball around I wanted to play for the big team in Berlin and the big team is Hertha."
This dream would eventually turn into a reality in 2007. After playing for a smaller club in the city, Brooks earned himself a move to Hertha's academy system and started with the club as a striker. Well, the dream to play striker didn't last long as Brooks was moved into a more defensive role throughout his progression up the club ladder.
After a rough start in the academy where Brooks even considered returning to his old club, then a change in coaching and attitude saw him shoot into the starting 11 on the youth level.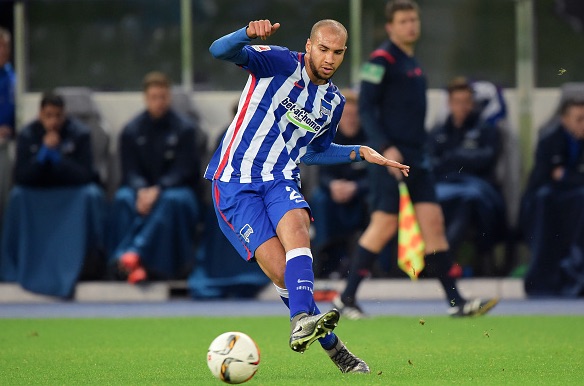 It wasn't until the 2012/13 campaign that Brooks finally earned a spot with the first team. After spending a year with the reserves, and climbing up through the various youth teams, the 19-year-old defender made his debut in German second division as a late substitute against local rival Union Berlin. That season, Brooks would make six appearances (three as a starter) and even score a late equalizer against Energie Cottbus in his final appearance of the campaign.
The following season, Brooks and Hertha now found themselves in the Bundesliga playing against the best of the best in Germany. At just 20 years old, Brooks' role with the first team continued to increase as he made 17 appearances across all competitions for the club. He even managed to score two goals in the league along the way. Hertha climbed their way to an 11th place finish and safely avoided a trip back to the second division.
Over the next two seasons, Brooks would grow into a near perennial starter for Hertha finding himself in the starting 11 more than 20 times both seasons. After a disappointing 15th place finish in 2014/15, Brooks and Hertha battled to a seventh place finish and a spot in the Europa League last season.
His promising performances with the Bundesliga club have reportedly attracted interest from some of the big clubs around the continent. Even Hertha's general manager Michael Preetz has predicted big things are in the defender's future, "I think – and we all think in Berlin – that he will be prepared to be a part of one of the big clubs in the Premier League, for sure."
This season, Brooks' progress has been limited through injuries, and he hasn't been able to make an appearance in nearly a month.
International Career
Brooks had spent time with the Germany and U.S. youth national camps before eventually earning a first team call-up from Jürgen Klinsmann and the Stars and Stripes in 2013. He would go on to start and play the full 90 minutes against Bosnia and Herzegovina.
The following year, Brooks was included in Klinsmann's 23-man roster for the 2014 World Cup in Brazil. It didn't take long for the Hertha defender to leave his mark on the tournament. After coming on as a second half substitute, Brooks scored a dramatic winning header to seal a 2-1 victory over Ghana in the opening match. Despite the goal, Brooks would not appear again during the tournament.
In 2015, Brooks was included in the U.S.'s Gold Cup roster where he started four of the team's five matches.
Playing Style
Hertha's GM Preetz believes that Brooks is currently one of the club's best players. "Of course, he has a lot of skills, which makes him one of our most popular players for the next few years, in my opinion," explained German, "He is a central defender with good heading and technical skills and, of course, with a good left foot." Standing at 6 ft. 4 in., Brooks provides whatever team he is on with a towering presence in the heart of defense, and his early experience as a striker has surely played a part in developing his superb skill on the ball.