Every week at The Center Circle, we are highlighting a different player in a feature we call "On the Spot". We'll take a look at superstars, underrated gems, aging veterans, and young unknowns who should be known. We'll peruse their club and international careers, taking note of their teams, statistics, and highlight reels. We'll illuminate their strengths and weaknesses and comment on their personalities and reputations. It will be some fun. If there is anyone you want to see "On the Spot", feel free to comment below.
Keylor Navas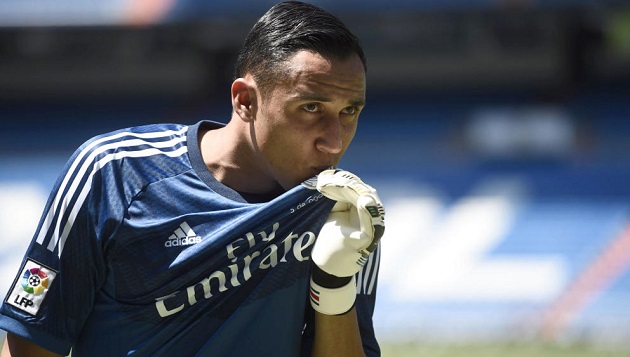 It's difficult to understand the current situation of Keylor Navas. The Costa Rican keeper has been arguably the best keeper in La Liga for Real Madrid this season, but was apparently just minutes away from being shipped to Manchester United because Madrid wanted David De Gea. How did the 28-year-old get to this unusual crossroads in his career?
From Costa Rica to Spain
Before Keylor Navas was playing for one of the biggest clubs in the world in front of tens of thousands of fans every match, he was standing between the pipes in the Costa Rican Primera División. The keeper made his first professional appearance in 2005 at the just 18 years old for Saprissa. Despite his relatively young age in the goalkeeping world, Navas would take a stronghold on Saprissa's number one role. In his final three years with the club, the developing keeper helped the club collect two league titles, two summer titles, two winter titles and a CONCACAF Champions Cup (North America's version of the Champions League) in his final year.
His strong performances in the Costa Rican league earned Navas a move to Europe in 2010. Now 23 years old, the Costa Rican international joined Albacete in the Segunda División of Spanish football. The move to a stronger league did little to hinder Navas' development between the pipes. In his first, and only year with Albacete, Navas started 35 matches in net and racked up five clean sheets during the season. Navas could only do so much to help the club, and they finished the season dead last in the second divison and were relegated.
Despite the poor record of his club, Navas again attracted interest from Spanish suitors and joined La Liga side Levante UD on loan for the 2011/12 season. The move to a top division side saw Navas relegated to more of a backup role as he started just one league fixture, but was relied on for five Spanish Cup matches. In his one league start, however, the Costa Rican keeper kept an impressive five-save clean sheet against Athletic Bilbao.
At the conclusion of his loan spell, Levante decided to take the keeper on a permanent basis signing him to a three-year deal that summer. In his second season with the club, Navas still found himself second in the pecking order for the majority of the season. The majority of his playing time came between the Europa League and Spanish Cup where he started a combined 16 matches. Near the conclusion of the season, Navas finally got a string of starts in the league as he started the team's final seven matches. In these final matches, the 26-year-old made 32 saves including an impressive eight-save display in a 1-0 loss to Barcelona.
Start of Something Special
After two seasons as the backup at Levante, Keylor Navas was finally given the number one role for the 2013/14 season. Despite a humiliating 7-0 loss to Barcelona to open the season, the Costa Rican would go onto have the best season of his career. Through 37 games in net, Navas made 160 saves (an average of more than four per match). An even more impressive stat is the 19 clean sheets that he added to his résumé in league competition. This breakout season earned Navas a spot in several media outlets' La Liga team of the season, and a move to a giant was looming.
An impressive display in the 2014 World Cup paired with his amazing season with Levante convinced Real Madrid to activate Navas' €10 million buyout clause. Similar to his start with Levante, however, the Costa Rican would again spend the majority of his first season watching his new club from the bench. His first clean sheet for Los Blancos came during a Champions League matchup against FC Basel. At the end of the season, Navas would make just eight total appearances for his new club, but in all of those matches Real Madrid came away with a victory.
His first season in the Spanish capital also gave Navas his first taste of European silverware. Real Madrid would claim the FIFA World Cup as well as a European Super Cup in the 2014/15 season, but would fall just two points behind Barcelona for a La Liga title.
Nearly Out
The summer of 2015 will never be forgotten by Keylor Navas. The sale of club legend Iker Casillas seemingly placed the 28-year-old in prime position to start in net, but circulating rumors of David De Gea's impending arrival put that in doubt. Despite the transfer reports, Navas would open the 2015/16 season as Madrid's number one. In the two games prior to transfer deadline day, Navas kept two clean sheets.
Even with these impressive displays, Real Madrid were still keen to bring in Manchester United's David De Gea. With just hours left in the transfer window, news outlets began to report that a fee for United's keeper had been agreed upon and Navas would be switching homes for Old Trafford. A reported technical difficulty, however, meant that the transfer was not processed in time and both keepers would stay at their clubs despite a move being agreed.
It would be easy to think that Navas would be dismayed by Madrid trying to sell him off for a replacement, but the keeper has been nothing less than amazing since the failed move. In the first five games of the season, Navas has helped Madrid win every match, while also keeping four clean sheets. While it's unclear whether or not Navas will stay at the Santiago Bernabéu Stadium past this season, it's obvious that he is going to give 100 percent as long as he's there.
International Career
The Real Madrid keeper's international career started back when he was still playing in the Costa Rican league. His first international cap came against Suriname during qualification for the 2010 World Cup. Navas' first clean sheet for Costa Rica came less than a week later as the Central American nation defeated Haiti 2-0.
It wasn't until the 2009 CONCACAF Gold Cup that the then-Saprissa keeper would get a taste of an international tournament. Navas would end up the team's starting keeper after beginning the tournament on the bench, and would help Costa Rica reach the semifinals before losing to Mexico in penalty kicks. At the conclusion of the tournament, Navas earned individual honors as he was named the best goalkeeper of the tournament.
Navas finally appeared in the holy grail of soccer tournaments in 2014 when Costa Rica traveled to Brazil for the World Cup. For this tournament, Navas was the clear number one on the squad and was one of few players on the roster with European experience. During his five games at the tournament, Navas was able to keep three clean sheets, and no team was able to put more than one goal against him. His impressive displays in net pushed Costa Rica all the way to the quarterfinals before losing the Netherlands in penalty kicks.