Every week at The Center Circle, we are highlighting a different player in a feature we call "On the Spot". We'll take a look at superstars, underrated gems, aging veterans, and young unknowns who should be known. We'll peruse their club and international careers, taking note of their teams, statistics, and highlight reels. We'll illuminate their strengths and weaknesses and comment on their personalities and reputations. It will be some fun. If there is anyone you want to see "On the Spot", feel free to comment below.
Raheem Sterling
One of the hottest, and most talked about young talents in English football has to be Raheem Sterling. The 21-year-old has represented two of the biggest clubs in the country, and the introduction of Pep Guardiola has only served to elevate his already impressive playing style.
Leaving for London and Liverpool
After his family moved from the sunny environment of Jamaica to the constant clouds of England, a young Raheem Sterling found himself in Queens Park Rangers' youth system. The midfielder/striker would spend several years with the London club before signing for Liverpool in 2010. The Reds would invest a reported fee of £700,000 to bring in the teenager, and that fee would prove to be an absolute steal in the years to come.
Less than two years after signing for the club, an 18-year-old Raheem Sterling made his senior debut as a late substitute against Wigan Athletic in the league in 2012. During the final stages of the 2011/12 season, the attacker would make two more appearances, including a seven-minute cameo against Chelsea, but he was forced to wait until the following year to make his first start.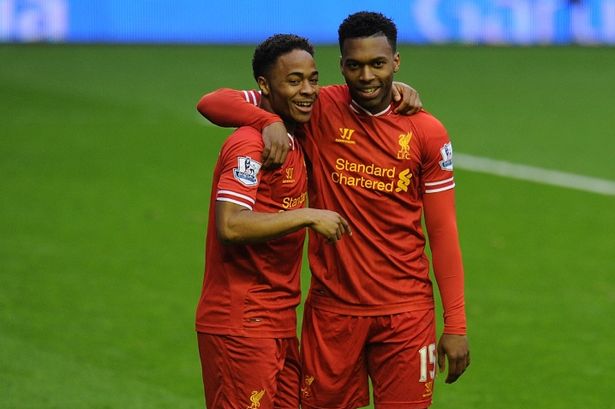 His second full season with the senior side saw his role grow exponentially. On August 2nd, the teenager made his European debut in the Europa League, and that would set the stage for strong season for Sterling. In the second week of the season, Sterling made his first career start against, who else, but Manchester City. Altogether, 2012/13 ended with the midfielder racking up 37 appearances between all competitions.
The following year saw Sterling really impose his style on the squad. He became a critical component of Brendan Rodgers' setup starting 24 times in the league, and scoring a career-high nine goals. On top of the goal tally, Sterling also registered five assists (seven in all competitions). The Luis Suárez and Daniel Sturridge strike partnership ahead of him nearly led the club to their first Premier League title, but a late collapse saw them fall just behind Manchester City.
2014/15 would end up being Sterling's final year at Anfield. The club wouldn't quite reach the heights that it did the previous season after the departure of Suárez, but it didn't stop Sterling from tallying a career-high in assists (nine in all competitions). The Reds would struggle to a sixth place finish, and the absence of Champions League competition and an apparent disagreement over playing style would spark an eventful summer transfer saga.
Becoming a Manc
Despite a new contract offer from Liverpool, Sterling and his representatives made it clear that he wanted to pursue a career away from Anfield. Reports of missed training sessions and an interview with BBC sparked some animosity for portions of the Liverpool faithful, and in July, an agreement for his sale was finally announced.
Manchester City brought in the 20-year-old for the hefty price tag of £44 million. The big price brought with it big expectations. Unfortunately for Sterling, he didn't immediately live up those lofty expectations. A groin injury sidelined the midfielder for eight weeks during the second half of the season and limited him to just 23 league starts. Despite the limited playing time, he still managed to still score six times, and assist another two goals.
This season, the 21-year-old will be playing for his third manager is as many years. Despite winning the League Cup under Manuel Pellegrini in his first season at the Etihad, the club sacked the Spaniard to make room for Pep Guardiola. This change in leadership has seen Sterling come alive, and find a new gear on the pitch.
International Career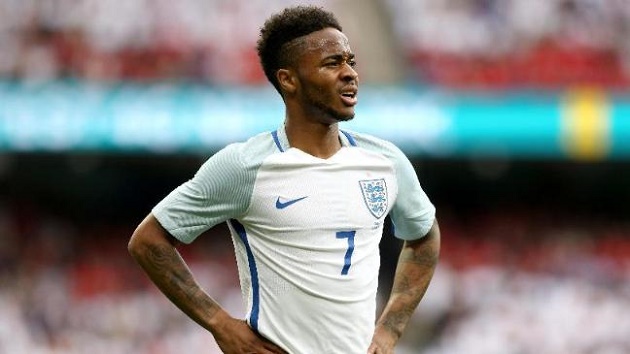 Because Sterling and his mother moved to England at such a young age, he was eligible to represent the Three Lions on the international stage. As with any English international, his time on the world's stage has been less than stellar.
The 21-year-old has represented England on nearly every youth level. Shortly after breaking into Liverpool's first team, Sterling received his full international call up in November 2012 against Sweden.
Roy Hodgson had enough faith in the youngster to include him in England's 23-man roster for the 2014 World Cup in Brazil. He would make three appearances in the tournament as England crashed out in the group stages. They failed to win a single match.
For the 2016 Euros, the Man City midfielder was once again a key part of Hodgson's squad. Once again, England would fall short of what their fans expected. Sterling would make three appearances before Iceland knocked them out in their first knockout stage.
Style of Play
Raheem Sterling is a very versatile player in attack. Guardiola has deployed the 21-year-old in a wider position, but he's fully capable of lining up as a striker or attacking midfielder, and he also has pace to burn. His flair and control on the wing make him a great option to burn defenders on counter attacks, but his crossing has been iffy at times. He's still growing into the prime of his career and I'm sure that as his career goes on, he will grow into an even bigger star in Europe.