Every week at The Center Circle, we are highlighting a different player in a feature we call "On the Spot". We'll take a look at superstars, underrated gems, aging veterans, and young unknowns who should be known. We'll peruse their club and international careers, taking note of their teams, statistics, and highlight reels. We'll illuminate their strengths and weaknesses and comment on their personalities and reputations. It will be some fun. If there is anyone you want to see "On the Spot", feel free to comment below.
Ross Barkley
Right now, Everton have no shortage of young promising players. One of the brightest talents that they have on their roster has to be midfielder Ross Barkley. The 22-year-old has quickly become one of the most sought after players in England, and his future looks quite bright.
Forever Everton
Since he was 11, Ross Barkley has been a member of the Everton system. A Merseyside native, Barkley would spend just five seasons with the Toffees' youth teams before being introduced to the senior squad. During the 2010/11 campaign, the young midfielder was named as a substitute for three Premier League matches, but failed to make an appearances in any of them.
Things were looking bright for the 16-year-old going into the winter fixtures that year, but a terrible leg break during an England U-19 match cut his debut season short. Despite the devastating injury, Everton still signed Barkley to a professional contract on his 17th birthday in December.
After properly recovering from his broken leg, Barkley joined Everton's pre-season camp before the 2011/12 season. An impressive showing during these pre-season fixtures set the stage for him to finally make his first team debut. Barkley was named a starter for Everton's opening match against QPR, and would go on to make five more league appearances that season (one more as a starter against Blackburn).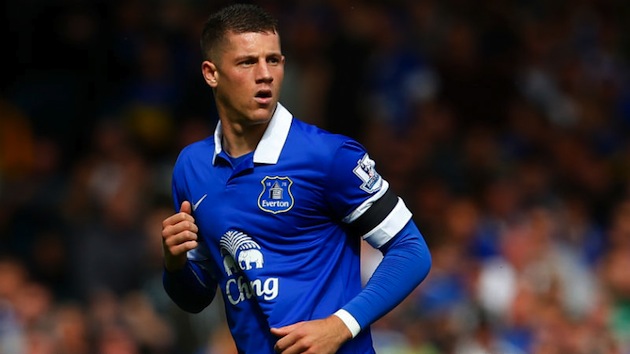 At the start of his third season as a member of the first team, Barkley was actually loaned out for two months to Sheffield Wednesday in the Championship. Through his two months in the second division, the Everton product was a consistent starter through 13 matches and scored his first four professional goals as a member of the Owls.
When he returned to Goodison Park in November, game time was hard to come by for the young midfielder. In an effort to get more playing time, Barkley was loaned out for another month, this time to Leeds United. His four appearances for Leeds were thoroughly uneventful, as he went four games without a goal, but he did manage to provide an assist. At the conclusion of the 2012/13 campaign, Barkley had made a total of 26 appearances between Everton, Sheffield, and Leeds, but he had still yet to score for his parent club.
Barkley's goal wait wouldn't last much longer as he scored a thunderbolt against Norwich City on the opening day of the 2013/14 season. That year would prove to be the teenager's introduction to the world as he appeared in all but two of the Toffees fixtures. His energy and strength on the ball excited crowds, and helped him net eight goals between the league and FA Cup (a career-high). The growing partnership between Barkley and Romelu Lukaku gave Everton fans something to look forward to as the team soared to a fifth place finish in the league and qualified for next season's Europa League.
Things didn't quite go to plan in Barkley's debut season in Europe, however. The increase in fixtures saw Everton as a whole struggle to match last season's form, and Barkley was no exception. Still just 21, the midfielder played in just under 40 games that year, but even with the additional opportunities he managed to score just twice, and register two assists. On top of that, Everton failed to get past the Round of 16 in the Europa League, were knocked out in their first FA Cup match, and finished a disappointing 11th in the league.
Last year's disappointment was apparently just the wake up call that Barkley needed as he's rediscovered the form that once linked him with the likes of Manchester City and United. Barkley has already eclipsed his previous career-highs in goals and assists, scoring eight times and providing another seven through just 25 league games this season. Currently, Everton find themselves eighth in the table and six points away from a spot in European competition. If they fail to reach the top five, it's possible that their promising midfielder leaves for greener pastures come summer time.
International Career
Ross Barkley has appeared for nearly every English youth team between the U-16s and the U-21s. He has represented the Three Lions in the U-17 European Championships and the U-20 World Cup. His impressive displays at both the youth and club level earned him his senior debut during a 2013 friendly against Peru. Since then, Barkley has registered 19 caps for England including three at the 2014 World Cup in Brazil. The 22-year-old has become a constant fixture in Roy Hodgson's rosters and looks to be a lock for a place on England's Euro 2016 squad.
Playing Style
Ross Barkley's style has been compared to the likes of Paul Gascoigne and Wayne Rooney. Not one to flash skill moves for no reason, Barkley relies on his strength and tactical awareness to influence matches. His heart and desire is evident whenever he steps on the field, and those are major reasons that he has endeared himself so much to the Everton faithful. The most exciting part of Barkley's game may be his cannon of a shot. Whenever he gets the ball anywhere near the penalty area, Barkley is a threat to find the back of the net.