Every week at The Center Circle, we are highlighting a different player in a feature we call "On the Spot". We'll take a look at superstars, underrated gems, aging veterans, and young unknowns who should be known. We'll peruse their club and international careers, taking note of their teams, statistics, and highlight reels. We'll illuminate their strengths and weaknesses and comment on their personalties and reputations. It will be some fun. If there is anyone you want to see "On the Spot", feel free to comment below. Up this week, the phenom from Argentina: Sergio Aguero.
Sergio Aguero
For his club, he will always be the player that finally brought home the trophy to end their neighbor's dominance. For his country, he may never win the spotlight that his talent deserves. For his fans, he is a power-packed striker with only the smallest window needed to smash the ball into the back of the net. He is a hero for Manchester City and still scoring in buckets for the Citizens and he will be a massive cog for Argentina if they hope to bring home the World Cup when they compete in Brazil this year. The main face of the Puma EvoSpeed, Aguero is lighting up the pitch against any and all opponents and the year is looking very bright for Kun.
Club Career
Sergio Aguero started his sparkling career with the Argentine club Independiente. Starting his work for the club at the age of 9 and becoming the youngest player to debut for Independiente (15 years and 35 days), he would have a rather start/stop beginning to his career in Argentina but he would start to impress the roving eyes of European powerhouses during the 05/06 season. Although Independiente would only bring home one trophy during Aguero's time with the club and Aguero would leave before becoming one of the top ten scorers of all time, the striker still has a pronounced fondness for his first club and has tried to stay involved throughout his career.
In May of 2006, Aguero would make a 20 million Euro move to Atletico Madrid, breaking the club's transfer record at the time. His first season with Madrid would see him used sparingly by Javier Aguirre as Fernando Torres was easily the first choice striker for the club. However, after Torres moved to Liverpool, Aguero would become a massively important member of Atletico despite being only 19. Fittingly, he scored 19 goals for Madrid and helped them attain entry into the Champions League for the first time since the mid-90's. His growth with Atletico would continue as his partnership with Diego Forlan would become lethal en route to the club continuing to qualify for the Champions League.
A victory in the Europa League over Fulham (after being dumped out of the Champions League) and the following UEFA Super Cup were directly connected to great performances by Aguero. Despite experiencing success with Madrid, Aguero started to look elsewhere for his next challenge. In 2011, Manchester City would buy Aguero from Madrid for 45 million Euros…money that would later bring Radamel Falcao to Madrid (not a bad trade, right?).
His first season with City would certainly be the most impressive to date as his performances resulted in 30 goals from 48 appearances and his goal against QPR in the dying moments of the season meant that Manchester City would finally be bringing home the Premier League title. A win in Community Shield would follow quickly thereafter, a victory that actually represents the last trophy accrued while Aguero has been with City. Aguero did have an impressive 12/13 season, but the current campaign is on pace to be his greatest with City yet. In his first season with City, he had 30 goals in 40 apps…second season saw 17 goals in 40 apps…but the current season has seen Aguero score 25 goals in only 24 appearances. The numbers that Aguero accrues by the end of this season could end up being record-smashing numbers that might lead City to a multiple trophy ending to this season…the man is a BEAST!
International Career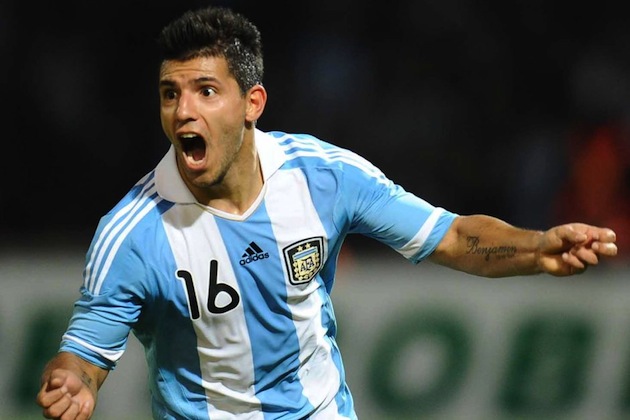 Despite his amazing prowess, Aguero is only one part of one of the most prolific international scoring cores in the history of the game. If you have not been living under a rock for the last decade of world football then you will be aware of the presence of Lionel Messi and Messi's level of talent. Because of their combined efforts and others in the Argentinian national team, Aguero moved up through the youth ranks of the international levels while bringing home an Olympic gold medal in 2008 and the U-20 World Cup title in 2005 and 2007.
In the build-up to the 2014 World Cup, Aguero has scored 5 goals in 6 appearances across 2013. Couple his international form with the fact that many of Argentina's first choice players are experiencing amazing seasons (City teammate Pablo Zabaleta, Mascherano being a key piece for Barcelona, Erik Lamela growing with Tottenham, Higuain dominating for Napoli, and Lavezzi emerging from the behemoth that is PSG) and this World Cup will represent a major chance for Argentina to bring home their third World Cup title. Anyone ruling out Messi and Aguero with the seasons they have had as we approach Brazil 2014 would be doing so at their own peril…
Style
Aguero is not the biggest striker to ever grace the pitch, but his strength has always been impressive after the first whistle blows. He has an amazing first step to get past defenders and he can get off a shot with the slightest of chances. I always believed that he had an amazing similarity to ex-City man Carlos Tevez, but Aguero has quickly started to look even more prolific in front of goal as his fellow Argentinian (and he doesn't have the affinity for occasionally leaving the club without warning to play golf).
Off the Pitch
The life of Sergio Aguero has been rather high-profile given his marriage and divorce to the daughter of Diego Maradona. They have a son (who I fully expect to be the greatest football player of all time once he grows up…I mean, Maradona genes mixed with Aguero?..come on) and Aguero has several tattoos dedicated to his son's birth.
While his early career saw Kun Aguero bouncing around between different boots and brands, Sergio is now the main face of the Puma evoSpeed silo. In 2011, Aguero switched to the V1.11 Puma series and he has quickly become Puma's biggest player in world football. Considering the impressive growth of Puma recently and the introduction of other big names on their roster, the profile of Puma and Aguero has nowhere to go but up. Considering that Puma will have big plans for the World Cup, Aguero will undoubtedly be the face of any evoSpeed campaign as we start to roll into the summer.