Every week at The Center Circle, we are highlighting a different player in a feature we call "On the Spot". We'll take a look at superstars, underrated gems, aging veterans, and young unknowns who should be known. We'll peruse their club and international careers, taking note of their teams, statistics, and highlight reels. We'll illuminate their strengths and weaknesses and comment on their personalities and reputations. It will be some fun. If there is anyone you want to see "On the Spot", feel free to comment below.
Toni Kroos
Real Madrid has no shortage of superstars on their roster. Toni Kroos is no exception to that. The German midfielder has a Bundesliga title, a Champions League medal and a World Cup title in his trophy cabinet. And he's just getting started.
German Roots
Before he was patrolling the midfield at the Santiago Bernabéu, Toni Kroos was learning his trade in Germany. His youth career included a five-year stint at Greifswalder SC, and a six-year stint at Hansa Rostock. While these two clubs aren't quite household names, the training there helped Kroos eventually get noticed by German giants Bayern Munich.
The young midfielder made the move to the Allianz Arena as a 16-year-old, and it wouldn't be long before he made the jump to senior competition. Just a year after joining Bayern's youth setup, Kroos was promoted into a fringe role for the first team. The 2007/08 season saw the teenager feature 13 times for the Bayern reserves, scoring four times along the way. Even though he only made a handful of first team appearances, Kroos was still eligible to claim a Bundesliga and German Cup winner's medal.
In addition to his time with the reserves, Kroos would make 17 appearances for the first time between the Bundesliga and UEFA Cup. In his first first team appearance, the 17-year-old would provide two assists in a 5-0 thrashing of Energie Cottbus. His lone goal of the season ended up being a stoppage time winner in the UEFA Cup.
The start of his second year in professional football got off to a bang with Kroos scoring the winning goal in Bayern's first round match of the German Cup. Despite the bright start, the teenager found consistent first team action hard to come by with such a talented roster around him. During the January transfer window, Kroos was loaned out to fellow Bundesliga club Bayer Leverkusen.
Kroos would spend the next 18 months with Leverkusen, and his first full year at the club saw him become a near constant presence in the starting 11. The 2009/10 campaign was by far Kroos' most productive of his young career. He would make 35 appearances (28 as a starter) while also scoring nine times, and providing nine assists (second most on the team). Would this success at Leverkusen translate to a bright career at Bayern?
Return to Munich
Upon his return to Munich in 2010, Kroos was unable to secure the same amount of playing time that he received at Leverkusen. In the league, he would start just 19 matches and score just a single goal. Despite his limited playing time, Kroos would be a constant member of Bayern's Champions League push starting six of a possible seven games in the midfield.
It wasn't until the 2011/12 campaign that Kroos finally earned a consistent role in the starting 11. While that year saw the German make a career-high number of appearances (49), it ended without any major silverware as Bayern finished eight points behind Borussia Dortmund in the league and suffered a heartbreaking loss in the Champions League Final (where Kroos played all 120 minutes).
The next season, Kroos would play a key part in a historic campaign for Bayern. The Bavarian club would not only claim a league title, but also a German Cup. To top off the domestic accolades, Kroos and Bayern would top Dortmund in a dramatic Champions League Final to wrap up a a European treble, although the midfielder would not feature in the final.
Moving to Madrid
Kroos' time at Bayern would last just one more season and would claim his third Bundesliga title and German Cup medal, but a lack of guaranteed playing time saw the midfielder look for greener pastures. Few pastures are greener than those in Madrid as Real sealed his transfer for a reported fee of £19.6 million.
In the Spanish capital, Kroos joined the likes of James Rodríguez, Isco, Luka Modric in one of the most talented midfields in the world. Despite the talented roster around him, Kroos would start 36 times in the heart of Madrid's attack. He would help Real claim a UEFA Super Cup and a Club World Cup, but would miss out on the major silverware. Los Blancos would drop the league title to bitter rivals Barcelona by two points, and get knocked out in the Champions League semi-finals by Juventus.
This year, Kroos has once again returned as a key pivot in Madrid's midfield. He sits fourth on the team with 11 assists through all competitions and Real now find themselves with a chance to take home a Champions League crown. Kroos wasn't around the last time Real were in the final, but he could very well play a major factor in their bid for a record 11th European crown.
International Career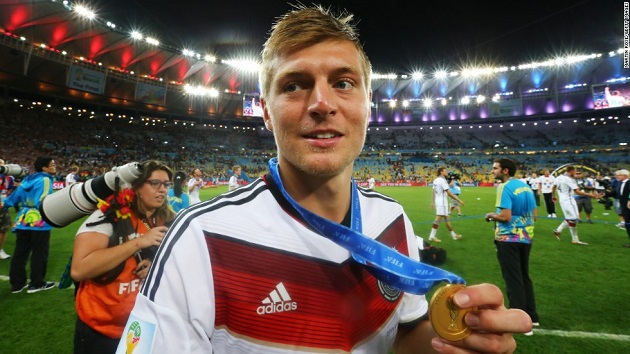 As successful as Toni Kroos' club career has been, his international career has been just as fruitful. As a 20-year-old, the midfielder would make four substitute appearances during Germany's third-place run in the 2010 World Cup. Since the South African World Cup, Kroos has been involved with every major international tournament. Euro 2012 saw the Bayern Munich man make another four appearances (only one as a starter). However, just like at the World Cup, Germany were knocked out in the semi-finals.
After two disappointing tournaments, Toni Kroos and Germany finally showed their talent at the 2014 World Cup. Kroos would start all seven of Germany's matches, including the historic 7-0 destruction of Brazil in the semi-finals. A dramatic extra time victory over Argentina in the final saw Kroos claim his first ever World Cup title at only 24.
Style of Play
Toni Kroos typically lines up as a deep-lying central midfielder. Not necessarily known for his pace, the German playmaker relies on his passing ability and soccer IQ to thrive on the pitch. While not the flashiest player, Kroos possesses the quick feet necessary to open up space in the heart of the pitch. Playing behind speedy forwards like Cristiano Ronaldo, Gareth Bale and Karim Benzema allows Kroos to sit back and set up the attack from a deeper position.
Off the Pitch
Toni Kroos' older brother, Felix, is currently a midfielder at German second division side Union Berlin after failing to impress at Werder Bremen.