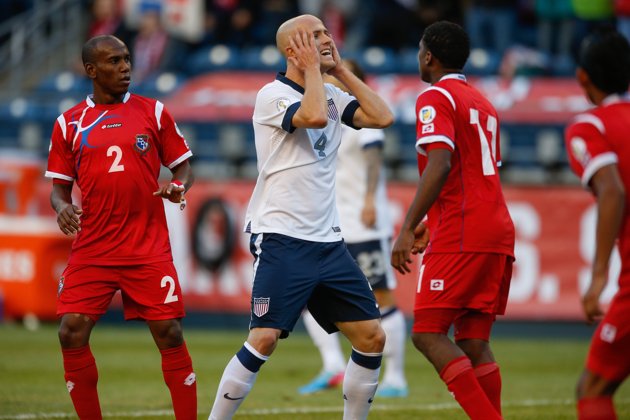 The United States currently find themselves sitting on top of the Hex and in prime position to qualify for the World Cup. However, two victories on the trot and some much needed optimism may be covering up the cracks with something akin to Elmer's School glue instead of replacing the cracked materials altogether. Is Klinsmann really creating a team that can succeed on the biggest stage or just a team that can succeed close to home?
Although the American fan inside me and the longing for any type of world soccer success has me beating my drum and wearing my USMNT pride for all to see, Klinsmann needs to take advantage of this success by fixing some big underlying problems. Instead of showing his squad and staff replays of the recent Hex qualifiers, he needs to be replaying the Belgium footage on repeat for everyone remotely attached to the team. A constant state of being overrun and defensive errors that we saw exposed by a superior team is just the type of thing the USMNT should be looking at.
No matter how much we improve while playing in the Hex, when we end up in Brazil next year, our team will not be the most talented in the competition. That is not pessimism or anything of the sort, but we will never be able to field the same talent levels as Germany, Spain, Italy, or Brazil. So, because there will be a gulf in talent, we have to make sure that we can create a system that will allow us to compete with these teams and try and snag a 1-0 or 2-1 upset.
The biggest deficiency is the defense, and Klinsmann has to address it. Although he has guaranteed us flowing, attacking football with loads of goals, it will mean nothing if other teams are dumping four or five into our net during the ninety minutes. Omar Gonzalez has potential and should have been called up to the team long ago, but some veteran leadership should be sprinkled in with these newer members as they try to learn on the job. Although I pleaded for Bocanegra to be as far removed from the team as possible a few short months ago, players of his ilk are desperately needed to bring some calm to the backline.
Klinsmann also needs his team to recognize that the recent proficiency of Altidore is due to the fact that his other attacking players are making deep attacking runs. A goal against Panama saw even Michael Bradley pushing up into the eighteen yard box and facilitating a goal-scoring move. If players like Dempsey and, when he joins back up, Donovan can join the attack and make sure the Jozy is not floundering up top alone, the young American may soon become a major goal-scoring threat.
Rooting for the USMNT is very akin to rooting for the Chicago Cubs or the New York Knicks. We have had success in the sport, and our general success in sports would have us thinking that we could bring home the ultimate prize with little to no assistance. However, we will never be able to rub shoulders with the best if we are not able to build through the good times and the bad. Here's hoping that Klinsmann can see that and have the USMNT ready for Brazil 2014.