Each season, different players will rise to the occasion and provide a real bump to their team's chances. This list is not a measure of talent, as much as it is a list of the most impactful players this season. Season results, combined with "what have you done for me lately" are just a couple of the factors taken into account.
1. Lionel Messi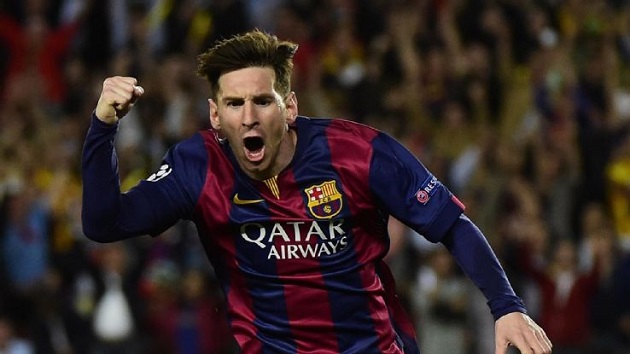 I mean, come on. Who else was going to take this spot after Messi's mercurial brilliance in the final 15 minutes of his midweek masterpiece vs. Bayern Munich? With the clock ticking away on a scoreless 1st leg at home, Messi flicked his wand and transformed the entire complexion of this Champions League semifinal. Instead of an excellent Bayern result going home tied 0-0, they now face the walls of a cavernous grave Messi dug for them. While the first goal was classic left-footed magic from just outside the box, the second was pure and ruthless genius (RIP, Boateng). Then, just for insurance, he tallied an assist on Neymar's injury time goal. Sometimes we take this guy for granted. This was not one of those times.
2. Sergio Aguero
QPR didn't need any help getting relegated, but Sergio really did his part to push them there, didn't he? In a 6-0 massacre, his hat trick and assist finished off what QPR supporters have known was coming for weeks. Aguero has run around like his head was on fire this entire season, and he's playing like mad to see that City finishes second.
3. Edinson Cavani
For most of the season, another Ligue 1 title was not a certainty for PSG. With such a stacked roster, you'd think they would cruise through the French league. However, Lyon, Monaco, and Marseille proved to be a real test, until recently. The Paris men have won seven matches on the trot now, with Cavani scoring a hat trick in last weekend's 6-0 win. Just at the moment they needed it, PSG have taken flight and now lead the league by six points.
4. Memphis Depay
What a few days for this youngster. Imagine yourself as a 21-year-old wunderkind on your way to historic Manchester United after your Dutch club just won the league, thanks, in large part, to your excellence. Also, you just ripped a 35-yard screamer into the net in your final game in front of that club's fans. Life is good for you (Memphis) right now.
5. Cristiano Ronaldo
Real Madrid hit a couple of speed bumps this week. Their loss to Juventus in the first leg of their Champions League semifinal didn't exactly go according to plan — although CR7 did notch their only score. Then, last weekend, they needed a late Isco strike to get a draw with Valencia, halting their pursuit of Barcelona at the top of the table. Held scoreless in that match, Ronaldo will need to be in top shape for Real to get a chance to defend their Champions League title.
6. Arturo Vidal
Alvaro Morata and Carlos Tevez may get the goals and the glory, but Vidal is the engine that churns the Juventus locomotive. His excellent two-way play has Juve dreaming of a spot in the Champions League final, after his fantastic performance against Real midweek. He took this weekend off their Serie A match, but expect him to be ready to dethrone Real on Wednesday with a healthy Paul Pogba by his side.
7. David De Gea
He's been in unbelievable form all season, dragging Man United through the early part and staying solid while the team started to coalesce around him in the latter part. On Saturday vs. Crystal Palace, he conceded a remarkable Jason Puncheon free kick, but De Gea also came up massive with three saves, including one improbable point-blank stop on Palace that would've give them the lead. The next 5-10 years of Courtois and De Gea fighting for Premier League goalkeeper supremacy should be some fun.
8. Eden Hazard
He didn't have his greatest match on Sunday against Liverpool, but Hazard clearly remains one of the world's preeminent players. We all knew this kid could be something special, but his rise has been so swift that even the biggest Lille superfan couldn't have seen this coming.
9. Bradley Wright-Phillips
When Bradley Wright-Phillips gets a chance in front of goal, he doesn't usually make a mistake. And like the calm goal-poacher he is, BWP struck twice in the inaugural New York Derby. With top-notch service from Lloyd Sam and Sacha Kljestan, he hit MLS newcomers NYCFC for two goals to give his red-hot Red Bulls another victory.
10. Riyad Mahrez
Continuing their hardly-believable ascendance out of the relegation muck, Leicester City won again this past weekend, making that six of their past seven. This time the hero was young Algerian Riyad Mahrez, who scored twice in their 2-0 win over sliding Southampton. Despite his solid presence in the midfield this season, he only had two goals coming into the match. And that's how it has gone for Leicester lately.