Each season different players will rise to the occasion and provide a real bump to their team's chances. This list is not a measure of talent, as much as it is a list of the most impactful players this season. Season results, combined with "what have you done for me lately", are just a couple of the factors taken into account on our Player Power Rankings. 
1. Luis Suarez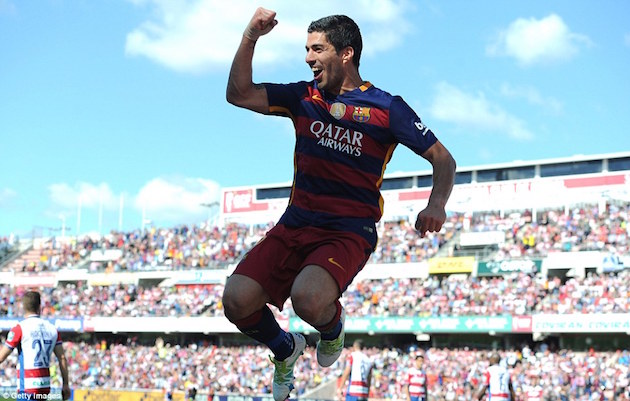 After locking up the Pichichi, Suarez needed to have a great game in order to capture the La Liga title for Barcelona. He delivered to the tune of 2 goals, and Barca won yet another championship. On a roster that already included Neymar and Messi, Suarez has found a nice role for himself and truly made Barcelona better.
2. Cristiano Ronaldo
Real Madrid came up just short of the La Liga title, but not for a lack of goals from Ronaldo. He added another brace to his tally, but other results denied him of silverware. Real Madrid went through a lot of change this season, so it truly is a testament to just how good CR7 is that they were still able to be in the hunt for winning championships.
3. Tim Howard
In a part sentimental, part legitimate spot here, Tim Howard ended his Everton career on a high note. A clean sheet on the final matchday was a nice way to go out, even if he didn't have to make any acrobatic saves. He now moves back across the pond to Colorado, but we would be remiss if we didn't give him a shout out for his time at Everton.
4. Zlatan Ibrahimovic
We can use Zlatan's own words to describe his exit from PSG, "Leaving like a Legend". He scored a goal on his way out the door, while also securing some more silverware for the club. Where he goes, nobody knows, but we do know that he left quite an impression on the French capital. Can't beat an exit like that.
5. Kei Kamara
The guy really took the penalty kick fiasco in stride, helping the New England Revolution to a victory in his debut for the club. Instead of sulking and allowing himself to be drug down by the entire event, he went and had a profound impact for his new club. Sure, he doesn't have any official goals or stats to tout, but sometimes impact can't be measured in numbers. The Revolution have had some struggles up top finishing, but shouldn't be an issue any longer.
6. Petr Cech
How about Arsenal coming back to take 2nd in the Premier League? Sure it was more of a Tottenham meltdown, but you have to give the Gunners some credit. How about the man between the pipes? Cech has been a solid and reliable presence all season. A clean sheet to close out the Premier League campaign is enough to get Cech on the list. Beating Tottenham and securing a Champions League spot is a bonus too.
7. Jermain Defoe
The Sunderland striker deserves some praise for leading the squad out of the desert to the promised land of safety. He could have phoned it in and given up on the stragglers, but instead led the charge out from the depths of the relegation zone. He scored the winner that sealed safety for the club, something that could give him legendary status at Sunderland.
8. Dom Dwyer
Sporting KC have struggled lately, and into the 2nd half against Orlando City, it looked like Kansas City were going to be blanked again. Dwyer took the game into his own hands, scoring a goal and helping add another in a 2-1 victory. This might be the kickstart that Sporting KC needed to top the Western Conference.
9. Giovani dos Santos
The LA Galaxy have been straight wrecking people lately, with only 1 loss in 10 matches so far. Dos Santos has been putting numbers up on the scoreboard, scoring some incredible goals over the past few weeks. He has been a revelation in the MLS, cutting through opposing defenses like Swiss cheese.
10. Jamie Vardy
He is having a party! After accomplishing the most unbelievable run in Premier League history, Vardy is starting to see the fruits of his labors. A couple Player of the Year Awards, the Premier League trophy, and a Euro 2016 provisional spot are all the result of his incredible story.